China, Beijing: Chinese largest beer maker, Tsingtao Brewery Co Ltd, 9.91% owned by Anheuser-Bush, has registered sales decline in the third quarter
. However the brewery could still maintain up to 10 % earnings growth over the full year due to its solid performance in the first half, analysts revealed. Tsingtao Brewery saw a 3.69 pct fall in net profit in June-Sept on higher costs and expenses. Operating costs rose 1.56 bln yuan during the period from 1.32 bln a year earlier, while unspecified one-time expenses almost doubled to 23.52 million from their year-earlier level of 14.58 million, which led to the earnings fall, AFX posted on October 27. However, helped by a solid 27.36 % net earnings growth in the first half, Tsingtao reported 10.2 % growth in the first nine months, and industry analysts forecast a full-year growth rate of up to 10 %. "I expect Tsingtao's full-year EPS at 0.26 yuan, up slightly from 0.24 yuan last year," Qiao Baijun, an analyst with Galaxy Securities said. Chen Lei, an analyst with Tianxiang Securities, concurred, but warned about intensifying competition from foreign brewers, driven by stagnant growth in their home countries. These foreign brewers are increasingly looking for growth in one of the world's fastest growing beer markets. Annual per capita consumption in China currently stands at only 19 liters, compared with 75 liters in Europe and 84 in the US. At the same time, income levels here are rising rapidly and consumers are acquiring a growing taste for beer. So far, global beer maker InBev has spent more than 600 million US$ in acquiring local beer makers in the country, and other big-name foreign brands such as Anheuser-Busch, SABMiller Plc, Carlsberg International AS and Scottish & Newcastle Plc, are also boosting their presence. To strengthen its market position and fend off foreign rivals, Tsingtao, along with industry rival Beijing Yanjing Brewery Co Ltd, has been busy buying up smaller regional brewers in the past year. Its most recent acquisition effort occurred in late September, with Tsingtao taking a 90 % interest in Tsingtao Zhangzhou Brewery for 26.35 million yuan. Tsingtao, which has around 50 units within its group, will continue its expansion in the years ahead, but at a much slower pace, as prices for acquisition targets have been pushed up by cash-rich foreign majors, analysts said.
Germany: German breweries sold 29.5 million hl of beer in the third quarter of the year, a 0.3% decline
or with 0.1 million hl less versus the corresponding period last year, Federal Statistical Office revealed on October 27. The figures don't contain alcohol free beers and malt drinks as well as beer imported from countries outside EU. However, during January-September 2004 German breweries sold about 81.2 million hl of beer, a 0.3% increase or with 0.2 million hl more against January-September 2003. Beer-mixed drinks' sales decreased 15.1% to 0.8 million hl in the third quarter of the year. Taxed beer sales, which are related to domestic beer consumption, totaled 25.2 million hl Q3 2004, a 2.4% decrease. Tax-free beer sales amounted to 4.3 million hl. a rise of 14.4%. Of which 3.5 million hl were exported to EU countries, 0.8 million hl to third countries and 55,014 hl (-1.2%) to breweries' employees.
Peru, Lima: Compania Cervecera AmBev Peru officially started building a $ 40 million brewery Thursday, October 28, south of Lima
, according to Dow Jones. The new brewery is to start production in the first half of 2005. "All our resources are focused on building the plant, and we estimate it will take six months," said general manager Carlos Bembhy at a ceremony on the 14.5 hectare lot in Huachipa. Bembhy said, " AmBev Peru's entry in the market will immediately bring down the price of beer for Peruvian consumers." Several land disputes in the area delayed construction. The brewery was originally to be up and running by mid-2004. "We have faced many obstacles, but things are on the right track now. We expect to enter the Peruvian market by April or May next year," he said. So far, AmBev Peru has invested $56 million in Peru and expects to bring its total investment to $80 million with the construction of the plant. The plant will have the capacity to produce 1 million hectoliters a year, which represents roughly 16% of the national market, Bembhy said. "If demand responds as we expect, it can easily be expanded," he said. The company's aim is to sell Peruvian-produced beer, but Bembhy did't rule out taking advantage of Peru's summer months, which begin in January, by importing beer. "We are analyzing that possibility. We cannot ignore the fact that summer is important," he said. Meanwhile, Bembhy was critical of what he termed "market access barriers." He called on Peru's consumer defense agency Indecopi to allow AmBev Peru to use the same type of bottles as Union de Cervecerias Peruanas Backus & Johnston SAA, or Backus, to sell beer. Backus, controlled by Colombia's Bavaria SA, has monopolized beer production in Peru and has consistently argued that the 620 milliliter bottles are exclusive to it. More than 85% of beer in Peru is consumed from those bottles, which are exchanged when empty for full bottles. So far, AmBev Peru has been barred from manufacturing the bottles. "The responsible bodies should understand that this is a barrier to access. We are very optimistic that we will have a positive solution to our demand," Bembhy said. AmBev Peru entered the Peruvian market in October 2003, when it bought two plants, the right to bottle PepsiCo Inc. (PEP) products and a distribution network that serves Lima and northern Peru from a Peruvian bottler. Brazil's Companhia das Bebidas das Americas SA, or AmBev, has merged with brewer Interbrew SA to create InBev.
Canada: Beer is still by far the most popular alcoholic beverage among Canadian consumers, but their tastes are swinging more and more to imported brands
, according to new data on sales, Statistics Canada revealed on October 29. As of March 31, 2003, imported beer had captured 12.2% of Canada's total beer market in terms of value, up from 9.6% the year before. According to Statistics Canada beer accounted for 51% of total sales, spirits 25%, and wines 24%, roughly the same proportions as in 2001/02. On a per capita basis, consumers purchased an average of 85.6 litres of beer, 13.1 litres of wine, and 7.5 litres of spirits in 2002/03. The year before, they bought, on average, 84.7 litres of beer, 12.4 litres of wine, and 7.1 litres of spirits. In total, Canada's 3,225 beer and liquor stores and agencies sold nearly $7.9 billion worth of beer in 2002/03, up 6.1% from the previous year and a 41.5% increase from a decade earlier. Sales of imported brands increased at more than 10 times the pace of domestic brands during 2002/03. Consumers purchased $959.6 million in imported beer, up 34.7% from the previous year and the ninth annual increase in a row. During the same period, sales of domestic brands increased only 3.1% to $6.9 billion. Sales of beer reached $308 per person during 2002/03. Provincially, per capita sales were highest in Newfoundland and Labrador and lowest in Manitoba.
Russia: A revised bill banning the consumption of beer in all public places passed the State Duma in a third and final reading
. The State Duma's Committee for Economic Policy, Entrepreneurship and Tourism penned a set of amendments to an earlier bill, Russian news agencies reported on October 29. The revised bill, which will come into effect on January 1, will enact restrictions on the sale of beer starting on that date. It will ban the sale of beer to minors, and in locations near kindergartens and schools, according to The Moscow Times. Another provision in the bill, which comes into force on April 1, 2005, will make it illegal to drink beer on the street, in stadiums, in squares, parks, on public transport and other public places. The bill still has to pass the Federation Council, or the upper house. A bill banning beer commercials between 7 a.m. and 10 p.m. came into effect earlier in September, and the number of ads has already fallen by three-quarters. A ban on the use of people and animals in beer ads will come into effect next year. Industry players warn that the ambiguously phrased restrictions would effectively end brewers' sponsorship of sporting events. Russia's biggest brewer Baltika has already withdrawn its sponsorship of the country's Champions League soccer, which is reported to have been to the tune of $2 million per year. Public beer drinking in Russia is widespread. The country's vodka habit means many don't consider beer an alcoholic drink and Muscovites can often be seen with a bottle on their way to work in the morning. The distinct lack of affordable restaurants and bars means the trend could be hard to shift. "It is impossible to instill a culture of indoor beer drinking in the population until the average restaurant bill falls from four percent of a Russian's average wage to one percent at the most," the Vedomosti business daily quoted Irina Kibina, vice president of No. 2 brewer SUN Interbrew, as saying.
Chile, Santiago: USA brewing force, Anheuser-Busch Cos. Inc., intends to sell its 20 % stake in Chilean brewer CCU in March only in the Chilean market
. Anheuser-Busch announced that it would sell the stock in Chile rather than in the United States. The sale would occur "without the intervention of CCU," Chilean brewery said in a statement on October 29, according to American City Business Journals. Anheuser-Busch ruled out any share offer in the United States through American Depositary Receipts (ADRs). The deal was expected to be carried out both in Santiago and on Wall Street, Reuters revealed. "Anheuser-Busch has informed this company that it will administer the sale of its CCU stock in the Chilean market, without carrying out the registry process in accordance with the laws that govern stocks in the United States," CCU said in a statement. Earlier this year Anheuser-Busch announced its plans to sell CCU after rival Heineken bought a portion of CCU last year. The company paid an estimated $224 million for its stake in CCU in January 2001. Anheuser-Busch is the second-largest stakeholder in CCU, which is controlled by a joint venture between Quinenco and Heineken in which the two hold 61.6 percent. Heineken bought the stake from Schoerghuber Stiftung & Co. KG. The relationship between U.S.-based Anheuser Busch and CCU has been strained since Dutch rival Heineken NV indirectly bought a controlling stake in CCU last year despite Anheuser-Busch's efforts to prevent it. Heineken took a 50 % stake in Inversiones y Renta, or IRSA, the holding company, which controls 61.6 % of CCU. Quinenco owns the other 50 % of IRSA. Although CCU previously had announced that it would collaborate with the sale of the stock by Anheuser-Busch, now it says that the "the sale, once its complete, will occur without the intervention of CCU," the statement said. CCU stock rose 0.65 percent to 2,780.00 pesos per share in the Santiago Stock Exchange. CCU holds 90 % of the domestic market share for beer in Chile. It brews Cristal, Escudo, Cordoba and Schneider beers in Argentina and produces or distributes foreign beers, including Budweiser, Guinness and Paulaner. CCU also bottles mineral water and soft drinks, and is Chile's bottler of PepsiCo drinks. CCU produces, sells and distributes Budweiser beer in Argentina through its subsidiary CCU Argentina, in which A-B holds a 10.8 percent share. CCU Argentina also exports Budweiser to Brazil, Uruguay and Paraguay.
Barley News
Slovakia: USDA's October estimate for Slovakia's barley production is 940,000 tonnes
, 17 % higher than last year and 32 % above the five-year average. There was less land available for spring crops as a return to moderate winter temperatures prevented another large-scale rapeseed winterkill, USDA said.
Australia: ABB Grain Ltd announced on October 26 it would make its third distribution to growers who delivered to the company's 2003/04 barley pools on 27 October 2004
, providing gross amounts of $38/t for malting 1 barley and $41/t for feed 1 barley. Deductions to be made from the distribution include bulk handling ($3/t for all grades, both SA and Vic), GRDC and NRS levies, and VFF levies where applicable. The remaining freight charges (50% for malting barley, 40% for feed barley) will also be deducted, and malting barley is subject to 20% of the quality sliding scale adjustments (sliding scale applies to the No.1 and No.2 pools in South Australia and the No.1 pool in Victoria). The distribution is relevant to growers who selected the Extended Pool and Standard Pool payment options only – it is not relevant to those who selected the Traditional Pool option. Growers who selected the Extended Pool will receive the distribution as a straight payment. For growers who activated the Line of Credit facility attached the Extended Pool option, the distribution will be used to reduce the loan on the pool deliveries to which the Line of Credit has been linked. For growers who selected the Standard Pool the distribution will be used to reduce the lent amount that has been provided. Growers will receive the GST amount in the bank and will receive a statement recording the distribution as a payment against the loan. The next distribution for barley delivered to the 2003/04 Extended and Standard pools is scheduled for February 2005. For barley delivered to the 2003/04 Traditional pool, the final distribution is scheduled for June 2005.
Theoretical malt prices.
EURO = USD 1.2739 October 29, 2004
Crop year
2004
Parity
FOB Antwerp
Position
Oct 2004-Sept 2005
Conditioning
Bulk
In bags
Bulk containers
Bags, containers
Malting barley variety
EURO
USD
EURO
USD
EURO
USD
EURO
USD
2RS
Scarlett
240.00
305.50
255.00
324.50
251.50
320.00
261.00
332.50
2RS
Prestige
238.50
304.00
253.50
323.50
250.00
318.50
259.50
330.50
2RS
Cellar
239.50
304.50
254.50
324.00
250.50
319.50
260.50
331.50
2RS
Aspen
238.00
303.00
253.00
322.50
249.50
318.00
259.00
330.00
2RS
Optic
238.00
303.00
253.00
322.50
249.50
318.00
259.00
330.00
2RS
Astoria
237.50
302.50
252.50
321.50
249.00
317.00
258.50
329.00
2RS
Cork
237.50
302.50
252.50
321.50
249.00
317.00
258.50
329.00
2RS
Average price
238.50
303.50
253.50
323.00
250.00
318.50
259.50
330.50
2RS
FAQ
236.00
300.50
251.50
320.00
247.50
315.50
257.50
327.50
6RW
Esterel
225.00
286.50
240.50
306.00
236.50
301.50
246.00
313.50
*
Asia Malt 70/30
234.50
298.50
249.50
318.00
246.00
313.50
255.50
325.50
**
Asia Malt 50/50
231.50
295.50
247.00
314.50
243.50
310.00
253.00
322.00
* - 70/30 = 70% Average two Rows Spring and 30% Six Rows Winter
** - 50/50 = 50% Average two Rows Spring and 50% Six Rows Winter
Theoretical malt prices for crop 2005 are available on site
www.e-malt.com/MarketPrices
Malting barley prices. French barley prices.
Nominal prices.
EURO = USD 1.2739 October 29, 2004
Crop year
2004
2005
Parity
FOB Creil
FOB Creil
Position
July 2004
July 2005
Type
Variety
EURO
USD
EURO
USD
2RS
Scarlett
111.00
141.50
122.00
155.50
2RS
Prestige
110.00
140.50
121.00
154.50
2RS
Cellar
110.50
141.00
121.50
155.00
2RS
Aspen
109.50
139.50
120.50
153.50
2RS
Optic
109.50
139.50
120.50
153.50
2RS
Astoria
109.00
139.00
120.00
153.00
2RS
Cork
109.00
139.00
120.00
153.00
6RW
Esterel
99.00
126.50
105.00
134.00
French Malting Barley Price Evolution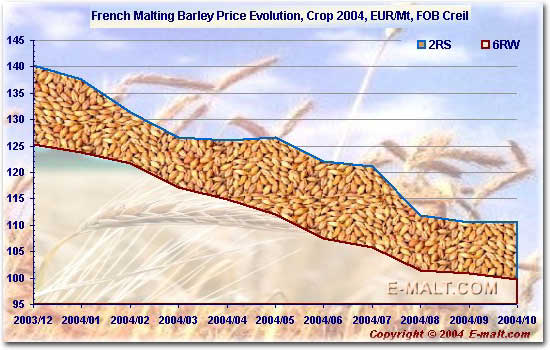 | | |
| --- | --- |
| | Maximum average price for 2RS Malting Barley, Crop 2004: 140.30 EUR/tonne - in December 2003 |
| | Minimum average price for 2RS Malting Barley, Crop 2004: 110.00 EUR/tonne - in October 2004 |
| | Maximum average price for 6RW Malting Barley, Crop 2004: 125.50 EUR/tonne - in December 2003 |
| | Minimum average price for 6RW Malting Barley, Crop 2004: 99.00 EUR/tonne - in October 2004 |
Table of the week
World Malting Barley Balance (in thousand tonnes)
Supply
Demand
Oceania
1,800
South American Pacific Coast
350
Nafta
300
Far and Southeast Asia
2,200
Mercosur
100
South Africa
100
EU
2,000
Mediterranean and Balkans
150
Russia
400
Total
4,200
Total
3,200
Graph of the week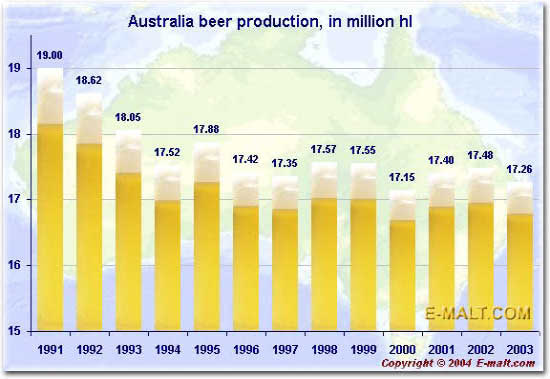 Agenda
October 2004:
OCTOBERFEST Famous German Beer Festival;
Great American Beer Festival;
bevex Beverage Trade Fair. Germany;
Great Welsh Beer & Cider Festival;
ST. PETERSBURG FOOD SALON 2004;
Beer Fair. Spain;
Expo Bebidas Beverage Exhibition. Mexico;
EXPOALIMENTOS Y BEBIDAS 2004. Panama;
Fall Eastern PA Breweriana;
Knoxville Brewer's Jam - A Memorial to Tom Rutledge;
INTERPRODTECH Food and Beverages Processing Exhibition. Russia;
Alko and Drinks Show Alcoholic Beverages and Non-alcoholic Drinks Exhibition. Russia;
WORLD FOOD KAZAKHSTAN 2004;
PAN ASIAN FOOD & BEVERAGE TRADE SHOW 2004. Canada;

November 2004:
INTERNATIONAL EXH FOR FOOD & DRINK INDUSTRY / WORLD FOOD UKRAINE 2004;
INT'L EXH OF WINES, ALCOHOLIC & NON ALCOHOLIC DRINKS & PROTECTION EQUIPMENT / EXPO DRINK 2004. Romania;
TALLINN FOODFEST 2004;
Belgian Beer Fest, Boston MA;
Teach a Friend to Brew Day;
FOOD PROCESSING MACHINERY EXPO 2004;
FISPAL RECIFE 2004 / INTERNATIONAL FOOD FAIR. Brazil.;
BRAU Beviale 2004. Nürnberg, Germany.;
Brewers' Association of America Conference;
Accrington Beer Festival. UK;
FOODAPEST 2004. 7th International Food, Drink and Food Processing Trade Fair;
INTERNATIONAL EXH FOR FOOD INGREDIENTS, ADDITIVES & FLAVOURINGS / INGREDIENTS RUSSIA 2004;

More events are available on site e-malt.com