Germany: Holsten-Brauerei AG announced on October 21, 2004 that Carlsberg Deutschland GmbH, which now holds 98.14% of the shares in Holsten-Brauerei AG, is planning to squeeze out the company's minority shareholders
. A resolution for the transfer of the remaining shares in return for a fair cash payment will be submitted for approval at an Extraordinary General Meeting to be called in the near future. The level of the cash payment has still to be decided. The Holsten group is one of the front-runners in the German beverage manufacturing market with a global production volume of 12.9 million hectolitres (hl) of beer and soft drinks and value sales of €752 million in 2003. In March 2004 it became part of Carlsberg, the world's fifth largest, internationally active brewery group. The group's beer business was started by the Holsten-Brauerei AG, a brewery founded in 1879 in what is now the Altona district of Hamburg. Over the next 125 years, this company grew into one of Germany's leading brewery groups pursuing a broad, multi-brand strategy in its domestic market and doing a flourishing business elsewhere through exports and licensees. In addition to the Holsten brewery in Hamburg, the group also includes the Mecklenburg brewery in Lübz, the Feldschlösschen breweries in Dresden and Brunswick and the Landskron brewery in Görlitz. The König brewery in Duisburg and the Licher brewery in the state of Hesse were also Holsten subsidiaries until their disposal in mid-2004. The group's 2003 beer sales totalled around 9.1 million hl (5.6 million barrels), of which 7.6 million hl (4.6 million barrels) were sold in the domestic market and some 1.0 million hl (611,000 barrels) exported to 90 different countries. In addition to the group's own production, 0.6 million hl (366,000 barrels) of Holsten beer were brewed under licence in Russia, Hungary, England and the Dominican Republic.
Hungary, Budapest: Brau Immobilien GmbH, an Austria-based unit of Heineken NV, has recently announced it has launched a higher bid to buy out the minority shareholders in its Hungarian unit
. Brau Immobilien has taken over majority ownership of Hungarian brewery Brau Union Hungaria from Amstel Sorgyar, a Hungarian unit of Heineken, and announced a public purchase offer for the remaining Brau Hungaria shares. Brau Immobilien already holds 93.2 pct of Brau Hungaria shares. The company is offering 16,362 forint or 66.3 eur for both Brau Hungaria ordinary and preference shares. The offer still requires approval by market regulator PSZAF. The new purchase offer is higher than a previous offer, suspended after a summer court decision invalidated its approval by PSZAF. Last autumn, Amstel Sorgyar offered to purchase Brau ordinary shares at 12,297 forint each and preference shares at 12,806 forint. Brau Union Hungaria Breweries Co., as a key actor of the domestic beer market, is a Hungarian company owned by the Austrian BBAG-group (Österreichische Brau-Beteiligungs Aktiengesellschaft) via majority of shares. With its quality beers produced in two brewing plants in Sopron and Martfû; Brau Union Hungária's domestic market share reaches around 27 percent. Brau Union Hungaria Breweries Co.'s main goal is to meet the demands of its consumers and business partners through continuously improving its products and services, assuring high quality standards. The company's brands are doing extremely well at international competitions. Kaiser, Gösser Spezial and Soproni Ászok have been awarded the gold medal for quality excellence several times at Monde Selection, the world's most prestigious food and beverage contest.
UK: The world's biggest brewer by volume, InBev has clashed with Britain's biggest trade union and one of its proudest cities over plans to close the historic beer maker, Boddingtons brewery in Manchester
, Reuters said on October 26. InBev plans to close the historic brewery by 2005 and move production elsewhere, with the loss of 55 jobs. InBev says the Boddingtons brewery is old, inflexible and in decline, and production must be moved to another local site. But the Transport and General Workers' Union (T&G) has voted for a 48-hour strike at the factory from November 1, and Manchester City Council has thrown its weight behind the "Save The Cream" campaign. Boddingtons ale is known as "The Cream of Manchester" for its smooth taste and creamy head. The clash is typical of the sector, where small breweries feel themselves pitted against global corporations and the forces of globalisation. "It's an emotional case, but the business case is irrefutable," said a spokesman for InBev, which was formed from the merger of Belgium's Interbrew with Brazil's AmBev earlier this year. "It's an inflexible, old cask ale brewery. The tide is that cask ale is declining, and we can't fight that." But the union argues that the brewery contributed 16.5 million pounds to InBev's profits last year and sales are still growing. It accused InBev of "cynical corporate greed". "There's no disguising the anger and sense of betrayal at the brewery," said T&G organiser Franny Joyce on Tuesday. "It is the workforce who have developed this brand and the success of this brewery and they now face their jobs being taken away while the owners cry crocodile tears," he added. Last month workers staged a 24-hour unofficial strike in protest at the plans and earlier this month Manchester based MEP Arlene McCarthy called on Interbrew to review its decision. InBev says Boddingtons ale is still profitable, although not as profitable as its other brands. The Manchester site is incapable of putting the ale in cans or kegs, and money is wasted transporting 90 percent of it off site for canning, it says. Manchester City Council hit out at rumours InBev was hoping to sell the land to property developers. "Boddingtons has helped promote Manchester around the world," said a spokesman. "If InBev think they can sell off the land, that's not going to happen." InBev said it was nowhere near deciding what to do with the site.
South Africans' strong thirst for beer and flavoured alcoholic beverages, and their higher disposable incomes, saw SA's total sales of alcoholic beverages through off-consumption outlets
such as bottle stores rise 4% by volume and 12% by value to R24bn in the 12 months to May this year, Business Day (Johannesburg) revealed on October 26. This is according to market researchers ACNielsen's annual liquor industry review. Though the liquor market had mixed fortunes in the period, it was characterised by brand innovation and demand for premium labels. Average inflation in liquor dropped to 8% during the period compared with 12% in June last year. Beer took market share from all other products except for flavoured alcoholic beverages. In litres its market share was above 80%, and in absolute alcohol share it exceeded 60%. SA Breweries (SAB) and Namibian Breweries took market share away from the spirit-based companies. Beer, brandy and liqueurs increased market penetration, while white spirits, whisky and unfortified alcohol (mainly wine) lost ground. ACNielsen says about 75% of the buyers of beer, brandy, white spirits and flavoured alcoholic beverages are in the income category living standards measure (LSM) one to six. Ten is the highest income . The LSM 1-6 market is very susceptible to economic pressure, which affects the liquor industry's performance...
more info
Colombia: Bavaria SA, Colombia's largest brewery, plans to sell 350 billion pesos ($136 million) worth of 10-year bonds backed by barley forward contracts to help prepay debt
, a spokesman said. The bonds will be sold today to yield a maximum of 7.5 percentage points above the consumer price index, which was about 6 percent through September, Bavaria said in a statement published in the daily El Tiempo. Bavaria spokesman Carlos German Quintero said it would be Colombia's first securitization of barley forward contracts. The securities backed by forward contracts on barley, a raw ingredient for beer, may lure investors who otherwise might buy corporate and government bonds, said Carlos Silva, head of research at Ultrabursatiles SA brokerage in Bogota. Similar transactions in recent years have included sales of bonds backed by sugar forwards, Bavaria's Quintero said.
Russia: Russian beer production grew 11.8% year-on-year in the third quarter of 2004
, according to a study conducted by the Brewers' Union and the marketing agency Business Analitika. The leading company for the period were Sun Interbrew, Baltika, Vena and Heineken Brewery. These company have registered a 20% increase of beer volumes for the period. Market experts have noticed some tendencies for the last quarter of the year: companies' aspiration to merging and extension; the changing of consumer's preference from average price beer to economic class beer and premium class; and also launching new restaurants and pubs under brewer's brands. Russian breweries increased product output 12% year-on-year in January-September 2004, the Russian Brewers' Union told Interfax on October 25. Breweries produced 5.87 billion liters of beer in 2003 and, according to preliminary data, beer output will be 6.58 billion liters in 2004. Breweries, which produce a total of more than 70% of the beer in Russia, increased output an average of 14% in the period. Russia currently has some 380 breweries.
Malt News
Vietnam: Saigon Beer Brewery of Vietnam is in the market for 40,000 tonnes of malt, market analysts have recently revealed. The brewery usually orders its malt from Australia and the EU.
Barley News
Lithuania: Viking Malt posted an optimistic estimate of the Lithuanian 2004 malting barley crop of 75 thousand tonnes. Lithuania demand malting barley is of 100 thousand tonnes in 2004. The company revealed expected increase in acreage, total barley crop and share of malting barley. Today, when almost the entire crop has been taken in, the figures have to be adjusted, Viking Malt said. A recent company's estimate points towards a slight down crease for malting barley from the levels we spoke of this spring. In Lithuania harvest was about 2-3 weeks later than normal. A breakdown between varieties show: Barke 60%, Prestige 17%, Scarlett 15%, Jersey, Braemer and Sebastian 8%. More than 70 pre-samples from the Lithuanian crop have been analyzed.

Czech Republic: USDA's October release estimates Czech barley, improved 16 % from last year to an estimated at 2.4 million tonnes. Barley is predominantly a spring-planted crop in the Czech Republic; unlike wheat, it suffered significantly less damage in the previous year's cold winter. The harvest in the Czech Republic was fully underway and progress was going very well during early August crop travel. Weather cooperated all season and remained favorable at harvest. All field stops and meetings with farmers and agriculture officials indicated a much better-than-average wheat crop was being collected. A mild winter with heavy snow cover had protected vegetation from frost damage. During the spring and summer, adequate rainfall and cool temperatures boosted yields of winter-sown crops. The only real problem with the winter crop development occurred during last fall's dry period which stunted emergence in some areas. This issue, however, was largely minimized by the favorable weather since. The well-known local adages of "a cool, wet May brings heaven to your barn" and a "white February makes a strong crop" both rang true this year. Wheat was in good condition (barley is largely spring-sown in the Czech Republic); the other major autumn-sown crop is rapeseed, and it had a near-record yield for the season. According to local farmers, the most essential ingredients for a bumper, high-quality rapeseed crop came together at just the right time this year: moderate weather at the end of the season with very little heat and just enough rain. Heavy rains in late June created harvest delays. Typically, barley is harvested a couple weeks earlier than they were this year, but the rains compressed the harvest window. This forced simultaneous harvesting of barley, putting additional strain on farmers and resources. A reprieve arrived in July and August, as drier weather allowed harvesting and field activities to resume...more info


Theoretical malt prices.
EURO = USD 1.2767 October 27, 2004
Crop year
2004
Parity
FOB Antwerp
Position
Oct 2004-Sept 2005
Conditioning
Bulk
In bags
Bulk containers
Bags, containers
Malting barley variety
EURO
USD
EURO
USD
EURO
USD
EURO
USD
2RS
Scarlett
241.00
307.50
256.50
327.00
252.50
322.50
262.00
334.50
2RS
Prestige
240.00
306.00
255.00
325.50
251.50
321.00
261.00
333.00
2RS
Cellar
240.50
307.00
255.50
326.50
252.00
321.50
261.50
334.00
2RS
Aspen
239.50
305.50
254.50
324.50
250.50
320.00
260.50
332.50
2RS
Optic
239.50
305.50
254.50
324.50
250.50
320.00
260.50
332.50
2RS
Astoria
238.50
304.50
253.50
324.00
250.00
319.50
259.50
331.50
2RS
Cork
238.50
304.50
253.50
324.00
250.00
319.50
259.50
331.50
2RS
Average price
239.50
306.00
255.00
325.50
251.50
320.50
261.00
333.00
2RS
FAQ
237.50
303.00
252.50
322.50
249.00
317.50
258.50
330.00
6RW
Esterel
226.50
289.00
241.50
308.50
238.00
303.50
247.50
315.50
*
Asia Malt 70/30
235.50
301.00
251.00
320.50
247.50
315.50
256.50
327.50
**
Asia Malt 50/50
233.00
297.50
248.00
316.50
244.50
312.00
254.00
324.50
* - 70/30 = 70% Average two Rows Spring and 30% Six Rows Winter
** - 50/50 = 50% Average two Rows Spring and 50% Six Rows Winter
Theoretical malt prices for crop 2005 are available on site
www.e-malt.com/MarketPrices
Malting barley prices. French barley prices.
Nominal prices.
EURO = USD 1.2767 October 27, 2004
Crop year
2004
2005
Parity
FOB Creil
FOB Creil
Position
July 2004
July 2005
Type
Variety
EURO
USD
EURO
USD
2RS
Scarlett
112.00
143.00
123.00
157.50
2RS
Prestige
111.00
142.00
122.00
156.00
2RS
Cellar
111.50
142.50
122.50
156.50
2RS
Aspen
110.50
141.50
121.50
155.50
2RS
Optic
110.50
141.50
121.50
155.50
2RS
Astoria
110.00
140.50
121.00
154.50
2RS
Cork
110.00
140.50
121.00
154.50
6RW
Esterel
100.00
128.00
106.00
135.50
Table of the week
World Malting Barley Balance (in thousand tonnes)
Supply
Demand
Oceania
1,800
South American Pacific Coast
350
Nafta
300
Far and Southeast Asia
2,200
Mercosur
100
South Africa
100
EU
2,000
Mediterranean and Balkans
150
Russia
400
Total
4,200
Total
3,200
Graph of the week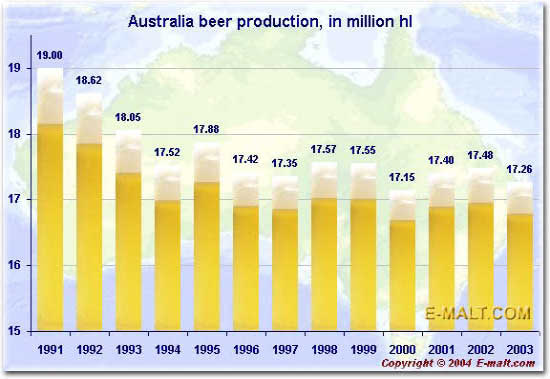 Agenda
October 2004:
OCTOBERFEST Famous German Beer Festival;
Great American Beer Festival;
bevex Beverage Trade Fair. Germany;
Great Welsh Beer & Cider Festival;
ST. PETERSBURG FOOD SALON 2004;
Beer Fair. Spain;
Expo Bebidas Beverage Exhibition. Mexico;
EXPOALIMENTOS Y BEBIDAS 2004. Panama;
Fall Eastern PA Breweriana;
Knoxville Brewer's Jam - A Memorial to Tom Rutledge;
INTERPRODTECH Food and Beverages Processing Exhibition. Russia;
Alko and Drinks Show Alcoholic Beverages and Non-alcoholic Drinks Exhibition. Russia;
WORLD FOOD KAZAKHSTAN 2004;
PAN ASIAN FOOD & BEVERAGE TRADE SHOW 2004. Canada;

November 2004:
INTERNATIONAL EXH FOR FOOD & DRINK INDUSTRY / WORLD FOOD UKRAINE 2004;
INT'L EXH OF WINES, ALCOHOLIC & NON ALCOHOLIC DRINKS & PROTECTION EQUIPMENT / EXPO DRINK 2004. Romania;
TALLINN FOODFEST 2004;
Belgian Beer Fest, Boston MA;
Teach a Friend to Brew Day;
FOOD PROCESSING MACHINERY EXPO 2004;
FISPAL RECIFE 2004 / INTERNATIONAL FOOD FAIR. Brazil.;
BRAU Beviale 2004. Nürnberg, Germany.;
Brewers' Association of America Conference;
Accrington Beer Festival. UK;
FOODAPEST 2004. 7th International Food, Drink and Food Processing Trade Fair;
INTERNATIONAL EXH FOR FOOD INGREDIENTS, ADDITIVES & FLAVOURINGS / INGREDIENTS RUSSIA 2004;

More events are available on site e-malt.com