China: Beijing Yanjing Brewery, China's third-largest brewer controlled by red-chip Beijing Enterprises, said it plans to raise its stake in Fujian Yanjing Huiquan Brewery to 52.37 %
from 38.15 % for 131.58 million yuan (HK$123.92 million), The Hong Kong Standard revealed on October 12. Under the plan, Shenzhen-listed Yanjing Brewery will buy 14.22 per cent or 35.56 million shares of its sister company, Shanghai-listed Huiquan Brewery, from five shareholders at 3.7 yuan per share, according to its filing to the mainland stock exchange on Monday. "Yanjing Brewery will have the controlling stake in Huiquan Brewery after the transaction. This will enhance our company's brand awareness as well as our strategic position in the country,'' Yanjing Brewery said. Listed in February 2003, Huiquan Brewery, located in Huian county, Fujian province, produces 800,000 tonnes of beer each year, and ranks among the top 10 mainland breweries. This latest stake acquisition comes two weeks after Yanjing Brewery agreed to pay 60.17 million yuan to increase control of two regional breweries as part of its expansion in the rapidly consolidating beer market. It said earlier that it would pay 19.84 million yuan to purchase 22.55 per cent in Yanjing Brewery from Jiangxi Gannan Fruit, bringing its control to 100 per cent. It also said last month that it will acquire a 27.56 % stake in Baotou Yanjing Brewery from Baotou State-Owned Asset Supervision Management Commission for 40.33 million yuan. That will raise Beijing Yanjing's holding in Baotou Yanjing to 79.13 %. Meanwhile, Yanjing Brewery said on Monday that it plans to inject 50 million yuan to boost its stake in Baotou Yanjing to 84.97 %. China's brewery market has been attracting both domestic and foreign players to beef up share to make the most of the fast-growing economy. In mid-September, China Resources Enterprises and partner SABMiller agreed to buy Australian brewer Lion Nathan's China beer business for US$154 million (HK$1.2 billion). Shares of Yanjing Brewery closed down 1.31 per cent at 12.8 yuan on Monday, and Huiquan Brewery finished up 2.66 per cent at 7.34 yuan.
Belgium: InBev, the world's second-biggest brewer, announced on October 12 it would offer minority shareholders of Cia. de Bebidas das Americas, the Brazilian brewer it bought for $11.2 billion
, two methods of payment from InBev to satisfy regulators. "InBev SA/NV, a corporation incorporated under the laws of the Kingdom of Belgium, with its headquarters at Vaartstraat, 94, Leuven ("InBev"), filed on September 8, 2004 with Comissăo de Valores Mobiliários ("CVM"), its request for approval of the terms and conditions of the mandatory tender offer ("MTO") resulting from the combination with Companhia de Bebidas das Américas – AmBev ("AmBev"), as required by article 254-A of the Brazilian Corporation Law. After reviewing the requirements made by the CVM on the proposed terms of the MTO, InBev has decided to carry out the MTO by providing two alternative payment options to shareholders that tender their common shares in the MTO auction. The first option will provide for payment in shares of InBev. Accordingly, shareholders that elect to be paid in shares will be entitled to receive shares of InBev for such common shares of AmBev tendered by them at the MTO auction. The applicable exchange ratio will be 80% of the exchange ratio applied to the former controlling shareholders of AmBev pursuant to their agreement with InBev, and disclosed to the market on September 2, 2004. The shares of InBev will trade solely on Euronext Brussels, will not be registered with CVM or the Brazilian stock exchanges and will be delivered to the AmBev common shareholders that elect to receive shares of InBev after the completion of all necessary procedures under applicable laws, including the receipt of corporate and regulatory approvals. Complete and detailed terms relating to this option will be disclosed in the MTO auction notice (Edital) to be published in Brazil. The second option will provide for payment in cash. Shareholders that elect to receive a cash payment will be entitled to receive an amount in Brazilian Reais equivalent to EUR 353,28 for each thousand of common shares of AmBev. Such amount will be converted into Reais according to exchange rates prevailing on the auction date, in accordance with the press release published by InBev on September 2, 2004. In due course, InBev will file at CVM a revised draft of the tender offer according to the terms mentioned above. The terms and conditions of the MTO cannot be considered as final until their approval by CVM and their publication by InBev in the form of the Brazilian law. This exchange offer or business combination is made for the securities of a foreign company...
more info
Bulgaria: Beer consumption in Bulgaria has dropped by 33.1% over the first six months of the year
. About 367,700 hl of beer were sold in September, whereas in August more than 550,000 hl were sold, according to the figures revealed by the Bulgarian Union of Brewers. The chairman of Bulgarian Union of Brewers Vladimir Ivanov forecasted that in 2004 beer sales in Bulgaria would register an 8% increase versus 2003. In August Bulgaria's beer market recorded a growth of 7-8% for the first eight months in 2004 over the same period last year. Thirteen Bulgarian breweries produce over 50 different kinds of beer in the country.
UK: Beer is the most popular alcoholic drink in the UK, accounting for 48% of total spending on alcoholic drinks in 2003
. The UK beer market was worth 18.85bn pounds sterling in 2003, having benefited from both a hot summer and generally favourable economic conditions, PRNewswire commented the report of Research and Markets on October 12. Despite media impressions of a binge-drinking culture, the UK's per capita consumption of beer is not unduly high, and the total volume of consumption is fairly stable over the long term. However, the trend away from standard-strength beers towards the more expensive premium lagers has continued, helping the market to grow in value. Pricing competition has intensified in the take-home channel for beer, whereas public houses (commonly known as `pubs') and nightclubs have been able to increase prices regularly. At one time, the majority of pubs were owned by brewers, but government restrictions on this 'tie' produced a situation where, by the end of 2003, none of the national brewers was a significant pub owner. Scottish & Newcastle PLC, the last brewer to sell its tied pub estate (in 2003), was the market leader by value. It is followed by three foreign owners -- Interbrew of Belgium, Coors of the US and Carlsberg of Denmark -- and these four companies account for 80% of the UK beer market between them. Concentration is increasing not only by brewer but also by brand, with giant brands such as Stella Artois (Interbrew) and Carling (Coors) gaining market share at the expense of less well-known brands. Despite globalisation trends in both directions -- the UK's Scottish & Newcastle is now a major multinational -- the smaller regional brewers remain important as guardians of traditional brewing heritage. Most young people start by drinking lager but their tastes often mature towards the dark beers such as stout (led by Guinness) and cask ales such as London Pride and Marston's Pedigree. The maturity of the market means that future changes are unlikely to be dramatic, although a new licensing regime for retailing alcohol -- due to begin in 2005 -- could influence drinking patterns significantly. On the supply side, governments are unlikely to allow further mergers to take place between the major players.
Romania, Timisoara: SABMiller plc. announced on October 6th, 2004 that its member, Compania de Bere România, continues to invest in the renewal and upgrade of the production facilities in the Timisoara-based brewery
by inaugurating a new brewhouse, the result of an investment of USD 3.5 million. The new brewhouse has a weekly capacity of 17,500 hl and is equipped with state-of-the-art technology and automated quality control systems. The production process and quality control technology from the Timisoara brewery ensures that a beer with a high and consistent quality is obtained, in compliance with the quality standards applicable to all SABMiller breweries, thus satisfying the most demanding tastes of Romanian consumers. Dieter Schulze, General Manager of Compania de Bere România, a member of SABMiller plc., declares:" In Timisoara, the brewing activity started almost 300 years ago, and the reputation of the beer brewed here grew constantly. Today, SABMiller continues to invest so that Romanian consumers recognize Timi s oreana for the same traditional quality, but with up to date and modern technology." The brewery in Timisoara was purchased by SABMiller plc. in 2001 and currently has an annual capacity of 600,000 hl and employs around 300 people. The investments made by Compania de Bere România in the Timisoara brewery since 2001 have now reach USD 5 million and consists of: a new brewhouse, the installation of a complete line of filtration and storage of filtered beer, the modernization of the pasteurization systems for beer in bottles and kegs, the refurbishment of the refrigeration section and the installation of new beer cooling systems, the endowment of the laboratories with modern and accurate equipment for analysing beer throughout the brewing process and after bottling. "The investment in the brewhouse is the first important step towards the upgrading of the brewery, which will be continued by the installation of a new fermentation section and the rehabilitation of the infrastructure. The modernisation of the brewery ensures the maintenance of a consistent beer quality with the latest available technology", declares Aurelian Bent, the Director of the Brewery from Timisoara. SABMiller plc. has been present in Romania since 1996 and currently has 4 breweries with a total capacity of 3 million hectoliters and approximately 1,300 employees. SABMiller plc operations are based in Cluj -Napoca, Buzau, Timisoara and Brasov, and it maintains an estimated market share of 22%. The brands brewed by SABMiller plc in Romania include Ursus Premium, Timisoreana Lux, Ciucas, and the distribution of Pilsner Urquell. SABMiller plc. is one of the top 3 beer producers in the world, with a volume of 137.8 million hectoliters during the year ended March 31 st , 2004. The Group achieved a profit (before tax) of USD 1,391 million and turnover of USD 12,645 million for the financial year ending March 31 st , 2004.
USA: Miller Brewing Co has signed a three-year, US$100 million marketing deal with Univision Communications, the largest Spanish-language media company in the U.S.
, the Milwaukee brewery said on Friday, October 8, according to AdWeek. The deal includes airtime on the Univision's TV, radio and online outlets, in addition to sponsorships and "substantial brand integration," Miller said. Under terms of the agreement, Miller will be a major sponsor of the 2006 World Cup telecasts on Univision, as well as other soccer programming. Miller also will be the exclusive beer sponsor for Univision's "telenovelas," or prime-time Spanish-language soap operas, as well as the music specials broadcast or sponsored by the network. "This agreement gives us a very real, long-term competitive advantage in connecting with adult Hispanic beer drinkers," said Luis Altuve, director of multicultural marketing at Miller, in a statement.
Malt News
Russia's malt imports are expected to drop, as at least 400,000 tonnes of new malting capacities have come on stream during the past months, experts have recently forecasted. Russia has introduced a new import regulation: If the 10% import tax is less than EUR 22 per tonne, a minimum of EUR 22, is payable anyway.
Barley News
Canada: Only 40% of the barley crop was harvested at the end of September. Rains, some frost and snow in the first half of September were followed by one week of dry and warm weather, enabling farmers to get their combines in the fields. By now cold temperatures and rains returned, what will happen to the barley still in the fields, quantities and especially quality? The CWB is not a seller at present. The Board hopes to select up to 1.5 million tonnes of malting barley to cover domestic demand, execute export sales already done to the US and South Africa and have a few hundred thousand tons more to sell abroad. So far the final result is very uncertain.

EU: The EU surplus of malting barley is 2 million tonnes, in theory, market analysts revealed. A September barley seminar of Euromalt agreed broadly on the major national estimates: a huge crop in France, a record small deficit in Germany, spoiled hopes in the U.K. and Scandinavia, where August rainfalls prevented the harvest of mature grains and led to typical damages viz. stained grains, splits, pregermination. Luckily one part of the spring barley was harvested before the rains, and another part was not yet ripe enough and escaped the worst of the weather damage. The U.K. is altogether self-sufficient in malting barley, Denmark's usual export surplus is halved to about 500,000 tonnes.


Theoretical malt prices.
EURO = USD 1.2329 October 13, 2004
Crop year
2004
Parity
FOB Antwerp
Position
Oct 2004-Sept 2005
Conditioning
Bulk
In bags
Bulk containers
Bags, containers
Malting barley variety
EURO
USD
EURO
USD
EURO
USD
EURO
USD
2RS
Scarlett
240.00
296.00
255.50
314.50
251.50
310.00
261.00
322.00
2RS
Prestige
239.00
294.50
254.00
313.00
250.50
308.50
260.00
320.50
2RS
Cellar
239.50
295.00
254.50
314.00
251.00
309.50
260.50
321.00
2RS
Aspen
238.50
293.50
253.50
312.50
249.50
308.00
259.50
319.50
2RS
Optic
238.50
293.50
253.50
312.50
249.50
308.00
259.50
319.50
2RS
Astoria
237.50
293.00
252.50
311.50
249.00
307.00
258.50
319.00
2RS
Cork
237.50
293.00
252.50
311.50
249.00
307.00
258.50
319.00
2RS
Average price
238.50
294.50
254.00
313.00
250.50
308.50
260.00
320.50
2RS
FAQ
236.50
291.50
251.50
310.00
248.00
305.50
257.50
317.50
6RW
Esterel
225.50
277.50
240.50
296.50
237.00
292.00
246.50
303.50
*
Asia Malt 70/30
234.50
289.50
250.00
308.00
246.50
303.50
255.50
315.50
**
Asia Malt 50/50
232.00
286.00
247.00
304.50
243.50
300.50
253.00
312.00
* - 70/30 = 70% Average two Rows Spring and 30% Six Rows Winter
** - 50/50 = 50% Average two Rows Spring and 50% Six Rows Winter
Theoretical malt prices for crop 2005 are available on site
www.e-malt.com/MarketPrices
Malting barley prices. French barley prices.
Nominal prices.
EURO = USD 1.2329 October 13, 2004
Crop year
2004
2005
Parity
FOB Creil
FOB Creil
Position
July 2004
July 2005
Type
Variety
EURO
USD
EURO
USD
2RS
Scarlett
112.00
138.50
123.00
152.00
2RS
Prestige
111.00
137.00
122.00
150.50
2RS
Cellar
111.50
137.50
122.50
151.50
2RS
Aspen
110.50
136.50
121.50
150.00
2RS
Optic
110.50
136.50
121.50
150.00
2RS
Astoria
110.00
136.00
121.00
149.50
2RS
Cork
110.00
136.00
121.00
149.50
6RW
Esterel
100.00
123.50
106.00
131.00
Table of the week
United States Breweries 2004
U.S. Breweries Operating in 2003:
U.S. Breweries Operating in 2004:
Regional Specialty Breweries
55
Regional Specialty Breweries
55
Microbreweries
385
Microbreweries
371
Brewpubs
986
Brewpubs
936
Total Craft Breweries
1,426
Total Craft Breweries
1,362
Large Breweries
19
Large Breweries
20
Regional Breweries
20
Regional Breweries
14
Total U.S. Breweries
1,465
Total U.S. Breweries
1,396
2003 U.S. Openings ytd:
2004 U.S. Openings ytd:
Brewpubs
60
Brewpubs
22
Microbreweries
21
Microbreweries
13
Regional breweries
1
2003 U.S. Closings ytd:
2004 U.S. Closings ytd:
Brewpubs
61
Brewpubs
24
Microbreweries
10
Microbreweries
5
Large brewery
1
Graph of the week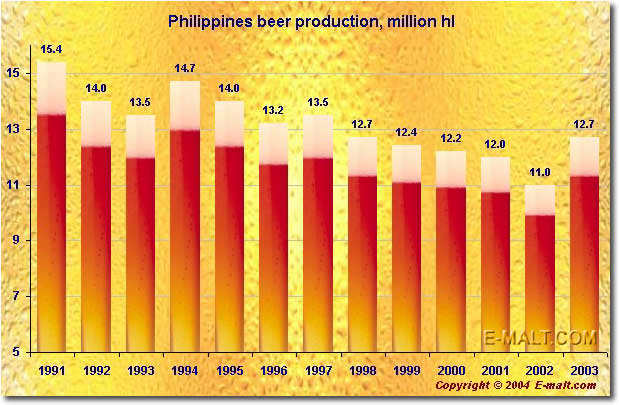 Agenda
October 2004:
OCTOBERFEST Famous German Beer Festival;
Great American Beer Festival;
bevex Beverage Trade Fair. Germany;
Great Welsh Beer & Cider Festival;
ST. PETERSBURG FOOD SALON 2004;
Beer Fair. Spain;
Expo Bebidas Beverage Exhibition. Mexico;
EXPOALIMENTOS Y BEBIDAS 2004. Panama;
Fall Eastern PA Breweriana;
Knoxville Brewer's Jam - A Memorial to Tom Rutledge;
INTERPRODTECH Food and Beverages Processing Exhibition. Russia;
Alko and Drinks Show Alcoholic Beverages and Non-alcoholic Drinks Exhibition. Russia;
WORLD FOOD KAZAKHSTAN 2004;
PAN ASIAN FOOD & BEVERAGE TRADE SHOW 2004. Canada;

November 2004:
INTERNATIONAL EXH FOR FOOD & DRINK INDUSTRY / WORLD FOOD UKRAINE 2004;
INT'L EXH OF WINES, ALCOHOLIC & NON ALCOHOLIC DRINKS & PROTECTION EQUIPMENT / EXPO DRINK 2004. Romania;
TALLINN FOODFEST 2004;
Belgian Beer Fest, Boston MA;
Teach a Friend to Brew Day;
FOOD PROCESSING MACHINERY EXPO 2004;
FISPAL RECIFE 2004 / INTERNATIONAL FOOD FAIR. Brazil.;
BRAU Beviale 2004. Nürnberg, Germany.;
Brewers' Association of America Conference;
Accrington Beer Festival. UK;
FOODAPEST 2004. 7th International Food, Drink and Food Processing Trade Fair;
INTERNATIONAL EXH FOR FOOD INGREDIENTS, ADDITIVES & FLAVOURINGS / INGREDIENTS RUSSIA 2004;

More events are available on site e-malt.com