China will be the world's biggest beer producer in 2004 for the third year running, brewing more than 7 billion gallons (264.95 million hl) of beer
, an industry expert said Wednesday, October 13. This year's output exceeds last year's by about 500 million gallons (18.93 million hl), or 7.4%, said Xiao Derun, director of the beer branch of the China Distillers Association. China consumed 6.6 billion gallons (249.81 million hl) of beer last year, pushing consumption past the United States and into the global top spot for the first time. Continuing demand pushed pretax profit from beer up 22 percent to 8.72 billion yuan (about US$1.05 billion; euro 872 million) between January and July, Xiao said. Xiao attributed the increase in production to the purchase and consolidation of small, inefficient breweries by major brands, along with the construction of new breweries and new investment in existing ones. China's beer market is still dominated by domestic brands such as Tsingtao and Yanjing, but international names such as Budweiser, Suntory, Carlsberg and Fosters also have a major presence in the country.
Canada's Competition Bureau said Wednesday, October 13, it has no objection to the proposal to merge brewers Molson Inc. of Montreal and Adolph Coors Co. of Golden, Colo.
, according to Asia News. A spokesman said the agency reviewed the proposed deal, announced last July, and did not find any reasons to block it. "We reviewed it and it raised no issues under the Competition Act," spokesman Tim Weil said. The U.S. Federal Trade Commission gave its nod to the deal last week. With these administrative hurdles behind them, the brewers expect their joint proxy circular filed Sept. 18 to be cleared by the U.S. Securities and Exchange Commission by mid-November. It would then be submitted to Quebec Superior Court and mailed to Molson shareholders. A vote by Molson shareholders is tentatively scheduled for the week of Dec. 13. If two-thirds of both classes of shareholders vote in favor, the two brewers would together become the third-largest beer maker in North America, with combined sales of about $6 billion. Some institutional investors are balking at the deal, believing there are few strategic benefits. Also, Ian Molson, a distant cousin of Molson chairman Eric Molson, is trying to prepare a counterbid for Canada's oldest beer company. However, analyst Michael Van Aelst of CIBC World Markets said this week he is doubtful a third-party takeover could succeed, because Molson is not profitable enough to justify a higher offer. In a related development, the company also modified another contentious clause, and will not pay chief executive Dan O'Neill a $2.4 million payment after a change of control at the brewer. Instead, if O'Neill leaves the new combined company within two years of the merger, he will be entitled to his change of control payment in lieu of severance. Besides the Caisse, Molson said the Ontario Teachers Pension Plan as well as Coors have also agreed to the changes to the option holder voting and executive compensation plan. O'Neill is slated to become vice chairman of the combined firm, which would be the third-largest brewer in North America with annual sales of about $6 billion. Molson shares fell 40 Canadian cents (32 cents) to close at 31.60 Canadian dollars ($25.15) in Toronto trading, while Coors shares rose 19 cents to close at $66.19 on the New York Stock Exchange.
Japan, Tokyo: Combined domestic shipments of beer and "happoshu" low-malt beer by Japan's five major brewers dropped 8.5% in September
from a year earlier as consumers stayed away from restaurants due to powerful typhoons that hit the country, according to shipment figures released Wednesday, October 13. Beer and happoshu shipments by Kirin Brewery Co, Asahi Breweries Ltd, Sapporo Breweries Ltd, Suntory Ltd, and Orion Breweries Ltd totaled 38.92 million cases. One case holds 12.66 liters, or the equivalent of 20 633-milliliter bottles, according to Kyodo News and Japan Today. Shipments of regular beer fell 6.6 percent to 23.32 million cases, and those of happoshu dropped 11.2 percent to 15.19 million cases, the first double-digit drop since April. The brewers said shipments of happoshu suffered setbacks as competition with cheap beer-like alcoholic beverages is intensifying in the market. The brewers attributed the second straight monthly fall to fewer outings to restaurants and bars mainly due to unfavorable weather created by the typhoons in the reporting month.
UK, London: Efes Breweries International N.V. toasted its debut on the London Stock Exchange on Friday, October 15, 2004 as its shares rose a fifth from their issue price in a $700 million flotation
, according to Reuters. The London-listed shares of the international brewing company rose to $28 in morning trade, up 20 percent from the flotation offer price of $23.25. Traders in London said the placing was 5 times oversubscribed. Efes, whose parent company Turkey's Anadolu Efes sold down its stake to 70 % from 85 % in the flotation, said earlier this month that it was planning the deal to raise money to expand in eastern Europe and Asia. The firm said on Friday it had raised $119 million of new money from the flotation. Based on the offer price of $23.25, the firm had a market capitalisation of around $688 million. With shares trading at $27, it has a stock market value of around $830 million. "We are delighted by the reception which investors from all over the world have given to the IPO of our company," Chief Executive Muhtar Kent said in a statement. Efes, which will continue to be based in the Netherlands, is one of Russia's top three brewers having taken advantage of a market which has grown at 15 percent a year since 1999. Investment bank Credit Suisse First Boston (CSFB) acted as sole bookrunner for the deal. ABN AMRO Rothschild and United Financial Group were co-lead managers. Allen & Company acted as the U.S. selling agent.
Brazil: Andrew Feltus calls buying bonds of Cia. de Bebidas das Americas, Latin America's largest brewer, the "all-time best investment I've made"
, Bloomberg revealed on October 14. The Brazilian beer company, known as AmBev, has generated a total return of more than 40 % in less than two years. "That company has made more money for our investors than any other," Feltus, 35, whose Pioneer Global High Yield Fund ranks second in its peer group this year, said in an interview at his office at Pioneer Investment Management Inc. in Boston. Feltus said he was drawn to Sao Paulo-based AmBev because of its two-thirds market share positions in Brazil and Argentina, South America's biggest economies, and a management team led by Chief Executive Officer Carlos Brito. Belgium's Interbrew SA is buying AmBev to become the world's second-biggest brewer after Anheuser-Busch Cos. of St. Louis. Feltus acquired AmBev bonds when they were trading as low as 74 cents on the dollar and had a yield of more than 16 percent. ``For a high-yield investor, that's nirvana,'' Feltus said. AmBev probably will be raised to investment-grade status by credit-rating companies, Feltus said. He's sold virtually all of the bonds because they have "pretty much run their course'' and other Brazilian issuers offer higher yields. The MainStay fund has about four-fifths of its assets in debt sold by so-called developing nations. Feltus's fund had 53 % of its assets in U.S.-based bonds at the end of September; 17 % in developed nations in Europe and Asia; and 30 % in emerging markets such as Russia and Brazil. The developing-country bonds include both corporate and government-issued securities. Bonds of lower-rated borrowers pay higher yields to compensate investors for the increased risk that they won't pay their debts. This year U.S. junk bonds returned 6.8 percent to investors, compared with 4.3 percent for investment-grade corporate debt and the 3.2 percent gain of Merrill Lynch & Co.'s U.S. Treasury and agency bond index. The Standard & Poor's 500 stock index is up 1.5 percent, including reinvested dividends...
more info
Malt News
Ukraine: In September 2004 Ukraine produced about 9.6 thousand tonnes of malt a 20% (or with 2.4 thousand tonnes) decrease compared to September 2003. Versus August 2004 malt production in September this year decreased with 6 thousand tonnes or 39%, Ukrbeer Kiev posted on October 15. According to Statistics Department Ukraine produced about 43 thousand tonnes of malt for the three month of crop-year 2004/2005 against 37.3 thousand tonnes produced in the same period last crop-year. The biggest Ukrainian malt manufacturer is Slavutsky Malting plant, which output in the last three months about 6 thousand tonnes of malt. In September the plant produced 1.6 thousand tonnes of malt that is a 75% drop versus August. That is why the largest malt producer in September was Obolon brewery with an output of 4 thousand tonnes of malt. The third place took Berdichevskaya Malting plant with 1.8 thousand tonnes that also registered a decline of its malt production by 51% versus August.
Barley News
Black Sea Region: Greater grain supply in the Black Sea region is boosting exports and creating stronger competition in key world import markets. As Barley production reaches a near record, exports are forecast to surge by almost 2 million tonnes (50 %), much of which will go to Middle Eastern and North African markets. This cheap barley has made the EU uncompetitive so far, perhaps contributing to the Commission's recent reinstatement of export subsidies, USDA has recently revealed. Those subsidized exports will likely displace Australia and Canada, whereas Black Sea barley still has a comparative freight advantage into the Middle East. Note: Black Sea Region includes Russia, Ukraine, Bulgaria, Croatia, Romania, and Serbia-Montenegro.

Australia: News was variable in September, but rather negative in the end. Australian barley acreage was reduced from 3.8 to 3.6 million ha, planting took place 3-6 weeks later than normal. Early rainfalls help vegetation, mostly in South Australia. But subsoil moisture is insufficient, and now it is too dry again in large parts of all barley growing areas. Western Australia was hit by a bad frost at the end of September. GPWA foresees a possible loss of 500,000 tonnes of barley, other informants are less pessimistic. AWF reduced their crop forecast from 7.96 to 7.42 million tonnes, ABB from 6.9 to a range of 6.1 – 6.5 million tonnes. Old crop feed barley had been sold out since some time, right now the remaining stock of malting barley is selling well to China (USD 195 c+f), so that Australia will go into the new crop year with a minimal carry-over.

United States Department of Agriculture (USDA) posted on October 13 world barley trade changes in 2004/2005. According to USDA Australia barley export is down 300,000 tonnes to 4.0 million tonnes because of increased domestic consumption and looming competition from the EU-25. Canada barley export is down 200,000 tonnes to 1.7 million tonnes as harvest delays raise questions about availability and quality. EU-25 barley up 500,000 tonnes to 2.3 million tonnes because of huge supplies and the Commission's reinstatement of export subsidies.

EU hopes to sell barley to Middle East. The European Union wants to sell some of its 60 million tonnes into North Africa or the Middle East, and one analyst says that will set prices for the coming months. Grain growers will know in the next few days how much key markets like Saudi Arabia are willing to pay for feed barley, The ABC National Rural News revealed on October 14. It's put out a restitution tender, a system of subsidies where the EU offers its grain to buyers, then tops up the return to growers. While that'll influence world prices, Lloyd George from Farm Horizons hopes it won't be too much. "My feeling is that the EU will not be overly aggressive on the restitutions, and they'll be mindful of where world price is and they will not be wanting to push world prices down any further than where they are at the moment; and it's certainly not in their interest to do so, because in effect it means that they'll have to be paying greater subsidies."


Theoretical malt prices.
EURO = USD 1.2394 October 15, 2004
Crop year
2004
Parity
FOB Antwerp
Position
Oct 2004-Sept 2005
Conditioning
Bulk
In bags
Bulk containers
Bags, containers
Malting barley variety
EURO
USD
EURO
USD
EURO
USD
EURO
USD
2RS
Scarlett
241.00
298.50
256.50
317.50
252.50
313.00
262.00
325.00
2RS
Prestige
240.00
297.50
255.00
316.00
251.50
311.50
261.00
323.50
2RS
Cellar
240.50
298.00
255.50
316.50
252.00
312.50
261.50
324.00
2RS
Aspen
239.50
296.50
254.50
315.50
250.50
310.50
260.50
322.50
2RS
Optic
239.50
296.50
254.50
315.50
250.50
310.50
260.50
322.50
2RS
Astoria
238.50
295.50
253.50
314.50
250.00
310.00
259.50
322.00
2RS
Cork
238.50
295.50
253.50
314.50
250.00
310.00
259.50
322.00
2RS
Average price
239.50
297.00
255.00
316.00
251.50
311.50
261.00
323.50
2RS
FAQ
237.50
294.00
252.50
313.00
249.00
308.50
258.50
320.50
6RW
Esterel
226.50
280.50
241.50
299.50
238.00
294.50
247.50
306.50
*
Asia Malt 70/30
235.50
292.00
251.00
311.00
247.50
306.50
256.50
318.50
**
Asia Malt 50/50
233.00
288.50
248.00
307.50
244.50
303.00
254.00
315.00
* - 70/30 = 70% Average two Rows Spring and 30% Six Rows Winter
** - 50/50 = 50% Average two Rows Spring and 50% Six Rows Winter
Theoretical malt prices for crop 2005 are available on site
www.e-malt.com/MarketPrices
Malting barley prices. French barley prices.
Nominal prices.
EURO = USD 1.2394 October 15, 2004
Crop year
2004
2005
Parity
FOB Creil
FOB Creil
Position
July 2004
July 2005
Type
Variety
EURO
USD
EURO
USD
2RS
Scarlett
112.00
139.00
123.00
152.50
2RS
Prestige
111.00
137.50
122.00
151.50
2RS
Cellar
111.50
138.50
122.50
152.00
2RS
Aspen
110.50
137.00
121.50
150.50
2RS
Optic
110.50
137.00
121.50
150.50
2RS
Astoria
110.00
136.50
121.00
150.00
2RS
Cork
110.00
136.50
121.00
150.00
6RW
Esterel
100.00
124.00
106.00
131.50
Table of the week
United States Breweries 2004
U.S. Breweries Operating in 2003:
U.S. Breweries Operating in 2004:
Regional Specialty Breweries
55
Regional Specialty Breweries
55
Microbreweries
385
Microbreweries
371
Brewpubs
986
Brewpubs
936
Total Craft Breweries
1,426
Total Craft Breweries
1,362
Large Breweries
19
Large Breweries
20
Regional Breweries
20
Regional Breweries
14
Total U.S. Breweries
1,465
Total U.S. Breweries
1,396
2003 U.S. Openings ytd:
2004 U.S. Openings ytd:
Brewpubs
60
Brewpubs
22
Microbreweries
21
Microbreweries
13
Regional breweries
1
2003 U.S. Closings ytd:
2004 U.S. Closings ytd:
Brewpubs
61
Brewpubs
24
Microbreweries
10
Microbreweries
5
Large brewery
1
Graph of the week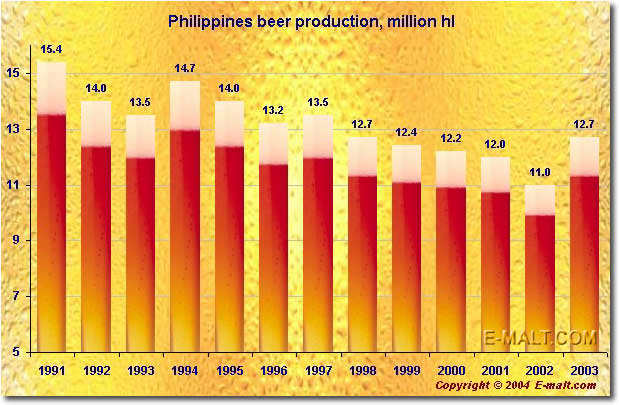 Agenda
October 2004:
OCTOBERFEST Famous German Beer Festival;
Great American Beer Festival;
bevex Beverage Trade Fair. Germany;
Great Welsh Beer & Cider Festival;
ST. PETERSBURG FOOD SALON 2004;
Beer Fair. Spain;
Expo Bebidas Beverage Exhibition. Mexico;
EXPOALIMENTOS Y BEBIDAS 2004. Panama;
Fall Eastern PA Breweriana;
Knoxville Brewer's Jam - A Memorial to Tom Rutledge;
INTERPRODTECH Food and Beverages Processing Exhibition. Russia;
Alko and Drinks Show Alcoholic Beverages and Non-alcoholic Drinks Exhibition. Russia;
WORLD FOOD KAZAKHSTAN 2004;
PAN ASIAN FOOD & BEVERAGE TRADE SHOW 2004. Canada;

November 2004:
INTERNATIONAL EXH FOR FOOD & DRINK INDUSTRY / WORLD FOOD UKRAINE 2004;
INT'L EXH OF WINES, ALCOHOLIC & NON ALCOHOLIC DRINKS & PROTECTION EQUIPMENT / EXPO DRINK 2004. Romania;
TALLINN FOODFEST 2004;
Belgian Beer Fest, Boston MA;
Teach a Friend to Brew Day;
FOOD PROCESSING MACHINERY EXPO 2004;
FISPAL RECIFE 2004 / INTERNATIONAL FOOD FAIR. Brazil.;
BRAU Beviale 2004. Nürnberg, Germany.;
Brewers' Association of America Conference;
Accrington Beer Festival. UK;
FOODAPEST 2004. 7th International Food, Drink and Food Processing Trade Fair;
INTERNATIONAL EXH FOR FOOD INGREDIENTS, ADDITIVES & FLAVOURINGS / INGREDIENTS RUSSIA 2004;

More events are available on site e-malt.com