New Zealand: Asia Pacific Breweries Limited (APB) announced on October 8 the completion of its compulsory acquisition of the remaining minority interests in DB Breweries Limited (DB)
, thereby gaining 100% control of DB's share capital successfully. APB's stake in DB crossed the 90% mark barely a month after it announced its intention, on 26 July 2004, to purchase the remaining shares, comprising 23.09%, or 11,643,598 shares in DB at NZ$9.50 per share, which it did not already own. This represented a 20.25% premium to the last traded price before the offer, which was NZ$7.90. The bid values DB at NZ$479 million. APB will be utilizing internal cash resources to fund the purchase cost of about NZ$111 million. In pre-bid negotiations, the second largest shareholder in DB - Accident Compensation Corporation (7.99%) and several other investors, namely Challenger Financial Services Group Limited (0.11%), M M Benjamin Family Trust (0.20%), E B Benjamin Family Trust (0.04%) and J West Holdings Limited (1.85%), agreed to sell their entire holdings into the offer. The acceptance by these major shareholders accelerated the acquisition process by significantly increasing APB's relevant interest in DB's capital to 87.1%. APB proceeded with a compulsory acquisition after the offer closed on 6 September and this led to the subsequent de-listing of DB from the New Zealand Stock Exchange a week later. Mr Koh Poh Tiong, Chief Executive Officer, APB, said "The successful acquisition of DB marks the beginning of the next stage of our long-term involvement with the company. Over the years, APB has worked closely with the board and management of DB to restructure it into one that is focused on its core competencies i.e. the production and marketing of quality beers. This has led to sizeable value creation for the company and its shareholders. Following the acquisition of the remaining minority shares in DB, we will continue to see well-loved heritage beers, like Tui, Monteith's and DB Draught, remaining a significant part of the New Zealand culture." Shareholders representing approximately 0.5% of DB's share capital who did not send in their transfer forms by the close of the offer, will shortly receive a claim form from DB in order to receive their consideration. DB will hold the remaining consideration in trust until it is claimed. Capturing 35% of the market share, DB is one of the two largest brewers in New Zealand. DB's portfolio consists of 16 international and heritage brews, including key brands such as Heineken, Tiger Beer, Tui, Export Gold, DB Draught, Monteith's and Amstel Light. It owns and operates four breweries - Waitemata Brewery (Otahuhu, Auckland), Tui Brewery (Mangatainoka), Mainland Brewery (Timaru) and Monteith's Brewery (Greymouth) with a total production capacity of 1.87 million hls, and 14 sales offices around the country. The beer market in New Zealand is estimated to be worth NZ$900 million per year. DB has consistently maintained its ability to generate double-digit percentage growth in revenue despite the divestment of its wine business in 2000, leading to New Zealand being one of the top three best performing markets for APB.
USA: Adolph Coors Co. and Canada's Molson Inc. could together become the third-largest beer maker in North America if the deal is finally approved by the shareholders
. The deal would create a company with annual revenue of about $6 billion (U.S.), putting it behind only Anheuser-Busch and SAB Miller as the largest beer companies in North America. The London Free Press announced on October 5 that the U.S. government has cleared the merger of the two companies, sending the deal to shareholders for final approval. The Federal Trade Commission said on October 5 that regulators suspended the 30-day waiting period for antitrust investigations and are allowing the transaction to move ahead. FTC spokesman Mitch Katz said no antitrust problems were found with the merger, so the full 30-day wait was not necessary. In announcing the merger deal in July, the companies said the new company will be known as Molson Coors Brewing Co. and will market such brands as Coors Original and Coors Light, Molson Canadian, Keystone and Carling. Golden, Colo.-based Coors is the third-biggest U.S. brewer, while Montreal-based Molson is neck-and-neck with Labatt Brewing as Canada's top beer maker. Molson has tentatively scheduled a shareholder vote for the week of Dec. 13 on its proposed combination with Coors. Last Friday, Molson's chief executive insisted that the brewer's operations in Brazil are strong, even though the company had just warned that the value of Brazil division will likely be written down by $200 million. "We're not back on track as soon as we thought we'd be," Dan O'Neill admitted at an investor conference, referring to the Brazil Kaiser brewery division. "But I do think there's upside, there's momentum ... I think it's a lot more positive than the numbers are currently reflecting."
Vietnam: Philippine beverage firm San Miguel Corporation (SMC) plans to invest US$100 million to build a new brewery in Southern Vietnam as part of its regional expansion plan that could also help boost the Philippine economy
, Asia Pulse revealed on October 8. The company's plan was presented to Filipino reporters by SMC President Ramon Ang at the sideline of the ongoing 5th Asia-Europe Meeting (ASEM) held here. Ang said the firm will invest around $700 million (P39.2 billion) over the next five years outside the Philippines in viable markets like Thailand, China, Vietnam, Indonesia, Malaysia, Autralia and Taiwan. "In Ho Chi Minh (formerly Saigon), a fast growing city in Southern China, we intend to build a new plant at a cost of $100 million for our non-alcohol beverage like water, juice, energy drink, coffee, tea and milk," he said. The amount is on top of the $150-million investments of the SMC in Vietnam for the last 10 years, he noted. Ang said the huge investments of SMC in the region have been helping the Philippine economy. "Seventy per cent of our investments go the Philippines while the remaining 30 per cent go to other countries in the region. Our earnings from our investments abroad are reinvested in the Philippines which generate more taxes for the government," he said. Ang said the Philippine government is expected to collect at least P20 billion in value-added taxes (VAT) from the company,s projected P200 billion sales revenue this year. The amount does not include taxes on its beer and hard liquor products and on importation of raw materials. Aside from tax revenue, SMC is also helping the government in its job generation efforts as it employs Filipinos for top positions in its businesses abroad, he noted. Ang is among the members the Philippine business delegation here with President Gloria Macapagal-Arroyo in the ongoing ASEM Leaders, Summit here. The delegation participates in the 9th Asia-Europe Business Forum (AEBF) IX, an annual gathering of business leaders in Asia and Europe at the sideline of the summit. The Forum is expected to report today its output to ASEM summit which outlines feasible measures to further intensify cooperation in trade, finance and investments. Trade Secretary Cesar Purisima, who leads a 12-member Philippine business delegation, noted that the Philippines together with other countries, is interested in strengthening the AEBF as an institution to ensure greater continuity of membership and initiatives. "Our delegation is quite an interesting mix. We have representatives from the SME (small and medium enterprises) sector, consulting, infrastructure, ICT (information communications technology), food processing, tourism and education," the trade chief noted. Parallel to the ASEM, the Philippines, through the Department of Trade and Industry, is also participating in the ASEAN Trade Fair hosted this year by Vietnam. The Philippine pavilion features Philippine brands which have become market leaders in Vietnam.
Mexico: Top-ranked Mexican brewer Modelo, maker of the popular Corona beer, on Wednesday, October 6, said it bought land in the north of the country but does not plan to build a new brewery there or elsewhere soon
. Modelo's Jose Pares, head of investor relations, told Reuters the brewery's purchase of land in Coahuila state was a long-term investment and was one of several tracts across Mexico where Modelo could set up a new brewery in the future, according to Reuters. Pares said Modelo, half owned by U.S.-based Anheuser Busch Co., one of the largest brewers in the world, still had sufficient spare capacity not to be forced into building a new beer plant in coming years. And its planned 2007 expansion of an existing brewery in Oaxaca state would push back any new plant-building operations even further, Pares said. "Modelo constantly evaluates places where it could potentially construct a plant in Mexico. We are farsighted," Pares said. "The decision to construct a plant will have to be taken when demand reaches installed capacity." Modelo, operating at 85 percent capacity, plans to expand its Tuxtepec brewery in Oaxaca state in 2007, which will add 9 million hectoliters per year to the brewer's installed capacity. One hectoliter equals 100 liters. "We have 51 million hectoliters now and in three years we will reach 60 million per year," Pares said. "Last year we sold 43 million hectoliters so for the moment, with the actual capacity plus the additional in 2007, we have sufficient production capacity for the coming years," Pares said. Pares said the land purchase in Coahuila formed part of Modelo's predication studies that it carries out at potential sites to determine viability in terms of water supply and ground suitability, among other aspects. Modelo, Pares said, owns other sites around Mexico where it has also carried out viability studies for future breweries. One local media report said Modelo had invested close to $2 million in buying land in Coahuila. The expansion at Tuxtepec will make that brewery Modelo's second largest after its Zacatecas plant in the central state of the same name. The Zacatecas brewery is the largest in Latin America.
Chile, Santiago: Chile's largest brewer CCU will support plans by key shareholder Anheuser-Busch Cos. Inc. to sell its 20 % interest in the company
, CCU said on Thursday, October 7. Last March, CCU's board of directors said it would support plans by U.S.-based Anheuser Busch, maker of Budweiser beer, to sell its stake, but the transaction has taken longer than initially expected, Reuters revealed. In a meeting on Wednesday, the board agreed to take further steps to support the sale. "The board of directors agreed to undertake the necessary procedures to formalize its support ... for a secondary share offer in national and international arenas to be carried out by Anheuser-Busch ...," the company said in a statement. CCU did not say when the offer would take place. The withdrawal of Anheuser-Busch, which analysts said signals a weaker presence for the company in the competitive South American market, is due to conflicts with Dutch rival Heineken NV, which indirectly bought a controlling stake in CCU last year despite Anheuser-Busch's efforts to prevent it. Heineken took a 50 percent stake in Inversiones y Renta, or IRSA, the holding company which controls 61.6 percent of CCU. Quinenco owns the other 50 percent of IRSA. CCU's shares on the Santiago Stock Exchange fell 0.72 percent to 2,759.90 pesos each in early afternoon trade on Thursday.
China: The Brewing Industry Association of the China National Food Industry Association has announced its support and cooperation in the organization of BevTek & BrewTek China 2005
, which will be held in conjunction with ProPak China 2005. The Brewing Industry Association represents 87 per cent of the total 530 brewers in China as well as over 200 technology manufacturers. The members of the association account for a massive 98 per cent of all beer production in China, which will soon be the world's largest beer market in terms of volume and growth. Production for the beverage industry and brewing industries in China enjoys double-digit growth. The country's relatively low rate of consumption is increasing and is developing in tandem with a growing economy and rising incomes. This buoyant market has seen tremendous activity with recent major investments from all the main international brewing giants in local breweries and the formation of a number of significant joint ventures. The Brewing Industry Association will be organising a conference for their members at BevTek & BrewTek China 2005, providing a major focus for the brewing and beverage industries in Shanghai and Eastern China. "ProPak China has traditionally had strong participation from suppliers to the beverage sector," said Vicky Leung, ProPak China project manager at China International Exhibitions (CIE). "Given the levels of activity in the sector and the enthusiasm of the Brewing Industry Association we are very excited about the prospect of creating a dedicated focus for the beverage and brewing sector. We are confident that BevTek & BrewTek China as an integral part of ProPak China will provide the event that Shanghai and Eastern China have been waiting for." Indeed, China is poised to overtake the US in becoming the largest national beer market in the world. This is likely to happen before the next century begins, according to an Access Asia research report. Thus China is an increasingly important market, with a lot more potential for investment. The report bases this assumption on the fact that retail volumes for beer rose by 23.29 per cent between 1997 and 2003 and that in 2002 the market reached an estimated value of RMB 163.98 billion (€16.1bn). The further potential of the Chinese beer market is highlighted by the fact that, despite volumes being significant, per capita consumption is still relatively low. In 2003 an average of 18.76 litres of beer was consumed by each person on a yearly basis. This compares to 44.5 litres per capita in South Korea, 41.9 in Japan and 29 litres in Hong Kong...
more info
Malt News
Russia, Moscow: Russia's largest beer company, OAO Baltika Brewery, said Thursday, October 7, that it will not have to import malt in 2005 as cheaper supplies are available locally. Imported malt from Europe has sent production costs soaring at Russian breweries, due to the appreciation of the euro against the ruble, Dow Jones revealed. Baltika, owned by Baltic Beverages Holding, a joint venture between Carlsberg A/S and Scottish & Newcastle PLC, was estimated to import about 50% of the malt it required for beer production. The company said Thursday that next year it will buy 30% of its malt from a local malt company OAO Russian Solod. Another 50% will come from Baltika's own malt production facility, with the remaining 20% coming from a St. Petersburg- based maltery built jointly by France's Soufflet and Baltika. The company said it would only use imported malt if it is able to increase production beyond its forecasts. Russian brokerage United Financial Group said the local purchases of malt " should positively impact the company's profitability."
UK: Norfolk-based Anglia Malt-ings has reported a slight drop in profits, in the face of rising energy prices and increased competition. According to accounts filed at Companies House, the firm saw operating profits for 2003 slip to £3.6m from £3.8m a year earlier, EDP Business revealed on October 7. Turnover for the same period climbed from £48.9m to £51.9m as it increased its malt capacity after the acquisition of Alloa Maltings during 2002. Anglia Maltings, based at Great Ryburgh, near Fakenham, is the UK's leading independent maltster. With a staff of 295, the firm operates malting centres at Great Ryburgh, Ditchingham, near Bungay, and two sites in Scotland - Alloa on the Firth of Forth and Port Gordon, near Buckle, Aberdeen. It also runs a haulage operation to transport its malt and other products. Anglia's malt is popular with traditional brewers all over the UK, including many of the country's award- winning real ale producers. At Ryburgh the firm operates a modern malting facility alongside one of the country's last remaining floor maltings. These require every tonne of malt to be made and turned by hand. Malted barley produced by the group is popular among overseas brewers, especially in the United States, and Anglia also exports to Hong Kong, China and Thailand. But the strength of the pound meant its exports slipped to £14.7m in 2003 from £17.9m a year earlier. The firm has continued to invest in its production facili-ties, spending almost £3m on capital projects in 2003. The report of the directors said: "The increased malting capacity (following the acquisition of Alloa Maltings during 2002) was fully prod-uced and delivered during the year. "The malt products division also expanded its customer base considerably, particu-larly in the export sector. "Profit margins were slightly reduced, however, due to escalating energy costs and strong competition in the market place." Anglia paid dividends of £792,000 during 2003 to shareholders, up from £598,000 a year earlier. That equated to 16.16p a share, up from 12.2p a year earlier. At the bottom line, pre-tax profits were £3.1m compared with £3.2m a year earlier.
EU: In the first half of the year EU malt exports were better than expected to Africa, Russia, Thailand and particularly Venezuela. For the months to come Brazil may become a better customer again, as the country forecasts a 5% better beer output, and Mercosur maltsters appear extremely well sold.
Barley News
France is the dominant source of malting barley in the EU, with crops of around 4 million tonnes of 2row Spring malting barley and more than 3 million tonnes of 6row Esterel barley. The French surplus is too large for domestic EU and any export needs. Prices have declined to the lowest known levels: FOB Creil, basis July, 2rS Scarlett EUR 112 6rW Esterel EUR 100 (intervention price, basis October, 101.31). Much of this barley will end up in the feed sector, both for domestic and export markets, and in intervention. Therefore the real export surplus will be smaller than the above mentioned 2 million tonnes.

Barley prices are higher in the UK, where local demand is the decisive market factor, and in Denmark (October, fob seaport, Barke/Alliott EUR 129), where farmers refuse to sell at competitive market prices, market experts has recently revealed. In view of constructive news from Australia, Canada and China a better price-trend is entirely possible in the months to come.

Russia: IGC estimates the Russian crop at 18 million tonnes, exports at 2.2 million tonnes for 2004/05. Exports July/15 September were 192.000 tonnes. Malting barley demand is 1.1 – 1.2 million tonnes, maltsters believe that the Russian crop will turn out 800,000 tonnes of malting barley, half of which first class quality of West European varieties. Markets for malting barley are quite firm, EUR 120-140- FCA malting factories.

Ukraine: Black Sea barley is the dominating origin in world markets. Fob prices have climbed from a low of USD 70 to 100-110 now. CIF quotes are 136 USD to North Africa and 145 USD to Saudi Arabia. Crop estimates vary from 9.7 (IGC) to 10.6 (Ukrainian analyst) to 11.5 million tonnes (USDA). Exports are expected to reach 3.1 – 3.3 million tonnes, in July/Sept 1.1 million tonnes were actually shipped. Farmers' sales in July/August of 1.5 million tonnes were less than expected, several government actions support the market and withholding policies of farmers.

Belarus: Government announced purchases of 146,000 tonnes of domestic malting barley, enough for the country's demand.


Theoretical malt prices.
EURO = USD 1.2291 October 08, 2004
Crop year
2004
Parity
FOB Antwerp
Position
Oct 2004-Sept 2005
Conditioning
Bulk
In bags
Bulk containers
Bags, containers
Malting barley variety
EURO
USD
EURO
USD
EURO
USD
EURO
USD
2RS
Scarlett
240.00
295.00
255.50
313.50
251.50
309.50
261.00
321.00
2RS
Prestige
239.00
293.50
254.00
312.00
250.50
307.50
260.00
319.50
2RS
Cellar
239.50
294.50
254.50
313.00
251.00
308.50
260.50
320.00
2RS
Aspen
238.50
292.50
253.50
311.50
249.50
307.00
259.50
318.50
2RS
Optic
238.50
292.50
253.50
311.50
249.50
307.00
259.50
318.50
2RS
Astoria
237.50
292.00
252.50
310.50
249.00
306.00
258.50
318.00
2RS
Cork
237.50
292.00
252.50
310.50
249.00
306.00
258.50
318.00
2RS
Average price
238.50
293.50
254.00
312.00
250.50
307.50
260.00
319.50
2RS
FAQ
236.50
290.50
251.50
309.00
248.00
304.50
257.50
316.50
6RW
Esterel
225.50
277.00
240.50
295.50
237.00
291.00
246.50
302.50
*
Asia Malt 70/30
234.50
288.50
250.00
307.00
246.50
302.50
255.50
314.50
**
Asia Malt 50/50
232.00
285.00
247.00
303.50
243.50
299.50
253.00
311.00
* - 70/30 = 70% Average two Rows Spring and 30% Six Rows Winter
** - 50/50 = 50% Average two Rows Spring and 50% Six Rows Winter
Theoretical malt prices for crop 2005 are available on site
www.e-malt.com/MarketPrices
Malting barley prices. French barley prices.
Nominal prices.
EURO = USD 1.2291 October 08, 2004
Crop year
2004
2005
Parity
FOB Creil
FOB Creil
Position
July 2004
July 2005
Type
Variety
EURO
USD
EURO
USD
2RS
Scarlett
112.00
138.00
123.00
151.50
2RS
Prestige
111.00
136.50
122.00
150.00
2RS
Cellar
111.50
137.50
122.50
150.50
2RS
Aspen
110.50
136.00
121.50
149.50
2RS
Optic
110.50
136.00
121.50
149.50
2RS
Astoria
110.00
135.50
121.00
149.00
2RS
Cork
110.00
135.50
121.00
149.00
6RW
Esterel
100.00
123.00
106.00
130.50
Table of the week
EU Malting Barley Supply and Demand Estimate 2004/2005
(in 1,000 tons)
Malt production
Barley demand
Supply Spring malting barley
Supply Winter Malting barley
Net Plus / Minus
Total
Spring
Winter
Northwest:
Belgium
660
825
15
-
- 810
- 560
- 250
France
1,380
1,620
2,450
2/6 row 1,800
2,630
1,450
1,180
Germany
2,050
2,560
2,100
2 row 100
- 360
- 300
- 60
Ireland
160
200
250
-
50
50
-
Netherlands
240
300
250
-
- 50
-
- 50
United Kingdom
1,520
1,900
1,300
2row 700
100
100
-
Total Northwest
6,010
7,405
6,365
2,600
1,560
740
820
Baltic:
Denmark
255
320
900
-
580
580
-
Finland
175
220
200
-
- 20
- 20
-
Lithuania
60
75
90
-
15
15
-
Poland
280
350
250
-
- 100
- 100
-
Sweden
250
315
315
-
-
-
-
Total Baltic
1,020
1,280
1,755
-
475
475
-
Southeast:
Austria
155
200
250
-
50
50
-
Czech Republic
500
625
800
-
175
175
-
Hungary
140
175
200
-
25
25
-
Slovakia
280
350
400
-
50
50
-
Total Southeast
1,075
1,350
1,650
-
300
300
-
Mediterranean:
Greece
40
50
0
-50
-50
Italy
75
95
40
-55
-55
Portugal
75
95
0
-95
-95
Spain
400
500
600
100
100
Total Mediterranean
590
740
640
-
- 100
- 100
-
Net Total
8,695
10,775
10,410
2,600
2,235
1,415
820
Graph of the week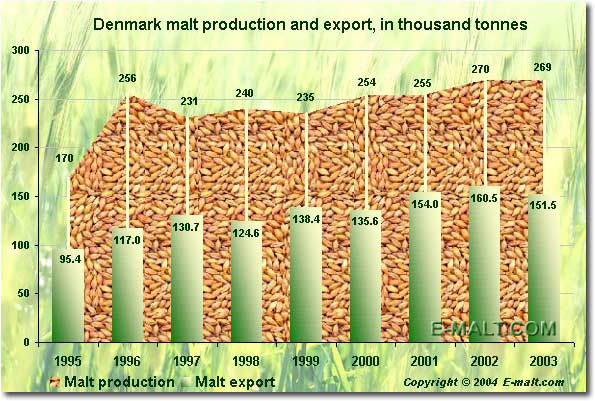 Agenda
September 2004:
6th BELGIAN BEER WEEKEND;
China Brew 2004 / China Beverage 2004;
International Brewery and Soft Drinks Industry Exhibition;
FOOD & BEVERAGE PROCESSING & PACKAGING INDONESIA 2004;
Pivoindustria International Beer Industry Exhibition;
National Beer Wholesalers Show 2004;
PAN ASIAN FOOD & BEVERAGE TRADE SHOW 2004;
Barley Malt Quality Evaluation Short Course;
EUROMALT BARLEY SEMINAR 2004;
OCTOBERFEST Famous German Beer Festival;
Agro + Food + Drink + Tech Expo Georgia Food, Beverages and Processing Equipment Trade Fair;
bevex Beverage Trade Fair;
InterBev 2004;
YUGOSLAVIA INTERNATIONAL FAIR OF FOOD & BEVERAGES 2004;
BevExpo 2004;
Great American Beer Festival;

October 2004:
OCTOBERFEST Famous German Beer Festival;
Great American Beer Festival;
bevex Beverage Trade Fair. Germany;
Great Welsh Beer & Cider Festival;
ST. PETERSBURG FOOD SALON 2004;
Beer Fair. Spain;
Expo Bebidas Beverage Exhibition. Mexico;
EXPOALIMENTOS Y BEBIDAS 2004. Panama;
Fall Eastern PA Breweriana;
Knoxville Brewer's Jam - A Memorial to Tom Rutledge;
INTERPRODTECH Food and Beverages Processing Exhibition. Russia;
Alko and Drinks Show Alcoholic Beverages and Non-alcoholic Drinks Exhibition. Russia;
WORLD FOOD KAZAKHSTAN 2004;
PAN ASIAN FOOD & BEVERAGE TRADE SHOW 2004. Canada;

More events are available on site e-malt.com