---
Newsletter Summary

---
Currency rates
Brewery news
Malt news
Barley news
More news
Theoretical malt prices
Malt Price Evolution
Malting barley prices
Table of the week
Graph of the week
Agenda
Do you know e-malt.com?
---
Average market prices Change trend
---
Friday, 12 November 2004
Crop 2004
2rs Barley
€108.5
-0.46%
6rw Barley
€99.5
-0.50%
2rs Malt
€237.5
-0.21%
6rw Malt
€226.5
-0.22%
Crop 2005
2rs Barley
€119.5
-0.42%
6rw Barley
€104.5
-0.48%
2rs Malt
€250.0
-0.40%
6rw Malt
€232.0
-0.22%

Note: Just click on the price link and you will be led to our Market Price History.
Average barley market prices are French and are estimated on FOB Creil basis.
Average malt market prices are estimated on FOB Antwerp basis.
The changes are compared to last Newsletter's prices.
Arrows indicate the direction of the change.


---
Easy E-malt.com
---
---
E-malt.com access
---
---
Do you know
E-malt.com ?
---
Dear E-malt Reader!

E-malt.com Newsletters Archive could be found directly on e-malt.com site. Browsing through our Newsletters' Archive you may see all the issues you have missed. To this purpose you just have to login e-malt.com and click on Newsletters link in the menu. Reading our Newsletters you will be kept informed with the latest news and events regarding malting and beer world. You may also submit your own news, events or other information to the address info@e-malt.com!

Updated figures related to USA barley and malt trade with Mexico and Canada could be seen in NAFTA section of e-malt.com menu. To this purpose please enter e-malt.com!

You may find updated malt, barley and beer statistics on e-malt.com Statistics section. Just enter e-malt.com! Here you will find all tables issued with e-malt.com newsletters.

E-malt.com Agenda gives the possibility to keep you informed about the Events planned to be held in the whole world related to the brewing and malting industries. To this purpose you just have to login e-malt.com and click on Agenda link in the menu. Reading our Event Agenda you will find out about the future symposia, conferences and festivals related to malting and beer world. You may also submit your own events to the address info@e-malt.com

E-malt.com has Trading Online system. The system is to be used for malt/barley trading. One can register a malt/barley offer or a malt/barley request. The registering person could be as a seller/buyer or as an agent for seller/buyer. The User can see information about all active malt/barley offers & requests. If needed the system allows user to buy/sell malt/barley due to reasonable offers/requests. The way to do this is to confirm reasonable transaction. Trading Online rules are available through the Internet in the Trading Online as well as Tutorial (useful for persons who starts the system usage). To visit the E-malt Trading Online first go to the E-malt.com site, then click Trading Online link in the left menu of the e-malt.com home page. For more details please contact info@e-malt.com

Thank You!

---
E-malt.com Links!
---
Industry news
Market prices
EU Regulations
NAFTA
Specifications
Special malts
Professional Help
Trading online
Costing online
Statistics
Graphs
NewsLetters
Agenda
Accounts
Log In
Contact us
---
Other e-malt.com newsletters
---
Last five newsletters
---


Newsletter 45b, 2004


Newsletter 45a, 2004


Newsletter 44b, 2004


Newsletter 44a, 2004


Newsletter 43b, 2004


Newsletter 43a, 2004
---
Market price evolutions
---
The evolution of market prices for barley and malt, which are periodicaly issued with e-malt.com newsletters are published on e-malt.com site in Market Prices section. Just click here!
---
Available market price evolutions
---


Malt Market Price Evolution. Crop 2004


French Malting Barley Price Evolution. Crop 2004


Malt Market Price Evolution. Crop 2003


French Malting Barley Price Evolution. Crop 2003
---
E-malt.com graphs
---
All graphs issued with e-malt.com newsletters are published in "Graph" section of e-malt.com site.
---
Last five graphs
---


World beer production by region in 2003


Australia beer production


EU malt production capacity in 2003


Philippines beer production


Denmark malt production and export
---
The graphs are updated from time to time. Just see the updates online on e-malt.com site!
---
Last updated graphs
---


EU malt production capacity


U.S.A. Barley Production


United States Beer Exports


Canada Domestic and Imported Beer Sales


Canada's per capita consumption of beer
---
E-malt.com Tables
---
We have the pleasure to let you know that all e-malt.com tables are published in e-malt.com Statistics section. The Statistics section includes Barley statistics, Malt statistics and Beer statistics. The tables related to barley are published in Barley Statistics section, the tables related to malt in Malt Statistics section and the tables related to beer in Beer Statisctis section.
---
Last five tables
search in statistics
---


Australian Barley Supply and Disposal 2001-2005


World Malting Barley Balance


EU malt export licence fixations


United States Breweries 2004


EU Malting Barley Supply and Demand Estimate 2004/2005
---
Note
---
If you have any comments, questions, suggestions or remarks, you can send a mail to: info@e-malt.com. To submit your own news to our editorial team, email to: info@e-malt.com
---
If you have received this newsletter from a colleague, you can obtain your own free subscription here, or a full FREE registration here.
---
You may recommend our site to your friend by clicking here
---
If you do not wish to receive our newsletter, please unsubscribe your e-mail address (@EMAILADDRESS@) from our mailing list using unsubscribe form from our site!
E-malt.com Newsletter 46b
November 11 - November 14, 2004

Today you are part of the 17.000 professional readers from 162 countries who are receiving our free bi-weekly E-malt Newsletters published since 3 years. You look pleased in getting them as we have registered something like 1.000.000 readings.
To keep this high level of informative reservoir in both brewing and malting industries and in order to continue to improve it we will ask, starting from Newsletters 47B, for a small contribution from your side. We hope you will be numerous to respond positively and doing so giving us the possibility to keep developing this world informative reference.
A one-year access costs only 149,- Euros and you will receive full membership to both our bi-weekly Newsletter and website username protected access to all e-malt.com pages and client services.
One-year individual subscription: 149, - Euros
Two-years individual subscription: 259, - Euros
Save money when your colleagues join.
One-year group subscription for 2-5 members: 299, - Euros
One-year group subscription for 6-10 members: 449, - Euros
One-year group subscription for 11-20 members: 599, - Euros
One-year group subscription for 21-50 members: 799, - Euros
One-year group subscription for 51-100 members: 999, - Euros
One-year group subscription for 101 or more members: 1200, - Euros
If you agree with the condition above, please send your response by clicking the button "Yes" otherwise if our conditions are not acceptable, please click the button "No", in order to confirm your decision.
If you have a membership verify your status here, please!

Currency Rates

Base Currency: Euro, EUR
on 12-November-2004

1 EUR = 1.2906 USD
1 EUR = 0.7009 GBP
1 EUR = 1.5438 CAD
1 EUR = 1.6883 AUD
1 EUR = 137.64 JPY
1 EUR = 3.6382 BRL
1 EUR = 37.0273 RUB

Base Currency: US Dollar
on 12-November-2004

1 USD = 0.7750 EUR
1 USD = 0.5428 GBP
1 USD = 1.1962 CAD
1 USD = 1.3082 AUD
1 USD = 106.63 JPY
1 USD = 2.819 BRL
1 USD = 28.69 RUB

EUR/USD Chart
Top Industry News
More News
Brewery News


Chile, Santiago: Leading U.S. brewer Anheuser Busch sold its 20 % stake in Chile's biggest brewer CCU for $299 million in an auction on the Santiago Stock Exchange on Friday, November 12

. Chilean brokerages Celfin and Banchile together won the auction for the block of 63,695,333 shares, paying 2,821.00 per share, slightly above the auction's base price of 2,800.00 pesos per share, Reuters revealed in a statement. CCU closed at 2,975.00 pesos per share on Thursday, and was trading at 2,910 pesos a half hour after the auction. After the auction William Kimmins, vice president and treasurer at Anheuser Busch, told reporters the U.S. brewer would continue its partnership with CCU, for production and distribution of its beer in Chile and Argentina. Anheuser, the maker of Budweiser brand beer, announced in March it would sell its stake in CCU after its Dutch rival Heineken took an indirect stake in the Chilean company. Dutch rival Heineken NV entered a deal that gave it 30.8 % of CCU. Compañía de Cervecerías Unidas S.A. (CCU) CCU is the leading beverage company in Chile with three breweries and a total annual beer production of 3.5 million hectolitres, representing a market share of 88 %. The production of soft drinks, including mineral water and nectar, amounts to 4.1 million hectolitres, leading to a market share of 24%. CCU also operates wineries with a total production of 850,000 hectolitres of which about half is designated for export. CCU operates two breweries in Argentina, where it sells 1.5 million hectolitres of beer and has a market share of about 12%. CCU employs 3,900 people. The main brands are Cristal, Escudo, Dorada in Chile and Schneider and Budweiser (under license) in Argentina. Anheuser-Busch, with annual revenue of $14.15 billion, makes the Bud Light, Michelob and Busch beer brands, among others. It also operates theme parks and water parks.

Vietnam: Asia Pacific Breweries Limited (APB), based in Singapore, has received the necessary approvals to expand the production capacity of its brewery in South Vietnam by 50% from 1.5 million hls to 2.3 million hls

. The expansion is expected to cost €38 million (approximately US$45.6 million) which will be funded by the brewery. The expansion is targeted for completion in 2006. "Vietnam, as part of the IndoChina geographical segment, has consistently been one of the key growth markets for APB," said Mr Koh Poh Tiong, Chief Executive Officer, APB. "Our goal is to further tap into the robust beer market and reap the returns presented by the rapidly expanding economy there. However, Vietnam Brewery Limited (VBL) is running at full capacity; this is limiting our growth in the market. Therefore, we are very pleased to be granted the approval to expand our production capacity there." "The approval is timely as the increasing affluence amongst the Vietnamese has resulted in greater sophistication amongst its drinkers. This has led to more drinkers switching to premium beers," elaborated Mr Koh. "Vietnamese are familiar with our Tiger and Heineken beers which were first brewed by VBL more than ten years ago. Both lagers are the undisputed market leaders in the premium beer segment and we will seek to strengthen their leadership positions with the impending increase in production, made possible by VBL's expansion in capacity." The South Vietnam brewery is the first of APB's two forays in Vietnam. With the expansion, total investment capital would reach US$140.5 million. This is VBL's second capacity expansion since it first began commercial operation in 1993. Its first expansion took place in 2001 from 500,000 hls to 1.5 million hls at the cost of US$44 million. Encouraged by the success of VBL, which initially oversaw the whole Vietnam market, APB built a second brewery in Vietnam when it pressed on with its second wave of regionalization efforts. Hatay Brewery, situated outside Hanoi, began commercial production in late 2003 and took over the North Vietnam operations. Despite the increase of APB's total production output with the commencement of Hatay Brewery, VBL's capacity expansion continues to be vital for the brewery to leverage on the upswing of Vietnam's economy. The beer market in Vietnam is expected to enjoy double digit growth. VBL's latest expansion is another milestone to APB's successful early regionalization strategy, as well as reinforced commitment and continued confidence in the Vietnam beer market. APB is one of Vietnam's earliest foreign investors and is also named one of the top five foreign direct investments by Singapore-owned companies in Vietnam by International Enterprise Singapore...

more info Japan: Combined domestic shipments of beer and low-malt beer "happoshu" by Japan's five major brewers dropped 9.2 % in November 2004 versus November 2003

, Kyodo News International revealed in a statement. Japan's five major brewers, posted their third straight monthly drop, according to shipment figures released Thursday, November 11. Beer and happoshu shipments by Kirin Brewery Co., Asahi Breweries Ltd., Sapporo Breweries Ltd., Suntory Ltd. and Orion Breweries Ltd. totalled 36.87 million cases. One case holds 12.66 liters, or the equivalent of 20 633-milliliter bottles. The brewers ascribed the slide to bad weather: powerful typhoons and hard rains. Shipments of regular beer fell 6.9 % to 22.16 million cases, and those of happoshu dropped 12.3 % to 14.71 million cases, a double-digit drop for two consecutive months. The brewers said happoshu shipments continued to suffer setbacks as competition with low alcoholic drinks and other lower-priced quasi-beer beverages is intensifying. They said the earthquakes that wreaked havoc in Niigata Prefecture had detrimental psychological effects on overall consumer sentiment.

Russia: On Wednesday, November 10, Russia's Federation Council rejected a bill that would have restricted the sale and consumption of beer as an alcoholic beverage, Moscow News revealed in a statement

. 73 members of the Federation Council voted against the bill, which would ban the sale of beer near children's facilities and the consumption of beer in public places; 40 members of the upper house of parliament voted for it, the Russian Information Agency Novosti reported. A special group has been appointed to revise the bill, after which the senate may look at it again, a presidential representative in the senate was quoted as saying. Senators said they feared that the new law would be ineffective, and that teenagers would still continue drinking beer in stairwells and basements. They also feared that the bill would give rise to illegal sale of beer. A bill banning beer commercials between 7 a.m. and 10 p.m. came into effect earlier in September, and the number of ads has already fallen by three-quarters. A ban on the use of people and animals in beer ads will come into effect next year. Public beer drinking in Russia is widespread. The country's vodka habit means many don't consider beer an alcoholic drink and Muscovites can often be seen with a bottle on their way to work in the morning. The distinct lack of affordable restaurants and bars means the trend could be hard to shift.

Canada, Toronto: A shareholder agreement between two funds controlled by warring members of the Molson family was terminated on Wednesday, November 10

, helping clear the way for Molson Inc.'s planned merger with Adolph Coors Co. Pentland Securities, a fund indirectly owned by Molson's chairman Eric Molson said it had terminated an agreement with Swiftsure Trust, controlled by cousin Ian Molson, who is trying to mount a counter-bid for Canada's oldest brewer. Pentland acquired 9,000 Molson class B shares on Nov. 9 giving the fund control over 50.1 percent of the voting shares, which allowed it to terminate the agreement that would have given Swiftsure a veto over the stock, Reuters revealed. Under the agreement, Pentland and Swiftsure could not sell their class B voting shares without offering them to the other fund first. The agreement was to expire on Dec. 20, 2006, but was subject to earlier termination under a number of conditions, including if a party achieved a minimum threshold of Molson's class B shares. Ending the agreement clears a potential hurdle to the Montreal-based brewer's planned merger with Colorado-based Coors. "I think everybody expected it to happen, it was a necessary prerequisite to get this deal done," said Michael Palmer, president of Veritas Investment Research. "Each of them had a veto unless the other one owned more than 50 percent, and Eric obviously now owns more than 50 percent. This move comes less than a week after Coors agreed to pay C$381 million to Molson's shareholders by way of a dividend, sweetening the deal ahead of a shareholder vote. In order for the merger to succeed, it needs the approval of shareholders representing two-thirds of both Molson's class A nonvoting and class B voting stock, as well as each class of Coors shareholders. Molson expects to hold a shareholder vote the week of Dec. 13 and aims to close the deal in the last week of the year. If the merger succeeds, it will create the world's fifth largest brewer by volume. Shares of Molson fell 44 Canadian cents to close at C$33.06 on the Toronto Stock Exchange. Coors was down 62 cents at $70.65 in New York.

China: Nanchang Asia Brewery Co. Ltd, the largest beer maker in Jiangxi Province of China, is to invest 150 million yuan (US$18.1 million) in an expansion project

that will bring its monthly output to 480,000 tonnes, the brewery announced on November 12 in a statement, according to Asia Pulse. The company has invested a large amount of money into technical innovation since its foundation in 1994 by Chen Yongcai, a famous Philippine overseas Chinese. It invested 120 million yuan in a 200,000-ton project in 2000 and fully implemented ISO 9001 and ISO2000 standards, making it the largest beer producer in Jiangxi Province. Nanchang Asia Brewery now has an annual production capacity of 200,000 tonnes.

Malt News

Polar is now confirmed to have purchased 230,000 tonnes of malt in October, almost all of it from the EU, 65 % two-row spring and 35 % six-row winter types. Prices were EUR 210-215 for Esterel and 220-230 for spring barley malt, FOB EU Seaport.

Tunisia covered 5,000 tonnes EU malt at EUR 250 in bags in container.

United Kingdom: "The resultant downward pressure on malt prices comes at a time when there are growing demands for food safety and traceability, which have cost implications throughout the supply chain. The food safety challenge has been taken up by UK maltsters who have differentiated themselves from other suppliers through the development and successful launch of AUKM, the world's first Assurance Standard for malt. This initiative, as expected, has been well received by customers both at home and overseas and the challenge is now to capitalise on this unique offering. Informed buyers need to recognise and reward the significant benefits offered by UK malt," MAGB Chairman Euan Macpherson mentioned in his annual statement at the Armourers Hall in London on November 8th 2004. He added: "There is an attraction to a market that has grown over 2% per annum for the last twenty years - but the introduction of new malting capacity is, once again, outpacing the growth in brewing demand. It is believed that some of this new capacity is being built with the benefit of subsidy, an issue that is currently being investigated by the European Commission. In order to make financial sense, it is necessary to operate malting plants at close to maximum capacity and the growing imbalance between demand and supply will make plant closures inevitable. It is a sad fact, with UK malt sales in 2004 down some 80,000 tonnes on 2003 levels, that some of these closures will occur in the UK. The minimal margins, or even lack of profit, that can arise from having to sell malt in an oversupplied market place is not healthy for any part of the supply chain in the longer term. Malting companies are finding it increasingly difficult to justify expenditure on the modernisation and refurbishment of their facilities and, in turn, the UK farmers who have traditionally been producers of high quality malting barley face a decreasing demand for the grain and potentially unacceptable returns for their efforts."

Barley News

USA: This year barley crop is estimated at 6.1 million tonnes. Export forecast USDA 0.55 million tonnes. Exports to-date 137,000 tonnes. Malting barley supplies are said to be sufficient with the help of a large carry-over from crop 2003. Crop was good in West, but affected by poor weather in Midwest. Imports from Canada will be very small.

China: This year barley production is estimated at 3.66 million tonnes (last year 2.717 million tonnes). However selection of malting barley less than 1 million tonnes versus 1.3-1.4 million tonnes last year. Imports of malting barley January-August 1.226 million tonnes. Malting barley needs minimum 3 million tonnes, imports est. 2004/05 2 million tonnes, market exports revealed. It is feared that cheaper low quality (feed) barley imports will distort markets.

Ireland: An average price of feed barley for 2004 in the Republic of Ireland has been agreed, the agricultural newspaper Farming Life revealed on 6th November 2004. According to the newspaper, Irish Farmers' Association National Grain Committee chairman, Paddy Harrington, announced that, following on from negotiations with Minch Malt, the average price for feed barley for 2004, before deals, special allowances and additional payments, had been agreed at EUR95.90/tonne (£66.69), at 20 % moisture exclusive of VAT. "This year's malting barley premium of EUR17/tonne (£11.82) for home use and EUR13/tonne (£9.04) for export will be paid on top of national average feed price for all malting varieties supplied," Mr Harrington said. "Grower contracts have been split on a 50:50 basis (home/export) to reflect market requirements. Minch Malt has said that payment of the outstanding balance due will commence immediately." "Unless malting barley prices lift significantly so that growers can recover the cost of production and return a margin to the business, farmers will avail of restructuring and consider whether they will cut back production in 2005. Grain farmers are no longer prepared to subsidise grain production from their Single Farm Payment," the IFA man said.



Theoretical malt prices.
EURO = USD 1.2906 November 12, 2004
Crop year
2004
Parity
FOB Antwerp
Position
Nov 2004-Sept 2005
Conditioning
Bulk
In bags
Bulk containers
Bags, containers
Malting barley variety
EURO
USD
EURO
USD
EURO
USD
EURO
USD
2RS
Scarlett
240.00
309.50
255.00
329.00
251.50
324.50
261.00
336.50
2RS
Prestige
237.50
306.50
252.50
326.00
249.00
321.00
258.50
333.50
2RS
Cellar
238.00
307.00
253.00
326.50
249.50
322.00
259.00
334.50
2RS
Aspen
236.50
305.50
252.00
325.00
248.50
320.50
257.50
332.50
2RS
Optic
236.50
305.50
252.00
325.00
248.50
320.50
257.50
332.50
2RS
Astoria
236.00
304.50
251.50
324.50
247.50
319.50
257.00
332.00
2RS
Cork
236.00
304.50
251.50
324.50
247.50
319.50
257.00
332.00
2RS
Average price
237.50
306.50
252.50
326.00
249.00
321.50
258.50
333.50
2RS
FAQ
235.00
303.00
250.00
322.50
246.50
318.00
256.00
330.50
6RW
Esterel
226.50
292.00
241.50
311.50
238.00
307.00
247.50
319.00
*
Asia Malt 70/30
234.00
302.00
249.50
321.50
245.50
317.00
255.00
329.50
**
Asia Malt 50/50
232.00
299.00
247.00
318.50
243.50
314.00
253.00
326.50
* - 70/30 = 70% Average two Rows Spring and 30% Six Rows Winter
** - 50/50 = 50% Average two Rows Spring and 50% Six Rows Winter
Theoretical malt prices for crop 2005 are available on site
www.e-malt.com/MarketPrices
Malt Price Evolution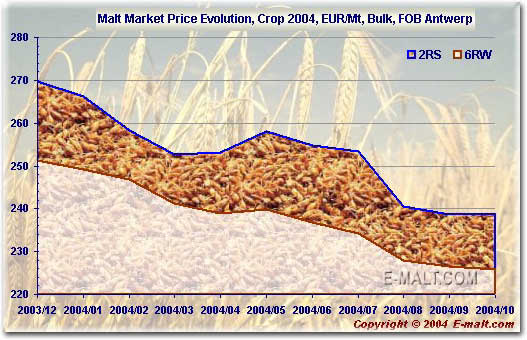 | | |
| --- | --- |
| | Maximum average price for 2RS Malt, crop 2004: 270.50 EUR/tonne - in December 2003 |
| | Minimum average price for 2RS Malt, crop 2004: 237.50 EUR/tonne - in September 2004 |
| | Maximum average price for 6RW Malt, crop 2004: 252.50 EUR/tonne - in December 2003 |
| | Minimum average price for 6RW Malt, crop 2004: 225.00 EUR/tonne - in October 2004 |
Source: E-malt.com

Malting barley prices. French barley prices.


Nominal prices.



EURO = USD 1.2906 November 12, 2004
Crop year
2004
2005
Parity
FOB Creil
FOB Creil
Position
July 2004
July 2005
Type
Variety
EURO
USD
EURO
USD
2RS
Scarlett
110.50
143.00
120.50
155.50
2RS
Prestige
108.50
140.50
119.50
154.50
2RS
Cellar
109.00
141.00
120.00
155.00
2RS
Aspen
108.00
139.50
119.00
153.50
2RS
Optic
108.00
139.50
119.00
153.50
2RS
Astoria
107.50
139.00
118.50
153.00
2RS
Cork
107.50
139.00
118.50
153.00
6RW
Esterel
99.50
128.50
104.50
135.00
Table of the week

EU malt export licence fixations:


(in tonnes) 
2000-2001
2001-2002 
2002-2003 
2003-2004
July 01, 2004 - October 26, 2004 
 France 
523,190
701,134
661,772
774,761
292,575
 Germany 
305,980
468,314
408,063
422,047
116,943
 Belgium 
277,584
296,368
287,850
317,292
85,339
 U.K.  
254,793
350,621
294,995
443,501
125,841
 Finland 
65,550
91,890
100,758
114,165
19,566
 Denmark  
52,326
96,812
94,791
90,452
25,790
 Sweden 
50,847
101,000
76,916
78,369
38,190
 Netherlands 
54,835
51,310
66,219
80,703
15,079
 Ireland 
26,003
35,145
31,140
38,900
37,404
 Austria 
4,850
8,840
8,620
60,211
2,541
 Spain 
3,000
2,400
5,640
10,000
-
 Greece 
1,800
1,744
1,306
979
130
 Portugal 
340
221
85
695
425
 Italy 
-
-
2
-
-
 Total old EU 
1,621,098
2,205,799
2,038,157
2,432,075
759,823
 New EU members
May-June, 04
 Czech Republic 
34,340
31,439
 Poland 
7,604
8,513
 Hungary 
2,830
21,973
 Slovakia 
1,000
35,450
 Total EU  
1,621,098
2,205,799
2,038,157
2,477,849
857,198
| | |
| --- | --- |
| | Total Wheat malt, tonnes  |
| Total 2000-2001   | 4,686 |
| Total 2001-2002   | 12,805 |
| Total 2002-2003   | 30,908 |
| Total 2003-2004   | 15,768 |
| July 01/2004 – October 26/2004   | 2,940 |
| | |
| | Total Roasted malt, tonnes  |
| Total 2000-2001   | 23,967 |
| Total 2001-2002   | 23,480 |
| Total 2002-2003   | 23,603 |
| Total 2003-2004   | 24,438 |
| July 01/2004 – October 26/2004   | 10,530 |
Graph of the week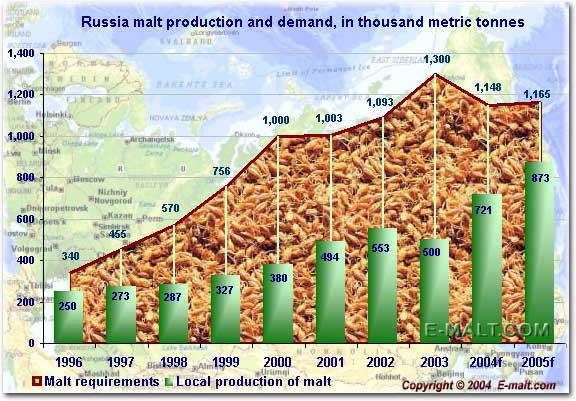 Agenda


November 2004:
World Brewing Academy Applied Brewing Techniques. Munich, Germany;
World Brewing Academy Concise Course in Brewing Technology. Chicago, Illinois, United States;
INTERNATIONAL EXH FOR FOOD & DRINK INDUSTRY / WORLD FOOD UKRAINE 2004;
INT'L EXH OF WINES, ALCOHOLIC & NON ALCOHOLIC DRINKS & PROTECTION EQUIPMENT / EXPO DRINK 2004. Romania;
TALLINN FOODFEST 2004;
Belgian Beer Fest, Boston MA;
Teach a Friend to Brew Day;
FOOD PROCESSING MACHINERY EXPO 2004;
FISPAL RECIFE 2004 / INTERNATIONAL FOOD FAIR. Brazil.;
BRAU Beviale 2004. Nürnberg, Germany.;
Brewers' Association of America Conference;
Fall Fest-Of-Ale. Janesville, Wisconsin, United States;
Accrington Beer Festival. UK;
FOODAPEST 2004. 7th International Food, Drink and Food Processing Trade Fair;
INTERNATIONAL EXH FOR FOOD INGREDIENTS, ADDITIVES & FLAVOURINGS / INGREDIENTS RUSSIA 2004;
BELPRODUKT International Exhibition for Food and Beverages. Minsk, Belarus ;

December 2004:
FOODEX Food, Beverages and Food Technologies Fair. Ankara, Turkey;
Eten & Genieten Food, Beverages and Kitchen Supplies Exhibition. Amsterdam, Netherlands;
Americas Food & beverage Show and Conference;
Holiday Ale Festival;
Sint Niklaas Visits Brewery Ommegang;
IWEX 2004;
WORLD OF FOOD INDIA 2004;
KerstBierFestival 10th edition! Belgium;
VIETFOOD & DRINK 2004 / 3RD INTERNATIONAL EXH ON FOOD AND DRINK;

January 2005:
Big Beers, Belgians & Barleywines Festival. Vail CO;
35th Barley Improvement Conference. The American Malting Barley Association;
VIETFOOD (HANOI) 2005;
Atlanta Cask Ale Tasting;

More events are available on site e-malt.com