Germany: Heineken N.V. announced on November 16 that Brau Holding International AG, the joint-venture between Heineken (49.9%) and Schörghuber Corporate Group (50.1%), has come to an agreement to acquire 100% of the shares of Brewery Hoepfner
. The transaction is subject to regulatory approval. Commenting on the deal, Jean Francois van Boxmeer, member of the Executive Board of Heineken N.V. said: "Brewery Hoepfner together with the recent acquisition of the Fürstlich Fürstenbergische Brewery strengthens BHI's position in the key Baden Wurttemberg region in Southern Germany." As agreed by both parties the acquisition price will not be published. The deal will be partly financed by debt and partly from available cash resources. Hoepfner is a well-known, traditional beer brand in south-west Germany, with a particularly strong position in the Baden region and is also exported into France. The brewery, located in Karlsruhe, had a sales volume of 200,000 hectolitres in 2003 and employs 86 people. Heineken has the widest global presence of all the international brewing groups, operating in over 170 countries. In 2003 Heineken brewed a total of 109 million hectolitres of beer at over 115 breweries in more than 65 countries. Net turnover amounted to EUR 9.2 billion and net profit to EUR 798 million. Heineken employs 60,000 people. Heineken strives for an excellent sustainable financial performance through marketing a portfolio of strong local and international brands with the emphasis on the Heineken brand, through a carefully selected combination of broad and segment leadership positions and through a continuous focus on cost control. For 50 years, the Schörghuber Corporate Group has been involved in the business divisions hotel, aircraft leasing, beverages, real estate and construction with great success. Numerous companies with approximately 5000 employees are part of this corporate group, whose field of activities has been expanding onto international terrain since the 1980's. The Brau Holding International AG is the main holding for the beverage business division and is one of Germany's leading beverage enterprises. Its holdings include Munich's traditional brewery group, "Paulaner Brauerei Gruppe", the Kulmbacher Group and Karlsberg.. In the beer sector alone, the company is represented by such well-known brands as Paulaner, Hacker-Pschorr, Thurn und Taxis, Auerbräu, Kulmbacher, EKU, Mönchshof, Kapuziner, Sternquell,Braustolz, Karlsberg and Königsbacher.
Canada, Edmonton: Brewing force, Molson announced on November 16 it will invest $12.3 million in upgrades at its historic Alberta Edmonton brewery
. This investment is part of the company's Renaissance in Brewing initiative aimed at applying best-in-class practices to Molson breweries throughout Canada. The movement coincides with the Edmonton brewery's celebration of 100 years of brewing history, "Molson is dedicated to delivering world-class performance and this investment is an extension of that commitment," said Armand Thompson, Molson's Edmonton brewery manager. "The capital project upgrades combined with our experienced Molson brewmasters and brewing methods, that are rooted in an over 200 year-old tradition of quality, will allow Molson to continue to satisfy consumers with exceptional beers of uncompromising quality." Scheduled for completion in January 2006, the planned improvements will significantly increase productivity and efficiency at the Edmonton brewery. The investment includes the addition of state-of-the-art technology to the brewery's bottle operations, including a new pasteurizer, filler and labeler. The upgrades enhance the Edmonton brewery's ability to specialize in bottle production and strengthen the brewery's strategic role in the company's operations. "Molson has a long history in Edmonton and strong ties throughout Alberta," said Kevin Boyce, President and Chief Operating Officer, Molson North America. "We are the market leader in this province and we remain committed to competing aggressively and growing our business in the years ahead." Molson Inc. is one of the world's largest brewers of quality beer with operations in Canada, Brazil and the United States. A global brewer with $3.5 billion in gross annual sales, Molson traces its roots back to 1786 making it North America's oldest beer brand. Committed to brewing excellence, Molson combines the finest natural ingredients with the highest standards of quality to produce an award-winning portfolio of beers including Molson Canadian, Molson Export, Molson Dry, Rickard's, Marca Bavaria, Kaiser and Bavaria.
Finland: The latest round of the global legal battle between Czech brewery Budejovicky Budvar and St. Louis beer giant Anheuser-Busch Ltd. remained unresolved on November 16 after the European Union's high court passed the trademark case
back to judges in Finland. The European Court of Justice batted questions on November 16 about whether the name "Budweiser" could be used by two competing brewers back to Finland's national court. The ruling by the European Union's highest court is the latest round in top U.S. brewer Anheuser-Busch's century-long dispute with state-owned Czech rival Budejovicky Budvar over the rights to the "Budweiser" and "Bud" brands. In this case, which was referred to the ECJ from Finland's Supreme Court, Anheuser-Busch said customers could confuse its own "Budweiser" trade mark with Budvar's use of the name, derived from its place of origin. Budvar countered that its trade name was registered and protected under international law. But the court said in a statement: "It is for the national court to examine whether the consumers targeted are likely to interpret the sign, as it is used by Budvar, as designating the undertaking from which the goods originate and, thus, as serving to distinguish the goods in question." If Budvar was using Budweiser as a trade mark or badge of origin, Anheuser could claim the full protection of European law, the court said. But if it was used as a "trade or company name," Finnish courts needed to decide what protection Anheuser could claim. Using a trade name that was identical or similar to a trade mark could infringe the trade mark owner's rights, the court said, but might be permitted if it was done in good faith. The court said Finnish judges would also need to rule whether Budvar's trade name was protected in Finland. Budvar registered its company name, both the Czech and English version, in 1967 and argues that under an international treaty on intellectual property, a registered name is protected in all countries that sign up to the treaty. The Czech brewer also registered Budvar and Budweiser Budvar as trade marks in Finland in the 1960s and 1970s. But it was struck off the Finnish commercial register in 1984 for lack of use. Anheuser-Busch then registered the "Budweiser" trade mark in Finland in the mid-1980s. Budejovicky Budvar was founded in 1895 in Ceske Budejovice - called Budweis by the German-speaking people that populated the area at the time. Beer has been brewed there since 1265. But St. Louis-based Anheuser says the Czech brewer only began using the Budweiser name in 1895, 19 years after it began brewing its own Bud. The firms have fought lawsuits and patent disputes around the world, and the legal uncertainty has held back Czech plans to privatize Budejovicky Budvar. ...
more info
Russia, Moscow: Foreign brewers regard Russia among the world's most lucrative beer markets, on a par with Germany and China
, RIA Novosti said on November 11. The opinion belongs to Axel Gietz, Senior Vice-President for Corporate Contacts of InBev Co., one of the world's biggest breweries. As he was addressing newsmen in Moscow, Herr Gietz strongly called Russia to enhance its investment attractiveness. Investors want a predictable climate. They don't like surprises, and they seek stability, he emphasised. Commercial barriers are among things they dislike the most, added Axel Gietz. The businessman turned to a bill Russia recently landslided to limit beer retail trade and drinking in public. "Legislators are not to make a big bungle-even a law easy to get through will not settle any problem in one fell swoop," he warned. "Laws lose their effect when they get out of proportion with the targets they mean to strike." There are no facts to prove that beer advertising really makes teenagers guzzle more. "That is a social problem. Brewers alone will not cope with it. The matter demands efforts by schools, parents, educational offices, the government, and retailers. "We don't think beer advertising limited or banned altogether will come as a cure-all. We should like to retain our right to advertise beer for adults." Axel Gietz thinks customers' age limitations will certainly reduce teenager beer drinking. Such limitations must get on a legal footing, he insists.
Chile: Chile's per capita beer consumption is of 21.9 litres and is much lower than in many other South American countries
. The best-selling brand in Chile is Heineken, with 38% market share. The second place is of Royal with 17%. Then comes Austral with 16%, Budweiser with 10%, followed by premium producers Kunstmann with 4.5% and Paulaner with 3%. Premium beer is the fastest growing segment in the Chilean beer market, and have already reached 9.6% market share. Leading premium supplies predict continued sales growth. Kunstmann has already seen its sales surge by 30% to date in 2004 since it tied up a distribution deal with giant brewer CCU. It recently launched a honey beer and is planning two new launches for 2005.
Switzerland: The Swiss drank less beer last year. Beer consumption per capita decreased 0.7 litres (or 0.4%) in 2003/04 brewing year and reached 57.5 litres
, The Swiss Association of Breweries(SSB) announced on November 16. However this figure is considered as 'satisfactory' as it is higher than the figures obtained in 2001/02 (56.6 litres per capita) and in 2000/01 (57.4 litres per capita). During brewing year ended 30 September 2004, 4,28 million hl of beer were sold. That represents a decline of 0,4% compared to the previous year. The local beer production decreased by 1,8% to 3.58 million hl. On the other hand, the imports increased 6.9% to 698.54 thousand hl. The Swiss beers account for 83,7% of the market, while imported beer for 16.3% of the market. The brewing year started well, the association said, but the summer months, were definitely less favorable than during the previous year. It should be noted that the national budget profited from a contribution of 104,5 million francs from the special tax on beer. Swiss beer exports decreased by 10.8% to 22 405 hl in 2003/04 versus previous year. This level remains more marginal, since it accounts for only 0.62 % of the total.
Malt News
United Kingdom: "The strength of Sterling and relative weakness of the US Dollar and Euro has not assisted UK export sales. UK malt exporters have been successful in exporting malt to Eastern Europe and Russia in recent years, but with new malting capacity coming on stream, those exports are threatened. This has been further exacerbated by the 2004 harvest being the most difficult for many years, pushing best quality malting barley prices considerably above those of our export competitors in mainland Europe, noticeably France, where the harvest has been very good. From January 2005 a bilateral agreement between the Governments of Australia and Thailand will mean Australian malt exports to Thailand will be free of import taxes. For UK maltsters to make their presence noticed in such a market place not only must the malt price be acceptable, but the customer must recognise the 'value added' benefit that differentiates that malt. Maltsters have been working for over three years to that end, and launched 'Assured UK Malt', the world's first assurance scheme for malt in November 2003. Presentations on the importance of this new malting Standard were given to the Asia Pacific Conference of the Institute and Guild of Brewing in Hanoi in March 2004 , and to a European Brewing Congress workshop in May 2004," MAGB Chairman Euan Macpherson mentioned in his annual statement at the Armourers Hall in London on November 8th 2004.
Barley News
Canada: For 2004-05, Canada's barley production is forecast by AAFC to increase by 6% due to higher yields, despite lower seeded area, AAFC posted on November 12. Supplies are expected to rise by 10% due to higher carry-in stocks. Feed use is projected to increase significantly, due to higher supplies in western Canada and increased shipments to eastern Canada. Exports of malting barley are expected to drop significantly as lower crop quality reduces the selection rates, although import demand from China is projected to recover. Exports of feed barley, for the crop year, are also expected to decrease from 2003-04 due to competitions from Europe and relatively low overseas prices, despite increased supplies and low prices in Canada. Carry-out stocks are forecast to increase sharply. Off-Board feed barley prices are expected to decrease by about $25/t from 2003-04 to C$110/t, due to increased domestic supplies and lower US corn prices. The CWB October PRO for No.1 CW Feed Barley for the first pool period (August-January) is C$112/t I/S VC/SL, vs. C$168/t for 2003-04. The PRO for Special Select Two Row designated barley is expected to decrease to C$181/t from C$200/t for 2003-04, due to higher supplies in Europe and Australia.

World barley: Upward revisions in yield estimates in Canada, Russia and Ukraine lift the world barley production forecast by 2.2 million tonnes, to 151.5 million tonnes (140 million tonnes), International Grains Council (IGC) published in its last Grain Market Report at the end of October. There are concerns about the impact of dry conditions this season in Australia, where harvesting has begun, but the crop estimate is unchanged, IGC said. Global consumption is also forecast higher than before, due to greater feed use in the US, Canada and the EU, although the total remains slightly below the previous year's. Feed consumption will rise in Canada due to larger supplies and weaker prices, in a year when maize availabilities will be tighter and cattle numbers are at a record. World trade in barley is set to show some recovery in 2004/05, to 15.4 million tonnes, due to increases both in malting and feed imports. The export forecast for the EU has been raised by 0.8 million tonnes, to 2.5 million tonnes, following the reintroduction of export refunds. Increased production forecasts for Canada and the CIS will boost projected global carry-over stocks from last month, to 29.5 million tonnes (21.7 million tonnes). Although the greatest increase in barley stocks will be in the EU, the forecast has been lowered to accommodate somewhat higher than anticipated feed use and export estimates.

World: Main market events since 30 September 2004 were published by IGC: On October 6, Japan bought 190,000 tonnes of feed barley (SBS). On October 12, EU Opened 1million tonnes barley export refund tender. On October 14, EU awarded open market export refunds for 10,000 t barley at EUR 14.99. On October 21, Tunisia bought 75,000 tonnes of feed barley.


Theoretical malt prices.
EURO = USD 1.2959 November 17, 2004
Crop year
2004
Parity
FOB Antwerp
Position
Nov 2004-Sept 2005
Conditioning
Bulk
In bags
Bulk containers
Bags, containers
Malting barley variety
EURO
USD
EURO
USD
EURO
USD
EURO
USD
2RS
Scarlett
240.50
311.50
255.50
331.00
252.00
326.50
261.50
339.00
2RS
Prestige
238.00
308.50
253.00
328.00
249.50
323.50
259.00
335.50
2RS
Cellar
238.50
309.00
253.50
328.50
250.00
324.00
259.50
336.50
2RS
Aspen
237.50
307.50
252.50
327.00
249.00
322.50
258.50
335.00
2RS
Optic
237.50
307.50
252.50
327.00
249.00
322.50
258.50
335.00
2RS
Astoria
236.50
306.50
252.00
326.50
248.50
321.50
257.50
334.00
2RS
Cork
236.50
306.50
252.00
326.50
248.50
321.50
257.50
334.00
2RS
Average price
238.00
308.50
253.50
328.00
249.50
323.50
259.00
335.50
2RS
FAQ
235.50
305.00
250.50
324.50
247.00
320.00
256.50
332.50
6RW
Esterel
227.00
294.00
242.00
313.50
238.50
309.00
248.00
321.50
*
Asia Malt 70/30
234.50
304.00
250.00
323.50
246.50
319.00
255.50
331.50
**
Asia Malt 50/50
232.50
301.50
247.50
321.00
244.00
316.00
253.50
328.50
* - 70/30 = 70% Average two Rows Spring and 30% Six Rows Winter
** - 50/50 = 50% Average two Rows Spring and 50% Six Rows Winter
Theoretical malt prices for crop 2005 are available on site
www.e-malt.com/MarketPrices
Malting barley prices. French barley prices.
Nominal prices.
EURO = USD 1.2959 November 17, 2004
Crop year
2004
2005
Parity
FOB Creil
FOB Creil
Position
July 2004
July 2005
Type
Variety
EURO
USD
EURO
USD
2RS
Scarlett
111.00
144.00
121.00
157.00
2RS
Prestige
109.00
141.50
120.00
155.50
2RS
Cellar
109.50
142.00
120.50
156.50
2RS
Aspen
108.50
141.00
119.50
155.00
2RS
Optic
108.50
141.00
119.50
155.00
2RS
Astoria
108.00
140.00
119.00
154.50
2RS
Cork
108.00
140.00
119.00
154.50
6RW
Esterel
100.00
129.50
105.00
136.50
Table of the week
World Barley Malt Trade, in thousand tonnes, grain equivalent
WORLD MALT TRADE
2002/2003
2003/2004
2004/2005f
MALT EXPORTS
Argentina
337
275
300
Australia
691
712
720
Canada
617
626
620
EU 25
3,366
3,422
3,200
USA
94
144
140
Uruguay
242
252
275
Other
274
149
165
WORLD TOTAL
5,621
5,580
5,420
MALT IMPORTS
EUROPE
531
278
235
CIS BALTICS
1,004
869
750
Russia
800
755
625
N&C AMERCIA
597
617
635

Mexico

171
219
230

USA

230
218
220
South AMERICA
1,222
1,374
1,325

Brazil

875
810
850

Venezuela

241
495
375
N E ASIA
20
22
20
F E ASIA
1,705
1,853
1,870
Japan
701
680
660
South Korea
143
158
160
Philippines
230
244
260
Thailand
225
275
300
Vietnam
201
229
230
AFRICA
501
533
545
South Africa
65
92
75
Other/unsp
281
278
290
WORLD TOTAL
5,621
5,580
5,420
Source: IGC
Graph of the week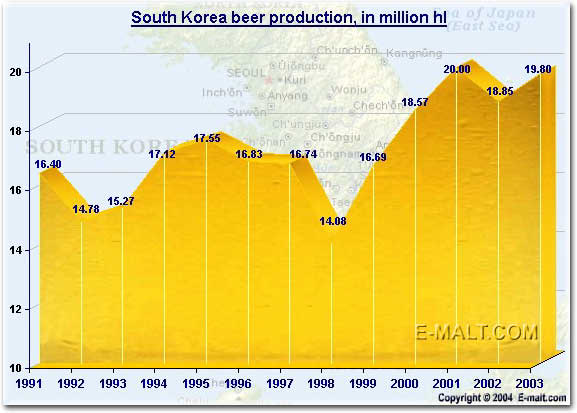 Agenda
November 2004:
World Brewing Academy Applied Brewing Techniques. Munich, Germany;
World Brewing Academy Concise Course in Brewing Technology. Chicago, Illinois, United States;
INTERNATIONAL EXH FOR FOOD & DRINK INDUSTRY / WORLD FOOD UKRAINE 2004;
INT'L EXH OF WINES, ALCOHOLIC & NON ALCOHOLIC DRINKS & PROTECTION EQUIPMENT / EXPO DRINK 2004. Romania;
TALLINN FOODFEST 2004;
Belgian Beer Fest, Boston MA;
Teach a Friend to Brew Day;
FOOD PROCESSING MACHINERY EXPO 2004;
FISPAL RECIFE 2004 / INTERNATIONAL FOOD FAIR. Brazil.;
BRAU Beviale 2004. Nürnberg, Germany.;
Brewers' Association of America Conference;
Fall Fest-Of-Ale. Janesville, Wisconsin, United States;
Accrington Beer Festival. UK;
FOODAPEST 2004. 7th International Food, Drink and Food Processing Trade Fair;
INTERNATIONAL EXH FOR FOOD INGREDIENTS, ADDITIVES & FLAVOURINGS / INGREDIENTS RUSSIA 2004;
BELPRODUKT International Exhibition for Food and Beverages. Minsk, Belarus ;

December 2004:
FOODEX Food, Beverages and Food Technologies Fair. Ankara, Turkey;
Eten & Genieten Food, Beverages and Kitchen Supplies Exhibition. Amsterdam, Netherlands;
Americas Food & beverage Show and Conference;
Holiday Ale Festival;
Sint Niklaas Visits Brewery Ommegang;
IWEX 2004;
WORLD OF FOOD INDIA 2004;
KerstBierFestival 10th edition! Belgium;
VIETFOOD & DRINK 2004 / 3RD INTERNATIONAL EXH ON FOOD AND DRINK;

January 2005:
Big Beers, Belgians & Barleywines Festival. Vail CO;
35th Barley Improvement Conference. The American Malting Barley Association;
VIETFOOD (HANOI) 2005;
Atlanta Cask Ale Tasting;

More events are available on site e-malt.com