---
Newsletter Summary

---
Currency rates
Brewery news
Malt news
Barley news
More news
Theoretical malt prices
Malting barley prices
Table of the week
Graph of the week
Agenda
Do you know e-malt.com?
---
Average market prices Change trend
---

Note: Just click on the price link and you will be led to our Market Price History.
Average barley market prices are French and are estimated on FOB Creil basis.
Average malt market prices are estimated on FOB Antwerp basis.
The changes are compared to last Newsletter's prices.
Arrows indicate the direction of the change.


---
Easy E-malt.com
---
---
E-malt.com access
---
---
Do you know
E-malt.com ?
---
Dear E-malt Reader!

E-malt.com Newsletters Archive could be found directly on e-malt.com site. Browsing through our Newsletters' Archive you may see all the issues you have missed. To this purpose you just have to login e-malt.com and click on Newsletters link in the menu. Reading our Newsletters you will be kept informed with the latest news and events regarding malting and beer world. You may also submit your own news, events or other information to the address info@e-malt.com!

Updated figures related to USA barley and malt trade with Mexico and Canada could be seen in NAFTA section of e-malt.com menu. To this purpose please enter e-malt.com!

You may find updated malt, barley and beer statistics on e-malt.com Statistics section. Just enter e-malt.com! Here you will find all tables issued with e-malt.com newsletters.

E-malt.com Agenda gives the possibility to keep you informed about the Events planned to be held in the whole world related to the brewing and malting industries. To this purpose you just have to login e-malt.com and click on Agenda link in the menu. Reading our Event Agenda you will find out about the future symposia, conferences and festivals related to malting and beer world. You may also submit your own events to the address info@e-malt.com

E-malt.com has Trading Online system. The system is to be used for malt/barley trading. One can register a malt/barley offer or a malt/barley request. The registering person could be as a seller/buyer or as an agent for seller/buyer. The User can see information about all active malt/barley offers & requests. If needed the system allows user to buy/sell malt/barley due to reasonable offers/requests. The way to do this is to confirm reasonable transaction. Trading Online rules are available through the Internet in the Trading Online as well as Tutorial (useful for persons who starts the system usage). To visit the E-malt Trading Online first go to the E-malt.com site, then click Trading Online link in the left menu of the e-malt.com home page. For more details please contact info@e-malt.com

Thank You!

---
E-malt.com Links!
---
Industry news
Market prices
EU Regulations
NAFTA
Specifications
Special malts
Professional Help
Trading online
Costing online
Statistics
Graphs
NewsLetters
Agenda
Accounts
Log In
Contact us
---
Other e-malt.com newsletters
---
Last five newsletters
---


Newsletter 40b, 2004


Newsletter 40a, 2004


Newsletter 39b, 2004


Newsletter 39a, 2004


Newsletter 38b, 2004
---
Market price evolutions
---
The evolution of market prices for barley and malt, which are periodicaly issued with e-malt.com newsletters are published on e-malt.com site in Market Prices section. Just click here!
---
Available market price evolutions
---


Malt Market Price Evolution. Crop 2004


French Malting Barley Price Evolution. Crop 2004


Malt Market Price Evolution. Crop 2003


French Malting Barley Price Evolution. Crop 2003
---
E-malt.com graphs
---
All graphs issued with e-malt.com newsletters are published in "Graph" section of e-malt.com site.
---
Last five graphs
---


World's Major Beer Producers 2003


China barley production and imports


Colombia beer production


Asia per capita consumption of beer in 2003


World premium beer market
---
The graphs are updated from time to time. Just see the updates online on e-malt.com site!
---
Last updated graphs
---


EU malt production capacity


U.S.A. Barley Production


United States Beer Exports


Canada Domestic and Imported Beer Sales


Canada's per capita consumption of beer
---
E-malt.com Tables
---
We have the pleasure to let you know that all e-malt.com tables are published in e-malt.com Statistics section. The Statistics section includes Barley statistics, Malt statistics and Beer statistics. The tables related to barley are published in Barley Statistics section, the tables related to malt in Malt Statistics section and the tables related to beer in Beer Statisctis section.
---
Last five tables
search in statistics
---


Australia barley crop estimates 2004-2005


Canada: Barley Supply and Disposition 2002-2005


Estimate of EU Barley Crops 2003, 2004


EU malt export licence fixations until August 24, 2004


Ukrainian barley export
---
Note
---
If you have any comments, questions, suggestions or remarks, you can send a mail to: info@e-malt.com. To submit your own news to our editorial team, email to: info@e-malt.com
---
If you have received this newsletter from a colleague, you can obtain your own free subscription here, or a full FREE registration here.
---
You may recommend our site to your friend by clicking here
---
If you do not wish to receive our newsletter, please unsubscribe your e-mail address (@EMAILADDRESS@) from our mailing list using unsubscribe form from our site!
E-malt.com Newsletter 41a
October 04 - October 06, 2004 Currency Rates

Base Currency: Euro, EUR
on 05-October-2004

1 EUR = 1.2289 USD
1 EUR = 0.6886 GBP
1 EUR = 1.5644 CAD
1 EUR = 1.7009 AUD
1 EUR = 136.28 JPY
1 EUR = 3.4729 BRL
1 EUR = 35.9158 RUB

Base Currency: US Dollar
on 05-October-2004

1 USD = 0.8141 EUR
1 USD = 0.5606 GBP
1 USD = 1.2730 CAD
1 USD = 1.3841 AUD
1 USD = 110.96 JPY
1 USD = 2.8260 BRL
1 USD = 29.226 RUB

EUR/USD Chart
Top Industry News
More News
Brewery News


Germany: Heineken N.V. announced Tuesday October 5 that Brau Holding International AG (the joint-venture between Heineken (49.9%) and Schörghuber Corporate Group (50.1%)) has come to an agreement to acquire 100% of the shares

of Fürstlich Fürstenbergische Brauerei KG. The transaction is subject to regulatory approval. Commenting on the deal, Jean Francois van Boxmeer, member of the Executive Board of Heineken N.V. said; "This acquisition expands Brau Holding International's presence in Southern Germany. It will deliver synergy gains through both cost reductions and central purchasing. Furthermore the Fürstenberg brand fits well within Brau Holding International's portfolio of German premium brands." As agreed by both parties the acquisition price will not be published. The deal will be partly financed by debt and partly from available cash resources. The Fürstlich Fürstenbergische Brauerei KG is centrally located in Baden Württemberg in the southern part of Germany. The company had a sales volume of 700,000 hectolitre in 2003 and operates one brewery in Donaueschingen with a production capacity of 1 million hectolitre. The brand portfolio includes the company's leading brand Fürstenberg and the brands Riegeler, Bären Pilsner and Qowaz (cola/beer mix). The Fürstenberg brand is also exported to ItalyFranceSwitzerlandUK and Spain. Heineken has the widest global presence of all the international brewing groups, operating in over 170 countries. In 2003 Heineken brewed a total of 109 million hectolitres of beer at over 115 breweries in more than 65 countries. Net turnover amounted to EUR 9.2 billion and net profit to EUR 798 million. Heineken employs 60,000 people. Heineken strives for an excellent sustainable financial performance through marketing a portfolio of strong local and international brands with the emphasis on the Heineken brand, through a carefully selected combination of broad and segment leadership positions and through a continuous focus on cost control. For 50 years, the Schörghuber Corporate Group has been involved in the business divisions hotel, aircraft leasing, beverages, real estate and construction with great success. Numerous companies with approximately 5000 employees are part of this corporate group, whose field of activities has been expanding onto international terrain since the 1980's. The Brau Holding International AG is the main holding for the beverage business division and is one of Germany's leading beverage enterprises. Its holdings include Munich's traditional brewery group, "Paulaner Brauerei Gruppe", the Kulmbacher Group and Karlsberg.. In the beer sector alone, the company is represented by such well-known brands as Paulaner, Hacker-Pschorr, Thurn und Taxis, Auerbräu, Kulmbacher, EKU, Mönchshof, Kapuziner, Sternquell,Braustolz, Karlsberg and Königsbacher.

South Africa: Anheuser-Busch, the world's biggest brewer and producer of Budweiser, is to expand in South Africa beer market

. It hopes to use its position as the official beer sponsor of the 2010 football world cup, to be held in South Africa, to bolster its position in the country, London's Sunday Telegraph revealed on October 3. Now Anheuser-Busch is negotiating with senior business figures in South Africa. If Anheuser-Busch succeeds in South Africa it will present a major threat to SABMiller, the second-biggest brewer, formed when South African Breweries bought America's Miller Brewing in 2002, the paper commented. SAB has a 97 % share of the beer market in South Afica and last year 27 per cent of its profits came from sales in the country. A SABMiller spokesman reflected the companies' rivalry, scoffing at Anheuser-Busch's world cup sponsorship. "A warm weekend in Soweto would have more impact on beer consumption," he said. "The two companies have been involved in a series of acrimonious disputes. In May, SABMiller, won a legal battle when a judge ordered Anheuser to stop saying in adverts that Miller lager is brewed by "South African Breweries", contrasting it with Anheuser-Busch's own American image," Sunday Telegraph said. Anheuser-Busch is employing a similar tactic in China where it is the official beer sponsor of the 2008 Olympics in Beijing. Anheuser-Busch launched a fresh advertising campaign calling its Budweiser the "King of Beers" and dubbing Miller lager "the Queen of Carbs" in the US, where low-carbohydrate beers have been popular.

Russia: The Netherlands' brewing force, Heineken NV, is extending in Siberia. The Dutch brewer announced on Friday, October 1, it has acquired 100% of Sobol Beer LLC in Novosibirsk, Western Siberia

. The transaction will be funded from available cash resources, the company revealed. Heineken St Petersburg brewery is to reach its maximum capacity by 2005 growing by 15% per annum. That is why, the acquisition will provide for immediate additional production capacity for the national brands Bochkarev and Ohota, the company added on October 1. The parties did not mention the acquisition price. According to different financial analysts Sobol Beer worth US$50 million. However, some sources revealed that Heineken paid about US$70 million for the brewery. Negotiation between companies started in April this year. Some other companies like Sun Interbrew, Efes and Alfa-Eco were interested in purchasing Sobol Beer. Besides Bochkarev and Ohota Heineken plans also to keep brewing Sobol and Zhigulevskoye at Sobol Beer brewery. Heineken intends to invest about EUR 20 million in the plant and to reach a production capacity of 170 million litres of beer per annum. Now the brewer output about 20 million litres of beer. Heineken has already upped its presence in Russia, stating that it expects the Russian beer market as a whole to grow by a further seven per cent during 2004. In August this year, Heineken became the third biggest company in Russia's beer market after acquiring WBD shareholders' controlling stake in the Volga and Shikhan breweries making up the Central European Brewing Company (CEBCO). Heineken said by 2007 it plans to reach about 9.2% of the Russian beer market. "This acquisition fits perfectly with our growth strategy for Russia following our recent acquisition of the Shikhan and the Volga Breweries. It reinforces our number three position and further strengthens our distribution and sales platform in this fast growing beer market," Jean Francois van Boxmeer, member of the executive board of Heineken NV said.

Romania: SABMiller, the second largest brewer in the world, announced on 04 October 2004 a 12% volume growth of its sales on the Romanian market for the first eight months of this year compared to the similar period of the previous year

. The results on the Romanian market are contrary to the market decrease and even exceed the growth recorded by the group in Europe. "Our European businesses generated good results and an organic growth of 3%. Besides the volume increases in Romania and Russia, the sales from the Polish and Czech markets grew in the second quarter of the year compared to the first three months, but the growth was partially neutralized by the situation from Italy and Hungary", announced SABMiller. Octavian Buzoianu, the Corporate Affairs Manager of SABMiller Romania, says that the company's sales were good and grew against the trend of the beer market. Ursus, Timisoreana, Aurora and Ciucas are the most important brands held by SABMiller in Romania. "Our sales went well although the weather was rather unfavorable and the market recorded a slight decrease. I think the growth is generated by the strength of our Romanian traditional brands", claims Buzoianu. He estimates an overall growth of 15% for the year 2004. The rainy weather during summertime had a strong impact on the beer sales, especially that it is usually in May – August that are recorded 50% of a year's sales. The estimations regarding the losses incurred by the players from the beer industry amounted to around 30 million dollars (600,000 hectoliters). The market had started the year in a rather good shape, with a 10-15% growth in the first months, and the large brewers were expecting sales even better than last year, when the market grew by 10%, reaching 12.8 million hectoliters for a value of around 550 million Euros. SABMiller holds five breweries in Timisoara, Buzau, Pitesti, Cluj and Brasov and a market share of 22%. The company has recently purchased Aurora Brasov for 20 million dollars, this transaction bringing SABMiller back on the second position on the Romanian beer market. Aurora Brasov has been one of last year's best performers in the brewing industry, recording a sales growth of 26.8%, up to 664,000 hectoliters and a market share of 5.2%. After the takeover of Aurora Brasov, the beer company announced a reorganization program under which it will cut down the number of employees by 30%...

more info USA: Sales of Coors Light, Adolph Coors Co.'s most important beer brand, have dropped for the first time since it was launched more than 25 years ago

, The Associated Press posted on October 4. Last year, Coors Light made up 8 percent of the U.S. beer market, down from 8.1 percent the year before. The loss amounts to more than 325,000 gallons and analysts say the decline will continue. "There has been a slight decline (in Coors Light)," said Laura Sankey, Coors' vice president for corporate communications. "I think it's gotten mischaracterized to feel like it's bigger, but you never want to lose share." Further loses could pose a problem for the company, based in Golden, because the Coors Light brand accounts for 75 percent of its U.S. beer volume. A reason for the decline may be Coors' decision in late 2001 to focus Coors Light marketing on twenty-something males. Analysts say the move may have alienated older drinkers instead of boosting sales. "They seem to believe that the advertising has got traction with consumers, but it doesn't appear that it is moving the needle," said Eric Shepard, executive editor of Beer Marketers Insights, an industry trade publication. Coors Light's newest campaign touts that the beer is shipped in temperature-controlled rail cars. "They're very product-focused ads, full of good facts about how we try to keep our beer as cold as possible," Sankey said. "I think they'll appeal to drinkers of all ages." Coors did post positive earnings in 2003. The company reporting $174.7 million in net income in 2003, up 8 percent over 2002. "They've saved some money and optimized productions, packaging. That's really helped them keep their head above water," said David Hartley, an analyst at First Associates in Toronto. "But you can't do it forever." Bud Light is the No. 1 selling beer in the country to date this year, followed by Budweiser, Miller Light and Coors Light, according to Beer Marketers Insights. "Coors Light was growing very steadily right up through the year 2000 that's when they hit the wall," Shepard said. But times have been tough for the entire American brewing industry. Adams Beverage Group said domestic beer sales declined by 0.3 percent last year. Coors Light has continued to sell well in Canada, where it is the top-selling light beer and ranks fourth overall in beer sales. Analysts say the proposed merger with Montreal brewer Molson Inc. could help Coors capitalize on their existing distribution partnership, which has led to big growth for Coors Light in Canada. "Having the Canadian business gives them a steady cash-flow stream, it allows them to milk that cash string to help build their portfolio of brands in the U.S. over time," Hartley said. "I think they realize they have to be more diversified."

Japan: Kirin Brewery Co., Japan's biggest brewery, may spend as much as 5 billion yen ($45 million) to double its production of beer in China to 1 billion liters a year

, the Nihon Keizai newspaper reported. According to the same source, Japanese brewer is to increase its beer production from 500 million litres per annum to 1 billion litres. The increase is to be reached by the production capacity of its Zhuhai Kirin President Brewery Co in Guangdong Province or build another plant. The newspaper added that Kirin is considering purchasing one or two local breweries with a total annual production capacity of 200,000 kls.

Malt News

Thailand: Boon Rawd Breweries of Thailand have purchased 60,000 tonnes of EU malt, in bulk in container, at EUR 260 C+F. Beer Thai is in the market for 150,000 tonnes, experts revealed. It is expected that 90,000 tonnes will be purchased in Australia and 60,000 tonnes from the EU. As a consequence of the FTA between Thailand and Australia, which frees Australian malt of an import tax, the price difference between EU and Australian offers is almost EUR 30 per tonne.

Barley News

China: Barley acreage was 920,000 ha this year against 775,000 a year ago. The official crop estimate is 3.66 million tonnes versus 2.72 million tonnes last year. Private estimates, however, range from 2.5 to 3.8 million tonnes. For comparison, China's total grain and soybean crop is 455 million tonnes. Barley is not a favoured crop in China. Production is centred in the double-cropping areas in a wide circle around Shanghai, in Gansu and Xinjiang. It is losing ground in the prime agricultural regions of the Northeast. The share of malting barley is particularly small this year, it dropped well below 1 million tonnes, because drought conditions during vegetation affected protein contents and screenings. Prices for domestic barley, which were (equivalent) EUR 100-120 last year, are now EUR 170-180, delivered malting plants. Chinese beer output in 2003 was 253.9 million hl. Forecasts for 2004 are 270 – 280 million hl, for 2005 308 million hl. In January-July 2004, however, the beer output was up by 16%. If sales continued at that pace, a total of 294.5 million hl would already be achieved by the end of 2004. As seen in the past, malt usage is heavily influenced by prices. Present malt input estimates run from 9 to 10.4 kilos per hl. Total barley need estimates range from 3,0 to 3,6 Mill. tons in 2004, and 400.000 tons more in 2005. In theory, this would result in a great increase of barley imports, (2.5 – 3.0 million tonnes), but in January/August imports were only 1.226 million tonnes, and realistic forecasts expect total imports of 2 million tonnes in the crop year 2004/05.

EU: From July 1 till September 28 the EU granted barley export licences for 112,000 tonnes. EU feed barley prices of US $ 130-135 FOB seaports are US $ 30 above Black Sea price levels. The reasons, according to experts are: no export restitution, a firm Euro, and EU markets have the backstop of intervention: EUR 101,31 = US $ 124,60 in October.



Theoretical malt prices.
EURO = USD 1.2289 October 05, 2004
Crop year
2004
Parity
FOB Antwerp
Position
Oct 2004-Sept 2005
Conditioning
Bulk
In bags
Bulk containers
Bags, containers
Malting barley variety
EURO
USD
EURO
USD
EURO
USD
EURO
USD
2RS
Scarlett
240.00
295.00
255.50
313.50
251.50
309.00
261.00
321.00
2RS
Prestige
239.00
293.50
254.00
312.00
250.50
307.50
260.00
319.50
2RS
Cellar
239.50
294.50
254.50
313.00
251.00
308.50
260.50
320.00
2RS
Aspen
238.50
292.50
253.50
311.50
249.50
307.00
259.50
318.50
2RS
Optic
238.50
292.50
253.50
311.50
249.50
307.00
259.50
318.50
2RS
Astoria
237.50
292.00
252.50
310.50
249.00
306.00
258.50
318.00
2RS
Cork
237.50
292.00
252.50
310.50
249.00
306.00
258.50
318.00
2RS
Average price
238.50
293.50
254.00
312.00
250.50
307.50
260.00
319.50
2RS
FAQ
236.50
290.50
251.50
309.00
248.00
304.50
257.50
316.50
6RW
Esterel
225.50
277.00
240.50
295.50
237.00
291.00
246.50
302.50
*
Asia Malt 70/30
234.50
288.50
250.00
307.00
246.50
302.50
255.50
314.50
**
Asia Malt 50/50
232.00
285.00
247.00
303.50
243.50
299.50
253.00
311.00
* - 70/30 = 70% Average two Rows Spring and 30% Six Rows Winter
** - 50/50 = 50% Average two Rows Spring and 50% Six Rows Winter
Theoretical malt prices for crop 2005 are available on site
www.e-malt.com/MarketPrices
Malting barley prices. French barley prices.
Nominal prices.
EURO = USD 1.2289 October 05, 2004
Crop year
2004
2005
Parity
FOB Creil
FOB Creil
Position
July 2004
July 2005
Type
Variety
EURO
USD
EURO
USD
2RS
Scarlett
112.00
138.00
123.00
151.50
2RS
Prestige
111.00
136.50
122.00
150.00
2RS
Cellar
111.50
137.50
122.50
150.50
2RS
Aspen
110.50
136.00
121.50
149.50
2RS
Optic
110.50
136.00
121.50
149.50
2RS
Astoria
110.00
135.50
121.00
149.00
2RS
Cork
110.00
135.50
121.00
149.00
6RW
Esterel
100.00
123.00
106.00
130.50
Table of the week
EU Malting Barley Supply and Demand Estimate 2004/2005
(in 1,000 tons)
Malt production
Barley demand
Supply Spring malting barley
Supply Winter Malting barley
Net Plus / Minus
Total
Spring
Winter
Northwest:
Belgium
660
825
15
-
- 810
- 560
- 250
France
1,380
1,620
2,450
2/6 row 1,800
2,630
1,450
1,180
Germany
2,050
2,560
2,100
2 row 100
- 360
- 300
- 60
Ireland
160
200
250
-
50
50
-
Netherlands
240
300
250
-
- 50
-
- 50
United Kingdom
1,520
1,900
1,300
2row 700
100
100
-
Total Northwest
6,010
7,405
6,365
2,600
1,560
740
820
Baltic:
Denmark
255
320
900
-
580
580
-
Finland
175
220
200
-
- 20
- 20
-
Lithuania
60
75
90
-
15
15
-
Poland
280
350
250
-
- 100
- 100
-
Sweden
250
315
315
-
-
-
-
Total Baltic
1,020
1,280
1,755
-
475
475
-
Southeast:
Austria
155
200
250
-
50
50
-
Czech Republic
500
625
800
-
175
175
-
Hungary
140
175
200
-
25
25
-
Slovakia
280
350
400
-
50
50
-
Total Southeast
1,075
1,350
1,650
-
300
300
-
Mediterranean:
Greece
40
50
0
-50
-50
Italy
75
95
40
-55
-55
Portugal
75
95
0
-95
-95
Spain
400
500
600
100
100
Total Mediterranean
590
740
640
-
- 100
- 100
-
Net Total
8,695
10,775
10,410
2,600
2,235
1,415
820
Graph of the week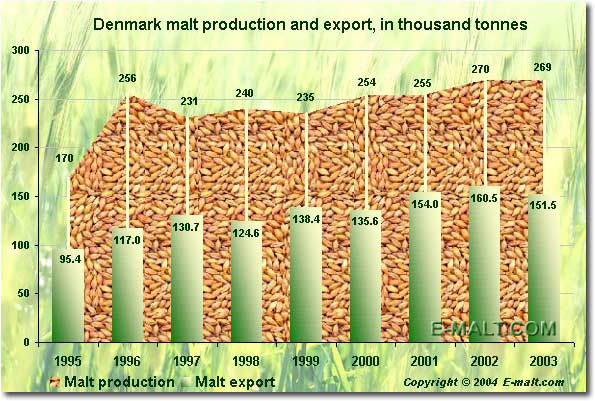 Agenda
September 2004:
6th BELGIAN BEER WEEKEND;
China Brew 2004 / China Beverage 2004;
International Brewery and Soft Drinks Industry Exhibition;
FOOD & BEVERAGE PROCESSING & PACKAGING INDONESIA 2004;
Pivoindustria International Beer Industry Exhibition;
National Beer Wholesalers Show 2004;
PAN ASIAN FOOD & BEVERAGE TRADE SHOW 2004;
Barley Malt Quality Evaluation Short Course;
EUROMALT BARLEY SEMINAR 2004;
OCTOBERFEST Famous German Beer Festival;
Agro + Food + Drink + Tech Expo Georgia Food, Beverages and Processing Equipment Trade Fair;
bevex Beverage Trade Fair;
InterBev 2004;
YUGOSLAVIA INTERNATIONAL FAIR OF FOOD & BEVERAGES 2004;
BevExpo 2004;
Great American Beer Festival;

October 2004:
OCTOBERFEST Famous German Beer Festival;
Great American Beer Festival;
bevex Beverage Trade Fair. Germany;
Great Welsh Beer & Cider Festival;
ST. PETERSBURG FOOD SALON 2004;
Beer Fair. Spain;
Expo Bebidas Beverage Exhibition. Mexico;
EXPOALIMENTOS Y BEBIDAS 2004. Panama;
Fall Eastern PA Breweriana;
Knoxville Brewer's Jam - A Memorial to Tom Rutledge;
INTERPRODTECH Food and Beverages Processing Exhibition. Russia;
Alko and Drinks Show Alcoholic Beverages and Non-alcoholic Drinks Exhibition. Russia;
WORLD FOOD KAZAKHSTAN 2004;
PAN ASIAN FOOD & BEVERAGE TRADE SHOW 2004. Canada;

More events are available on site e-malt.com