China: Carlsberg International AS and Tibet Galaxy Science & Technology Development Co Ltd have formally inaugurated their brewing venture in the Tibetan capital of Lhasa
, the China Securities Journal said on September 1. The 50-50 venture, Tibet Lhasa Brewery Co Ltd, is capitalized at 45.91 usd with annual production capacity of 150,000 tons of beer, the paper said. Denmark's Carlsberg entered China in the early 1980s and currently operates two partially-owned brewing units and three wholly-funded units in southwestern and eastern China, according to Reuters. Carlsberg has reportedly secured about half of the beer market in the southwestern province of Yunnan and the Tibet region, both of them popular tourist destinations. It has combined output of around 500,000-600,000 tons a year at its China operations. Driven by sluggish beer demand in their home countries and huge growth potential in the Chinese market, many foreign brewers have entered China by acquiring local brands. Global beer giant Interbrew has spent more than 600 mln usd so far buying stakes in local brewers and now holds nine pct of the mainland beer market. Other foreign brewers holding stakes in Chinese breweries include SABMiller Plc, Anheuser-Busch Inc and Scottish & Newcastle Plc.
Ireland: The Irish Brewers Association announced on September 2 that the Exchequer's take from beer taxation fell by 5% last year compared with 2002
. Excise receipts from beer sales fell from €477m in 2002 to €452m in 2003. The total tax returns from beer (excise and VAT) came to €940m in 2003, according to the association. It says that at the end of 2003, the average price of a pint of draught stout was €3.42, of which the publican received €1.50, the Government €1.07 and the brewer €0.85. The association says Ireland has the highest rate of tax on beer 'by far' in Europe, with only Finland and the UK getting near the Irish rate. It says consumption of beer peaked in 1999 at 24 million litres of pure alcohol equivalent. The Revenue noted a fall of over 5% in consumption between 2002 and 2003, with consumption continuing to decline in 2004.
Philippines: San Miguel Corporation (SMC) announced on September 2, 2004 it recorded a 21-percent increase in sales revenues from its Philippine beer operations as of end-July
. Sustaining gains in the first half of the year, San Miguel Corporation recorded a 21-percent increase in sales revenues from its Philippine beer operations as of end-July. San Miguel's Philippine beer operations reported P2.47 billion in sales revenues in July, bringing its January-July total to P20.8 billion, up 21 percent from the figure posted in the same period last year. Operating income for the month rose 24 percent to P335 million, giving the Philippine beer operations a seven-month total of P4.33 billion. Sales volume as of July, meanwhile, rose 17 percent. As of end-July, San Miguel Beer's trade inventory was maintained at about two weeks equivalent sales, one of the lowest recorded levels in the last three years. The company has maintained its focus on retail sales, kept effective relations with its dealers and improved product availability, leading to this year's favorable numbers. San Miguel also continues to gain from an improved distribution system, right product portfolio and entry of new drinkers into the market. San Miguel Corporation is the largest publicly-listed food, beverage, and packaging company in the Philippines. Founded in 1890 as a brewery, the company has over 100 facilities in the Philippines, Southeast Asia, China, and Australia. San Miguel's flagship product, San Miguel Beer, holds over 90% share of the Philippine beer market. It is among the world's largest selling beers and is one of the top three brands in Asia. The Company has five breweries in the Philippines, one brewery each in Indonesia and Vietnam, and four breweries in China, including Hong Kong. Ginebra San Miguel, Inc., a San Miguel subsidiary, is the leader in the Philippine distilled spirits market. San Miguel's food operations involve the production and marketing of chicken, pork, and beef; ready-to-cook and processed meats, as well as butter, cheese, margarine, coconut oil, and animal feeds, among others...
more info
Russia: Yarpivo group is one of the leaders at Russia's tap beer market. Based on its performance for 7 months in 2004, Yarpivo ranks third in sales of tap beer in Russia
preserving 3 % of keggered beer at Russia's market. For 7 months of 2004, the company sold 929 thousand of tap beer, which is by 4,5% more than for 7 months in 2003 (889 thous. decalitre.), the press-service of the Union of Russian Brewers has recently reported. For 12 months in 2004, Yarpivo plans to sell 1,6 mln. decalitre. of tap beer. Based on its performance in 2003, the company sold 1,5 mln. decalitre of beer in keggers, exceeding its performance in 2002 by 23%. Yarpivo has been producing beer in keggers since 1998. Keggered beer line of German company "KHS" is one of the powerful companies in the world. Its production capacity is 20 kegger/hour planning to be extended to 360 kegger/hour, equipped with modern technological facilities for beer filtering beer enabling to achieve highest quality of product. Currently, the following brands are keggered: "Yarpivo Original", "Yantarnoe", "Temnoe" and "Osoboe" and share of tap beer amounts to 3% of the total sales of products of Yarpivo company. Yarpivo has stable growth in sales of tap beer for last years. Since 1999, till 2003, sales of keggered beer increased 5 times. The company could attain these results owing to the best price – quality ratio, high quality service, and certainly expansion of sales geography, i.e. development of new regions. Alongside with stability of sales many Russia's regions such as Kurgan, Sverdlovsk, Amur, Krasnoyarsk regions, Vladivostok, Khabarovsk, Irkutsk, Bashkortostan, Khanty-Mansijsk Autonomous National Area are being intensively developed. Within the framework of implementation of the program on popularization of beer in keggers, in 2004 – 2005, Yarpivo plans to considerably increase firm equipment for bottling of beer, a number of stationary summer pavilion; to finish staff of representatives and merchandisers in key regions where keggered beer is sold; to conduct social programs aimed at stimulation of all stages of distribution and final consumer; production of premium sort of tap beer. By summer season, a group of Yarpivo companies extended a period of storage life of keggered (tap) beer from three to four months. Thus, Yarpivo, is becoming accessible for all regions of Russia, which fact is especially enjoyable by people living in remote regions of the Far East, Siberia.
UK: Diageo PLC, the beverage company behind Guinness beer and Smirnoff vodka, said its earnings surged in its latest fiscal year from a year earlier when it sold the Burger King restaurant business at a heavy loss
. Diageo said Thursday it earned 1.39 billion pounds (US$2.49 billion) in the fiscal year ended June 30, up from 50 million pounds in fiscal 2003. The 2003 results reflected the December 2002 sale of Burger King Corp., which generated a 1.44 billion pound (US$2.58 billion) loss last year. Diageo said pretax profits excluding exceptional items fell to 2.06 billion pounds (US$3.69 billion) from 2.10 billion pounds a year earlier. Sales dipped to 8.9 billion pounds (US$15.9 billion) from 9.3 billion pounds a year ago. Analysts said Diageo's performance this year has been mildly disappointing with profits down in some key markets. In midafternoon trading, Diageo shares were down 1.2 percent at 6.75 pounds (US$12.08). "Europe remains our key business challenge and North America continues to provide our biggest opportunity," said chief executive Paul Walsh. Diageo has transformed itself into a drinks-dominated business after acquiring Seagrams' stable of brands in 2001, then selling the food businesses Pillsbury Co. and Burger King in rapid succession. Its biggest brand, Smirnoff vodka, sold 24.2 million units over the past year, up 5 percent; Johnny Walker whisky reached 11.7 million, up 9 percent; Guinness stout, 11.6 million, up 2 percent; Bailey's Irish Cream liqeur, 6.6 million, up 7 percent; and Captain Morgan rum, 6 million, up 12 percent. Diageo said profit fell in its key North American market despite buoyant sales, thanks to the U.S. dollar's sharp depreciation over the past year versus the pound. The company said North American sales volume rose 10 percent, but revenue declined to 2.7 billion pounds (US$4.83 billion) from 3.1 billion pounds in 2003. North American operating profit fell to 694 million pounds (US$1.24 billion) from 708 million pounds a year earlier. Diageo's worst-performing market over the past year has been Ireland, where sales of the group's flagship beer, Guinness, and other brands have taken a hit from the country's decision in March to ban smoking from pubs and other enclosed businesses...
more info
Mexico: Fomento Economico Mexicano, S.A. de C.V. ("FEMSA"), announced on September 3 it regrets about its friend Alfredo Martinez Urdal, deputy CEO of FEMSA, who passed away of Friday morning
after a long illness. Alfredo was instrumental in guiding and shaping FEMSA as we know it today. Through his visionary stewardship, Coca-Cola FEMSA became the most efficient and profitable bottler in the Coca-Cola system during the 1990s, setting the foundations for future growth. Since the year 2000, Alfredo led an even more ambitious transformation at FEMSA Cerveza, introducing new ways to approach a century-old business. This effort is now virtually complete and is already bearing encouraging fruits. Alfredo was an outstanding teacher, and he taught us well. His absence is heartfelt across our entire organization. Founded in 1890, FEMSA is the largest integrated beverage company in Latin America with a portfolio of leading beer and soft drink brands. We are the second largest brewer in Mexico with brands that include Tecate, Dos Equis and Sol. Through our subsidiary, Coca-Cola FEMSA, we are the largest Coca-Cola bottler in Latin America and the second largest in the world. We sell our products through approximately two million points of sale, which serve a population of over 170 million people in nine countries, including some of the most populous metropolitan areas in Latin America, such as Mexico City, Sao Paulo and Buenos Aires. Our manufacturing and distribution capabilities are enhanced by our retail and packaging operations. We operate Oxxo, the largest convenience store chain in Mexico, with over 3,000 stores as of June 2004.
Malt News
EU: Asia Breweries in Manila purchased an undisclosed quantity of malt (10-15,000 tonnes?) from Australia and the EU, market analyst posted at the beginning of September. Reported prices CIF in bulk in container were US $ 330-335. Namibia Breweries booked about 20,000 tonnes of EU malt FOB in bulk in container at EUR 240/245. Nicaragua reportedly bought a small quantity of EU malt, CIF in bulk at about US$ 340. Vietnam, as usual, purchased small lots in nearby positions at around US$ 350 CIF in bags in container.
USA: About 200 FWS Construction workers are employed round the clock pouring concrete for 15 storage bins at the International Malting Co. plant north of Great Falls. A railroad line crucial to International Malting Co.'s new Great Falls plant has hit a legal snag that could delay the line's construction several months, state officials said this week, according to Tribune Capitol Bureau statement from September 2. The 4.5-mile line, to be financed and owned by the Great Falls Development Authority, must cross a sliver of land protected by a state-held conservation easement. But it won't happen unless the authority trades to the state a piece of land of equal value -- and that trade must go through a lengthy state review and approval process. "At a minimum, we think it would take three months from the date they would propose the (trade)," said Becky Dockter, an attorney for the Department of Fish, Wildlife & Parks. The development authority has not yet identified which land it may be considering for the trade. Backers of the $60 million malt-producing plant said the project will continue as planned and that this new wrinkle should cause no major problems. "This is a big hurdle, but this is not an unsolvable problem," said David Gibson, the state's top economic development officer. "It is not going to stop this thing from getting done." But plant backers are concerned it could delay construction of the rail spur into next year, possibly affecting plans for the plant's opening. John Kramer, president of the Great Falls Development Authority, said Tuesday he'd hoped to get the railroad line built by winter so IMC could start shipping grain to the plant by early next year. "We are coming on to winter, and if we don't start soon, we might not be able to finish it by the time our (grain) producers need to have it done," he said. "We're going to ask Fish, Wildlife & Parks, within the law, to get it done as fast as possible, for all of Montana." Grain could be trucked into the plant initially, but a railroad is needed to handle the volume of barley coming into the plant -- as well as the malt product that must be shipped out, officials have said. The plant is expected to buy 12 million bushels of barley a year and employ 35 people. The rail line also is part of plans for an "ag business park" in the area, meant to serve other potential manufacturing plants... more info
Barley News
France's crop of malting barley is unbelievably large and good, analysts revealed on August 31. Protein, moisture, plumpness, a sound and dry barley, all is there. According to latest official crop estimates of 10.84 million tonnes and an ONIC study of the repartition of acreage, France harvested 29.3 % Esterel = 3.177 million tonnes, 7.5 % Vanessa = 813,000 tonnes, 35 % two-row barley malting spring varieties 3.795 million tonnes. Resulting price levels, FOB Creil, July Scarlett EUR 114, Esterel EUR 101, are so low, that much malting barley will be forced into the feed sector or intervention, analysts said.

Germany has also harvested an excellent crop of malting barley so that some maltsters feel that the country will be self-sufficient, a press release posted on September 1. Analysts do believe that small imports are necessary, but any new sales will have to compete with price levels of German barley, less than EUR 120 prompt delivery, payment October, franco maltings.
Theoretical malt prices.
EURO = USD 1.2167 September 03, 2004
Crop year
2004
Parity
FOB Antwerp
Position
Oct 2004-Sept 2005
Conditioning
Bulk
In bags
Bulk containers
Bags, containers
Malting barley variety
EURO
USD
EURO
USD
EURO
USD
EURO
USD
2RS
Scarlett
242.50
294.50
257.50
313.50
254.00
309.00
263.50
320.50
2RS
Prestige
241.00
293.50
256.50
311.50
252.50
307.50
262.00
319.00
2RS
Aspen
240.50
292.50
255.50
311.00
252.00
306.50
261.50
318.00
2RS
Optic
240.50
292.50
255.50
311.00
252.00
306.50
261.50
318.00
2RS
Astoria
240.00
291.50
255.00
310.50
251.50
306.00
261.00
317.50
2RS
Cork
240.00
291.50
255.00
310.50
251.50
306.00
261.00
317.50
2RS
Average price
241.00
293.00
256.00
311.50
252.50
307.00
262.00
318.50
2RS
FAQ
238.50
290.50
253.50
308.50
250.00
304.50
259.50
316.00
6RW
Esterel
228.50
278.50
244.00
296.50
240.50
292.50
250.00
304.00
*
Asia Malt 70/30
237.50
288.50
252.50
307.00
248.50
302.50
258.50
314.50
**
Asia Malt 50/50
235.00
285.50
250.00
304.00
246.50
299.50
256.00
311.50
* - 70/30 = 70% Average two Rows Spring and 30% Six Rows Winter
** - 50/50 = 50% Average two Rows Spring and 50% Six Rows Winter
Theoretical malt prices for crop 2003 are not quoted.
Malting barley prices. French barley prices.
Nominal prices.
EURO = USD 1.2167 September 03, 2004
Crop year
2003
2004
Parity
FOB Creil
FOB Creil
Position
July 2003
July 2004
Type
Variety
EURO
USD
EURO
USD
2RS
Scarlett
nq
nq
113.00
137.50
2RS
Prestige
nq
nq
112.00
136.50
2RS
Cellar
nq
nq
112.50
137.00
2RS
Aspen
nq
nq
111.50
136.00
2RS
Optic
nq
nq
111.50
136.00
2RS
Astoria
nq
nq
111.00
135.50
2RS
Cork
nq
nq
111.00
135.50
6RW
Esterel
nq
nq
102.00
124.50
French Malting Barley Price Evolution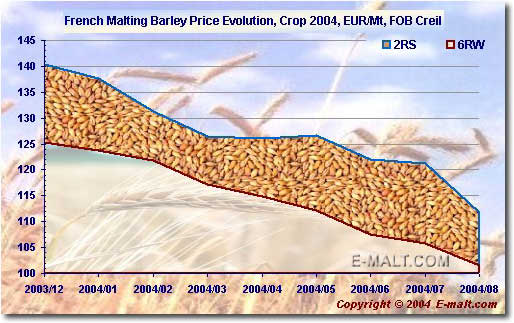 | | |
| --- | --- |
| | Maximum average price for 2RS Malting Barley, Crop 2004: 140.30 EUR/tonne - in December 2003 |
| | Minimum average price for 2RS Malting Barley, Crop 2004: 111.00 EUR/tonne - in August 2004 |
| | Maximum average price for 6RW Malting Barley, Crop 2004: 125.50 EUR/tonne - in December 2003 |
| | Minimum average price for 6RW Malting Barley, Crop 2004: 101.00 EUR/tonne - in August 2004 |
Table of the week
UKRAINIAN BARLEY EXPORT, in thousand tonnes
2000/2001 MY 1/
2001/2002 MY 1/
2002/2003 MY 1/
2003/2004 MY 1/2/
2003/2004 MY 1/3/
Jul-00
9.20
Jul-01
34.70
Jul-02
64.80
Jul-03
54.30
Jul-03
100.00
Aug-00
52.70
Aug-01
326.60
Aug-02
400.10
Aug-03
83.40
Sep-00
216.60
Sep-01
379.40
Sep-02
607.30
Sep-03
380.10
Oct-00
253.50
Oct-01
398.50
Oct-02
324.80
Oct-03
196.20
Nov-00
112.60
Nov-01
433.30
Nov-02
304.30
Nov-03
159.90
Dec-00
118.80
Dec-01
385.40
Dec-02
284.60
Dec-03
126.70
Jan-01
78.80
Jan-02
275.30
Jan-03
254.50
Jan-04
61.50
Feb-01
26.70
Feb-02
168.10
Feb-03
212.20
Feb-04
64.50
Mar-01
54.10
Mar-02
111.50
Mar-03
151.20
Mar-04
104.10
Apr-01
31.30
Apr-02
195.80
Apr-03
85.80
Apr -04
46.50
May-01
42.30
May-02
40.90
May-03
94.30
May -04
136.60
Jun-01
20.50
Jun-02
55.10
Jun-03
97.50
June -04
112.70
Total MY Export
1,017.1
Total MY Export
2,804.7
Total MY Export
2,881.6
Total MY Export
1 526.50
Total MY Export
2 600.00
1/ Trade year statistics are on July/June years, (Market Year - MY)
2/ Preliminary data
3/ Forecast
Source PROAGRO Company, www.proagro.com.ua/eng
Graph of the week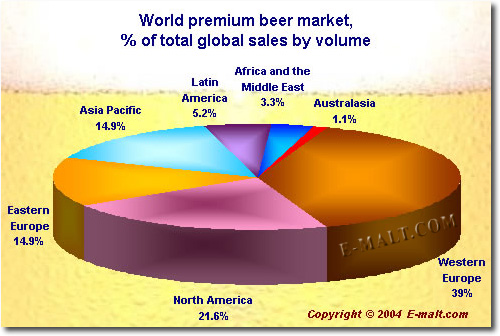 Agenda
September 2004:
6th BELGIAN BEER WEEKEND;
China Brew 2004 / China Beverage 2004;
International Brewery and Soft Drinks Industry Exhibition;
FOOD & BEVERAGE PROCESSING & PACKAGING INDONESIA 2004;
Pivoindustria International Beer Industry Exhibition;
National Beer Wholesalers Show 2004;
PAN ASIAN FOOD & BEVERAGE TRADE SHOW 2004;
Barley Malt Quality Evaluation Short Course;
EUROMALT BARLEY SEMINAR 2004;
bevex Beverage Trade Fair;
InterBev 2004;
YUGOSLAVIA INTERNATIONAL FAIR OF FOOD & BEVERAGES 2004;
BevExpo 2004;
Great American Beer Festival;
OCTOBERFEST Famous German Beer Festival;

October 2004:
OCTOBERFEST Famous German Beer Festival;
Great American Beer Festival;
bevex Beverage Trade Fair. Germany;
Great Welsh Beer & Cider Festival;
ST. PETERSBURG FOOD SALON 2004;
Beer Fair. Spain;
Expo Bebidas Beverage Exhibition. Mexico;
EXPOALIMENTOS Y BEBIDAS 2004. Panama;
Fall Eastern PA Breweriana;
Knoxville Brewer's Jam - A Memorial to Tom Rutledge;
INTERPRODTECH Food and Beverages Processing Exhibition. Russia;
Alko and Drinks Show Alcoholic Beverages and Non-alcoholic Drinks Exhibition. Russia;
WORLD FOOD KAZAKHSTAN 2004;
PAN ASIAN FOOD & BEVERAGE TRADE SHOW 2004. Canada;

More events are available on site e-malt.com