---
Newsletter Summary

---
Currency rates
Top industry news
Brewery news
Barley news
Theoretical malt prices
Malting barley prices
More news
Table of the week
Graph of the week
Agenda
Do you know e-malt.com?
---
Average market prices Change trend
---

Note: Just click on the price link and you will be led to our Market Price History.
Average barley market prices are French and are estimated on FOB Creil basis.
Average malt market prices are estimated on FOB Antwerp basis.
The changes are compared to last Newsletter's prices.
Arrows indicate the direction of the change.


---
Easy E-malt.com
---
---
E-malt.com access
---
---
Do you know
E-malt.com ?
---
Dear E-malt Reader!

E-malt.com Newsletters Archive could be found directly on e-malt.com site. Browsing through our Newsletters' Archive you may see all the issues you have missed. To this purpose you just have to login e-malt.com and click on Newsletters link in the menu. Reading our Newsletters you will be kept informed with the latest news and events regarding malting and beer world. You may also submit your own news, events or other information to the address info@e-malt.com!

Updated figures related to USA barley and malt trade with Mexico and Canada could be seen in NAFTA section of e-malt.com menu. To this purpose please enter e-malt.com!

You may find updated malt, barley and beer statistics on e-malt.com Statistics section. Just enter e-malt.com! Here you will find all tables issued with e-malt.com newsletters.

E-malt.com Agenda gives the possibility to keep you informed about the Events planned to be held in the whole world related to the brewing and malting industries. To this purpose you just have to login e-malt.com and click on Agenda link in the menu. Reading our Event Agenda you will find out about the future symposia, conferences and festivals related to malting and beer world. You may also submit your own events to the address info@e-malt.com

E-malt.com has Trading Online system. The system is to be used for malt/barley trading. One can register a malt/barley offer or a malt/barley request. The registering person could be as a seller/buyer or as an agent for seller/buyer. The User can see information about all active malt/barley offers & requests. If needed the system allows user to buy/sell malt/barley due to reasonable offers/requests. The way to do this is to confirm reasonable transaction. Trading Online rules are available through the Internet in the Trading Online as well as Tutorial (useful for persons who starts the system usage). To visit the E-malt Trading Online first go to the E-malt.com site, then click Trading Online link in the left menu of the e-malt.com home page. For more details please contact info@e-malt.com

Thank You!

---
E-malt.com Links!
---
Industry news
Market prices
EU Regulations
NAFTA
Specifications
Special malts
Professional Help
Trading online
Costing online
Statistics
Graphs
NewsLetters
Agenda
Accounts
Log In
Contact us
---
Other e-malt.com newsletters
---
Last five newsletters
---


Newsletter 33b, 2004


Newsletter 33a, 2004


Newsletter 32b, 2004


Newsletter 32a, 2004


Newsletter 31b, 2004
---
Market price evolutions
---
The evolution of market prices for barley and malt, which are periodicaly issued with e-malt.com newsletters are published on e-malt.com site in Market Prices section. Just click here!
---
Available market price evolutions
---


Malt Market Price Evolution. Crop 2004


French Malting Barley Price Evolution. Crop 2004


Malt Market Price Evolution. Crop 2003


French Malting Barley Price Evolution. Crop 2003
---
E-malt.com graphs
---
All graphs issued with e-malt.com newsletters are published in "Graph" section of e-malt.com site.
---
Last five graphs
---


Argentina beer consumption


Germany malt exports


Asia beer production 2003


World beer production


Japan Barley
---
new ! The graphs are updated from time to time. Just see the updates online on e-malt.com site!
---
Last updated graphs
---


Canada exports of malt


Australian malting and feed barley prices


United States beer imports


Beer consumption per capita in Germany


Netherlands production and export of beer
---
E-malt.com Tables
---
We have the pleasure to let you know that all e-malt.com tables are published in e-malt.com Statistics section. The Statistics section includes Barley statistics, Malt statistics and Beer statistics. The tables related to barley are published in Barley Statistics section, the tables related to malt in Malt Statistics section and the tables related to beer in Beer Statisctis section.
---
Last five tables
search in statistics
---


The Japan Beer Market


EU malt export licence fixations


Canadian malting barley exports by countries


European barley crop estimate


The 40 beer giants of the world for 2003
---
Note
---
If you have any comments, questions, suggestions or remarks, you can send a mail to: info@e-malt.com. To submit your own news to our editorial team, email to: info@e-malt.com
---
If you have received this newsletter from a colleague, you can obtain your own free subscription here, or a full FREE registration here.
---
You may recommend our site to your friend by clicking here
---
If you do not wish to receive our newsletter, please unsubscribe your e-mail address (@EMAILADDRESS@) from our mailing list using unsubscribe form from our site!
August 19 - August 20, 2004 Currency Rates

Base Currency: Euro, EUR
on 20-August-2004

1 EUR = 1.2369 USD
1 EUR = 0.6752 GBP
1 EUR = 1.6059 CAD
1 EUR = 1.7042 AUD
1 EUR = 135.29 JPY
1 EUR = 3.6959 BRL
1 EUR = 36.1546 RUB

Base Currency: US Dollar
on 20-August-2004

1 USD = 0.8086 EUR
1 USD = 0.5458 GBP
1 USD = 1.2983 CAD
1 USD = 1.3778 AUD
1 USD = 109.39 JPY
1 USD = 2.988 BRL
1 USD = 29.23 RUB

EUR-USD Chart
Top Industry News
More News
Brewery News

Russia, St. Petersburg: Vena brewery has announced it rose H1 net profit 4.6 fold on year to 370 mln rbl. The revenues gained 33% to 2.08 bln rbl, prime cost rose 21% to 968.25 mln rbl, receivables stood at 673.5 mln rbl, payables - 624.12 mln rbl. OAO Vena has 213,389,400 rbl in stock capital, 4,267,288 common stocks (50 rbl par each) and 25,000 preferred stocks (1 rbl par each) were released. Sweden Baltic Beverages Holding (49.9%) and Danish Carlsberg (49.9%) are the holders.

USA: Miller beer, which is celebrating the "50th Anniversary of Rock n Roll" by bringing out eight commemorative beer cans featuring images of some of the greatest legends of Rock n Roll, has been reportedly accused of being racist. According to the Independent, faces of rock stars like Elvis Presley, Alice Cooper, Blondie and Eric Clapton adorn the beer cans while the black artists like Chuck Richard, James Brown and Ray Charles, who are said to be the pioneers of Rock n Roll do not feature anywhere. Robert Thompson, a professor of pop culture at Syracuse University, called the absence of black stars "beyond conspicuous", "It would be like doing a set of cans of six great Impressionist painters and not including French people on it," he was quoted as saying. However the promoters of the beer denied the allegations by saying that they had only taken artists who had featured in the Rolling Stones Magazine and the expulsion of the black artists was not deliberate.

SUN Interbrew Finance pays the 2nd coupon for 1s bonds in the amount of 68.56 rbl per bond and 171.4 mln rbl overall. OAO SUN Interbrew Finance, 100% sub of SUN Interbrew Limited, paid Aug. 17 the 2nd coupon of 01s bonds worth 2.5 bln rbl overall and 68.56 rbl per bond, the company said. 171.4 mln rbl were paid overall. The bonds were placed on MICEX on Sept. 18, 2003. The term is 3 years. The bonds carry half-yr coupon. The 1, 2 coupon rates equal 13.75% on year, corresponding to 14.26% annual yield to the 11-month offer. The remaining coupons are yet to be set by the issuer. Interbrew bought out SUN's equity from Russian SUN Interbrew 16.08.2004 16:45 "Agro Perspectiva" (Kyiv) — Belgian brewing company Interbrew has bought out equity of its partner SUN Trade from Russian joint venture SUN Interbrew, reports Interbrew. As to report, Interbrew has agreed to repay SUN Trade's equity with new shares of SUN itself. Interbrew has estimated this transaction EUR530 million, yet made a supposition that joint expenditures for purchasing of SUN Interbrew's controlling block of shares may reach in time EUR894 million. Upon transaction's accomplishing, SUN group and its affiliated companies will own Interbrew's 3.4% shares. As to press-release, transaction is to be totally finalized till end this year. SUN Interbrew is Ukrainian first, Russian second large brewery. Owning Ukrainian breweries Rogan (Kharkiv), Desna ( Chernigiv), Yantar (Myckolayiv) and being domestic beer market's major participant, it estimates its market share as 34%. SUN Interbrew's beer brands include international Stella Artois and Becks, while its most well-sold Ukrainian brand is Chernigivske. As to 2003 results, Ukrainian beer market's capacity is estimated 160 million dl.

BRAZIL: Regulator rules in favor of AmBev brewer deal Brazil's securities regulator ruled against complaints made by AmBev minority stockholders claiming that a deal with Interbrew would dilute the value of their investments. BY CHARLES PENTY, Bloomberg News Brazil's securities regulator ruled the acquisition of Cia. de Bebidas das Americas, Brazil's biggest brewer, by Interbrew SA doesn't hurt the interests of minority investors. The preliminary ruling rebuffs a complaint by Previ-Caixa de Previdencia dos Funcionarios do Banco do Brasil, Brazil's biggest pension fund and an AmBev shareholder, which had called for a probe into the transaction with Interbrew announced in March. The regulator's board still needs to approve it and Previ can appeal, a spokesman for the regulator said in an e-mail.Previ's complaint mirrored criticism from other holders of AmBev's nonvoting shares who said the transaction, which will lead the Brazilian brewer to take over Interbrew's Labatt unit, would dilute the value of their investments. In an interview in June, Marcelo Trindade, Brazil's newly appointed securities regulator, said investors shouldn't buy shares in companies that don't protect the rights of minority shareholders in takeovers, citing AmBev as an example. Under the terms of the transaction, the controlling group of shareholders, led by billionaire Jorge Paulo Lemann will net 3.3 billion euros ($4.06 billion) in Interbrew stock.Other holders of voting shares will also be paid 80 percent of the price of the controlling group's shares transferred to Interbrew. Holders of nonvoting stock, like Previ, were denied so-called ''tag-along rights'' under the transaction and don't qualify for the premium paid for AmBev's voting shares. AmBev's preferred shares have fallen 19 percent since their peak of 815 reais at the start of March. The shares fell 14.27 reais, or 2.2 percent, in trading in Sao Paulo, at 12:43 New York time. The company's shareholders are due to vote on the incorporation of Labatt on Aug. 27.

Five Gold Awards Go To Eel River Brewing Co.
The results are in from the California State Fair Commercial Craft Brewing Competition: Eel River Brewing Co. came home with five gold awards and an assortment of silvers.There were more than 475 entries from more than 60 breweries located all over California that participated in the annual commercial craft brewing competition. Gold awards went to Eel River Brewing Co. for its Vanilla Stout, Triple Exultation, California Blonde, Hozier Hefeweizen and Hazelnut Porter.Owners Ted and Margaret Vivatson said they were ecstatic about the results of the competition. "When we go to state we always know we're up against some big competition," Ted said. "We can produce about 30 barrels a day and many of these brewers are producing far in excess of this. So taking home five golds – that's big, that's really big." What's next in the Eel River Brewing Co. line-up? Ted and Margaret said they're already hard at work on some new innovative "tastes" but wouldn't give a hint about the new flavors. Margaret said with a smile, "We only unveil our new brews when we're sure they're perfect and as Ted likes to say, 'We're just having a heck of lot of fun for working so darn hard.'" Eel River Brewing Co. features the largest beer garden on the North Coast and is located at 1777 Alamar Way in Fortuna. They are open from 11 a.m. to 11 p.m. Monday through Sunday. Along with its full line of microbrews, the company also features a full dining menu. For more information, phone (707) 725-BREW or check out Eel River's Web site at www.eelriverbrewing.com.

MANILA: San Miguel Corp, Southeast Asia's largest food and drinks group, said on Wednesday it plans to raise a total of 4 billion pesos ($72 million) in 5-year fixed and floating rate notes. The dominant local maker of beer, soft drinks, liquor, and processed food said in a statement it had entered into facility agreements with The Hongkong and Shanghai Banking Corporation Limited as paying agent and registrar and with a syndicate of lenders. the company did not say what specific project the note issue would fund, but one company official told Reuters proceeds would likely go to general working capital. San Miguel, 15 percent owned by Japan's number-two brewer Kirin Brewery Co (2503.T: Quote, Profile, Research) , recently purchased a 50 percent stake in Australia's biggest juice maker Berri Ltd. It plans to expand its operations in seven countries in the Asia-Pacific region, spending about $100 million in each country. Aside from Australia, San Miguel also wants to expand in Thailand, Indonesia, Taiwan, China, Malaysia and Vietnam. The company ended 2003 with a net debt of about $127 million. Earlier this year, it raised $300 million via a five-year syndicated loan. In February, Standard & Poor's Ratings Services assigned a BB' foreign currency rating to San Miguel's foreign-denominated debt with a stable outlook. ($1=55.7 pesos)

New Zealand: A North Canterbury brewery, The Brew Moon Brewing Company, was celebrating its export sales last week. Not only is it exporting stout to Dublin (yes, truly) the Brew Moon received its biggest ever export order – three pallets of beer to Melbourne. A visiting wine writer, Tim White, from the Australian Financial Review, was impressed with the beer, and passed on the message to wine, and now beer importer Steve Naughton. Meanwhile, back at the brewery all these orders have caused a flurry of activity. Brewers Kieran McCauley and Carl Hadler, have been busy brewing and bottling to fill the orders. Seafest turns 10 The 10th annual Kaikoura Seafest, to be held in the Takahanga Domain on October 2, promises to be a fun-filled day with an assortment of food from the land and sea and a great selection of wine and other beverages. Plenty of entertainment will be on offer as well as crayfish and paua-cooking demonstrations by top Kiwi chefs and a Big Top Bash on Friday, October 1. AdvertisementAdvertisementSeafest tickets (no gate sales): $20 adults, $5 children (5-17yrs). Tickets can be purchased online at www.seafest.co.nz or by phoning 0800 473-2337. Tickets will also be available from BNZ branches in Blenheim, Picton, Greymouth, Nelson, Timaru, Ashburton, main branches in Christchurch, and the Kaikoura Visitor Centre. Food for thought: It seems as though every week we're being told something is bad for us but when potatoes first appeared in Europe in the 17th century they were blamed for starting outbreaks of leprosy and syphilis. As late as 1720 eating potatoes was believed to shorten a person's life. Started in 1995, Seafest is held on the first Saturday of October each year. The tenth festival is to be held on SATURDAY 2nd OCTOBER 2004. Seafest is held at the Takahanga Domain, situated on the Esplanade, Kaikoura. The domain is central to town, providing good access to amenities and plenty of room for expansion.

A-B's Harbin Brewery suing SABMiller for $7 million China's Harbin Brewery Group is seeking $7 million from SABMiller after its buyout deal fell through earlier this year and Anheuser-Busch Cos. Inc. took control of the Chinese brewer, according to published reports. South African newspaper Business Day reported that Harbin was suing SABMiller over guarantees involving a company formed by Harbin and SABMiller last year, as well as a $7 million loan that SABMiller made to six Harbin directors, which was later in default. Earlier this year, SABMiller and Anheuser-Busch battled over ownership of Harbin, which eventually chose to sell to A-B. Harbin alleges SABMiller did not fulfill its obligations. On June 1, Anheuser-Busch offered about $720 million for the outstanding shares of Harbin. The company also boosted its stake in Harbin, paying $49.8 million May 31 for an additional 7 percent stake. As of Aug. 18, A-B held 99.91 percent of Harbin's shares, and will buy the rest to take the brewer private. St. Louis-based Anheuser-Busch Cos. Inc. (NYSE: BUD), the world's largest brewer, manufactures and recycles aluminum cans and operates theme parks. It is the area's 19th largest employer. It also owns a stake in Tsingtao, China's largest brewer; a 29 percent stake in Harbin Brewery Group; and owns 98 percent of the Budweiser Wuhan International Brewing Co., in Wuhan, China, where Budweiser is brewed.

TOKYO: Kirin Brewery Co. plans to gradually make its Ichiban beer its main product overseas and thus heighten sales efficiency, in an effort to boost beer sales abroad. Currently, the major brewery offers two mainline beers overseas, Lager and Ichiban. It has already shifted to the latter in the US and South Korea, and plans to do so in Europe in the autumn. The company also plans to consign more production and sales to overseas group firms in order to increase name recognition. In Europe, Kirin currently consigns production to a UK beer company and sells the products in countries such as Germany and Italy as well as the UK. But for the future it is considering securing European production facilities to which it can consign production, with an eye on increased demand in Russia and East Europe. In Asia, the company plans to bolster its partnership with Philippines-based San Miguel Corp., in which it took a stake in 2002. Kirin will start selling Ichiban in that country as early as this month through the firm, and will aim to sell 1,000 to 2,000 cases annually. One case equals 24 350ml bottles. Kirin also plans to market the beer in Thailand through San Miguel starting in spring 2005. Local production and sales will be consigned to the Filipino firm, and the annual sales target has been set at 20,000 to 30,000 cases. Kirin's overseas beer sales, when including group companies such as San Miguel and Australia's Lion Nathan Ltd., was about 90 million cases last year, but Kirin's own brand accounts for only about 5 per cent of this figure.

Barley News


Harvest progress in Ukraine. According to operative statistics, as of August 17, 2004 grains and pulses in Ukraine have been harvested from the area of 10,122,800 hectares, which is 84 percent of the area forecast by agriculture ministry. The farmers harvested 29,843,100 tonnes of grain, at an average yield of 3.0 tonnes per hectare. Wheat has been harvested from 5,117,600 hectares, which is 90 percent of the forecast area. The amount of grain harvested as of the day is 16,819,400 tonnes; the yield has averaged 3.32 tonnes per hectare. Barley has been harvested from 3,956,000 hectares (85 percent of forecast). The amount of grain, collected as of the day, is 10,416,900 tonnes at a yield of 2.70 tonnes per hectare. Peas have been harvested from 263,400 hectares (97 percent of the forecast). The farmers collected 662,900 tonnes of this grain at a yield of 2.58 tonnes per hectare.

SPAIN: The official crop estimate of winter barley is 2,260 Mill. tons (last year 2,022) and spring barley 7,463 (6,676). Total 9,723 Mill. tons (8,698). Other estimates go upto 10 Mill. tons. Quality of harvested malting barley is better than in past years.

More news: search the e-malt.com news database!

Theoretical malt prices.

EURO = USD 1.2369 August 20, 2004
Crop year
2004
Parity
FOB Antwerp
Position
Oct 2004-Sept 2005
Conditioning
Bulk
In bags
Bulk containers
Bags, containers
Malting barley variety
EURO
USD
EURO
USD
EURO
USD
EURO
USD
2RS
Scarlett
241.00
298.00
256.50
317.00
252.50
312.50
262.00
324.00
2RS
Prestige
240.00
296.50
255.00
315.50
251.50
311.00
261.00
322.50
2RS
Aspen
239.50
296.00
254.50
314.50
250.50
310.00
260.50
322.00
2RS
Optic
239.50
296.00
254.50
314.50
250.50
310.00
260.50
322.00
2RS
Astoria
238.50
295.00
253.50
314.00
250.00
309.50
259.50
321.00
2RS
Cork
238.50
295.00
253.50
314.00
250.00
309.50
259.50
321.00
2RS
Average price
239.50
296.50
254.50
315.00
251.00
310.50
260.50
322.50
2RS
FAQ
237.50
293.50
252.50
312.50
249.00
308.00
258.50
319.50
6RW
Esterel
227.50
281.50
242.50
300.00
239.00
295.50
248.50
307.50
*
Asia Malt 70/30
236.00
292.00
251.00
310.50
247.50
306.00
257.00
318.00
**
Asia Malt 50/50
233.50
289.00
248.50
307.50
245.00
303.00
254.50
315.00

* - 70/30 = 70% Average two Rows Spring and 30% Six Rows Winter
** - 50/50 = 50% Average two Rows Spring and 50% Six Rows Winter

Theoretical malt prices for crop 2003 are not quoted.

Malting barley prices. French barley prices.


Nominal prices.



EURO = USD 1.2369 August 20, 2004
Crop year
2003
2004
Parity
FOB Creil
FOB Creil
Position
July 2003
July 2004
Type
Variety
EURO
USD
EURO
USD
2RS
Scarlett
nq
nq
112.00
137.50
2RS
Prestige
nq
nq
111.00
136.50
2RS
Cellar
nq
nq
111.50
137.00
2RS
Aspen
nq
nq
110.50
135.50
2RS
Optic
nq
nq
110.50
135.50
2RS
Astoria
nq
nq
110.00
135.00
2RS
Cork
nq
nq
110.00
135.00
6RW
Esterel
nq
nq
101.00
124.00
Table of the week
The Japan Beer Market, H1 2004
Company
Market share, %
H1 2004
Asahi Breweries Ltd.
41.7%
Kirin Brewery Co. Ltd.
35.7%
Sapporo Holdings Ltd.
11.9%
Suntory Limited
9.9%
Orion Beer Co.
0.9%

Graph of the week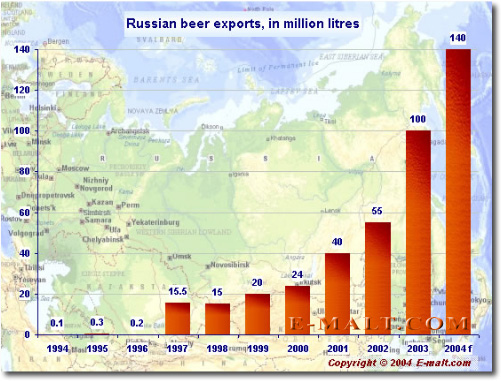 Agenda


August 2004:
Great British Beer Festival;
Worcester Beer and Cider Festival;
BeerTek China Beer and Brewing Technology Exhibition;
Peterborough Beer Festival 2004;
FOODWORLD Food and Beverage Exhibition;
TecnoBebida Latin America International Exhibition of Technologies for the Beverage Industry;

September 2004:
6th BELGIAN BEER WEEKEND;
China Brew 2004 / China Beverage 2004;
International Brewery and Soft Drinks Industry Exhibition;
FOOD & BEVERAGE PROCESSING & PACKAGING INDONESIA 2004;
Pivoindustria International Beer Industry Exhibition;
National Beer Wholesalers Show 2004;
PAN ASIAN FOOD & BEVERAGE TRADE SHOW 2004;
Barley Malt Quality Evaluation Short Course;
EUROMALT BARLEY SEMINAR 2004;
bevex Beverage Trade Fair;
InterBev 2004;
YUGOSLAVIA INTERNATIONAL FAIR OF FOOD & BEVERAGES 2004;
BevExpo 2004;
Great American Beer Festival;
OCTOBERFEST: Famous Beer Festival in Germany;

October 2004:
OCTOBERFEST: Famous Beer Festival in Germany;
Great American Beer Festival;
bevex Beverage Trade Fair. Germany;
Great Welsh Beer & Cider Festival;
ST. PETERSBURG FOOD SALON 2004;
Beer Fair. Spain;
Expo Bebidas Beverage Exhibition. Mexico;
EXPOALIMENTOS Y BEBIDAS 2004. Panama;
Fall Eastern PA Breweriana;
Knoxville Brewer's Jam - A Memorial to Tom Rutledge;
INTERPRODTECH Food and Beverages Processing Exhibition. Russia;
Alko and Drinks Show Alcoholic Beverages and Non-alcoholic Drinks Exhibition. Russia;
WORLD FOOD KAZAKHSTAN 2004;
PAN ASIAN FOOD & BEVERAGE TRADE SHOW 2004. Canada;

More events are available on site e-malt.com