Brazil: Interbrew and AmBev complete combination to establish InBev. Interbrew and Companhia de Bebidas das Américas (AmBev) closed on August 27, 2004 the transaction announced on March 3, 2004 to combine Interbrew and AmBev
, creating InBev, the world's premier brewer, according to company's press release. Interbrew shareholders approved the contribution of AmBev shares into InBev with 96% of the votes cast at the Interbrew extraordinary shareholders meeting. AmBev shareholders approved the transfer of Labatt Brewing Company Limited ("Labatt") into AmBev at the AmBev extraordinary shareholders meeting. InBev's Chief Executive Officer, John Brock said, "We are excited to have formed the world's premier brewer. The companies' full range of international beers means we are well positioned to build on our combined track record of success. We can now focus on delivering value to customers, consumers, employees and shareholders. I truly look forward to leading a unified world-class management team, building on the best from both companies. As the only true global brewer, we are already the biggest. We aim to be the best." The headquarters for InBev will be in Leuven, Belgium, with AmBev's Americas headquarters based in Sao Paulo, Brazil. InBev brings together Interbrew, the world's third largest brewer with sales in over 140 countries and a ten year track record of delivering one of the best compounded EPS growths in the industry of 24.6%, with AmBev, the world's fifth largest brewer, and one of the most profitable, with approximately 67% of the Brazilian market and leadership positions throughout Latin America. InBev achieved, on a 2003 consolidated pro forma basis, a net turnover of €9,287 million (USD 10,521 million) and an EBITDA of €2,287 million (USD 2,591 million). InBev estimates that the combined group can generate a pre-tax total of €280 million of annual synergies, through a combination of cost savings and commercial synergies. The creation of InBev forms the No.1 brewer in the world by volume with a global market share of 13% (on a pro forma basis for the year ended December 31, 2003), enjoying a balanced mix of businesses in mature and fast growing markets. It will hold a No. 1 or No. 2 position in over 20 key markets, more than any other brewer. InBev will focus its activities on its three global flagship brands Stella Artois®, Beck's® and Brahma®. For shareholders, InBev establishes a top-tier performer in the global brewing industry, with the potential for one of the highest organic EBITDA growths of any major brewer...
more info
Global beer production increased for the 19th consecutive year in 2003, with China remaining the top producer with its output accounting for 17.1% of the world production
, Kirin Brewery Co. said Monday, August 30. The world's beer output in the reporting year totaled 147.16 billion litres, up 2.0 % from 2002, according to Japan's major beer brewer. China produced a total of 25.10 billion litres of beer in 2003, up 7.0 % from the previous year. It ranked top for the second consecutive year. Beer production in China has risen in line with its strong economic growth in recent years. The fact that an increasing number of foreign beer producers have began local production was another reason for the brisk beer production, Kirin Brewery said. The United States came second, with output of 23.08 billion litres, or 15.7 % of the world output. But its annual output represents a 1.6 % fall from that in 2002. Germany ranked third with an output of 10.53 billion litres, down 2.1 %, followed by Brazil with 8.52 billion litres, down 2.3 %, and Russia with 7.57 billion litres, up 7.8 %. Japan was at seventh place with 6.53 billion litres, including output of "happoshu" low-malt beer, down 6.5 percent from the previous year due to the relatively cool summer in the reporting year as well as a tax increase for happoshu, Kirin Brewery said. In 2002, Japan was at sixth, but in 2003 Mexico surpassed Japan with output of 6.64 billion litres, up 4.3 %, to rank sixth.
USA: The Beer Institute, representing America's brewers, and the National Beer Wholesalers Association (NBWA), representing more than 2,200 beer distributors nationwide, have released a Beer Industry Economic Impact study
, which reveals that the industry generates millions of jobs and more than $144 billion in U.S. economic activity, PRNewswire posted on August 30. "The benefits of the beer industry extend throughout the whole country -- from the farmer in North Dakota to the brewery workers in California, Texas, New York, Wisconsin, Missouri, Colorado, Florida, and others, where the industry has a substantial economic presence," said Beer Institute President Jeff Becker. "The U.S. Department of Labor found their wages to be among the highest of 350 industries surveyed." "The Labor Day holiday is a time when many will reflect on their successes, livelihoods and ability to support their families," said NBWA President David Rehr. "The beer industry is proud to play an integral role in helping America's working class celebrate this important holiday and will continue to be a major contributor to the growth of our nation's economy for many more years to come." The positive contributions of the industry extend to more than extra economic output for the country, but also to state and federal tax revenue, estimated at $27.6 billion, generated by the industry and its consumers. In addition to the economic contributions of the industry, beer distributors and brewers are also a positive force within communities to promote responsible consumption of their products by those of legal drinking age. The industry sponsors thousands of education and awareness programs to help stop drunk driving and fight illegal underage drinking. These efforts, along with those of parents, teachers, teens and community leaders, have contributed to the steady decline in illegal underage drinking over the past two decades. The success of these activities is reflected in several national studies that show significant reductions in underage drinking...
more info
Mexico: Fomento Económico Mexicano, S.A. de C.V. ("FEMSA"), announced on August 31, 2004 that it has completed the transaction whereby it has purchased the 30% of FEMSA Cerveza previously owned by Interbrew
(now InBev). Along with the share purchase transaction FEMSA Cerveza no longer owns an interest in Labatt USA and, through a US subsidiary, has recovered the right to market and distribute its beer brands in the United States. As previously announced, the purchase price for Interbrew's shares of FEMSA Cerveza was US$1.245 billion, which was funded as follows: US$295 million of cash on hand, US$450 million equivalent in new Peso-denominated long term debt, and US$500 million in one-year bridge financings, denominated 50% in Pesos and 50% in US dollars, and expected to be repaid with the proceeds of a primary equity offering of FEMSA shares. As of today, a four-month transitional period begins during which Labatt USA will continue to import and market FEMSA Cerveza's beer brands in the United States, in accordance with a detailed commercial agreement designed specifically for this purpose. By December 31, 2004, our beers will be distributed through the powerful commercial platform of Heineken USA. José Antonio Fernández, Chairman and CEO of FEMSA, commented: "As we close this transaction, we are turning a page and beginning to write what promises to be an exciting new chapter for our beer operations. Four years ago, we made a decision to transform FEMSA Cerveza and the way we did business in the core Mexican market. Setting our sights on an ambitious strategic goal and knowing it would be a challenging task, we got to work. While we have seen encouraging results from those efforts for some time, they are now becoming evident to the market. At the same time, we are laying the foundation for a new stage of growth in the United States. Indeed, these are exciting times for FEMSA." Founded in 1890, FEMSA is the largest integrated beverage company in Latin America with a portfolio of leading beer and soft drink brands. We are the second largest brewer in Mexico with brands that include Tecate, Dos Equis and Sol. Through our subsidiary, Coca-Cola FEMSA, we are the largest Coca-Cola bottler in Latin America and the second largest in the world. We sell our products through approximately two million points of sale, which serve a population of over 170 million people in nine countries, including some of the most populous metropolitan areas in Latin America, such as Mexico City, São Paulo and Buenos Aires. Our manufacturing and distribution capabilities are enhanced by our retail and packaging operations. We operate Oxxo, the largest convenience store chain in Mexico, with over 3,000 stores as of June 2004...
more info
Africa, Nairobi: East African Breweries Ltd. (EABL) said on Friday, August 27 its after-tax profit more than doubled in the financial year ending in June
, and announced plans to boost the number of its shares to improve liquidity. The regional brewer posted a 141 % surge in after tax profit to 4.748 billion shillings ($58.46 million) from 1.964 billion last year. Sales grew modestly to 30.1 billion shillings ($370.6 million) from 28.9 billion, an increase of 4 %. The company's 2002/03 profits were dragged down by a 1.7 billion shilling restructuring cost. East African Breweries is 50-percent owned by the world's largest spirits group Diageo of the U.K. The brewer's shares rose on the news, touching a high of 539 shillings before closing at 5 percent higher at 524 shillings compared to Thursday's close of 499 shillings. Best known for its Tusker brand, EABL said it would propose increasing its share capital by 50 million shares of 10 shillings each, taking to total number of shares to 200 million. It proposed giving a bonus share for every five shares held, after the issue EABL would carry out a 5-for-1 share split in a bid to attract more liquidity and individual investors to the stock. "Psychologically, the market would prefer five shares at 100 shillings each than one at 500 shillings," EABL Group Finance Director Peter Fullam said. If the share split scheme was approved at EABL's annual general meeting in November it would boost the number of shares to 1.0 billion. EABL has the largest market capitalisation on Nairobi's bourse. It has been the stock market's most sought-after share by foreign investors. However, the company which has interests in Uganda and Tanzania is struggling to grow its sales especially in its biggest market, Kenya, where 31 percent of adults drink alcohol, of which only 40 percent drink EABL products. "There is a very big market there available to us," EABL Managing Director Gerald Mahinda told a news conference...
more info
USA: InBev announced on 1 September 2004 that Labatt USA and Beck's North America will combine operations beginning September 1, 2004, forming a single, unified organization in the U.S. for distribution
of the world's leading premium beer brands. The two companies are wholly owned subsidiaries of InBev, the world's #1 brewer by volume. The combination of Labatt USA and Beck's North America follows the completion of the agreement between InBev and Fomento Economico Mexicano SA de CV (FEMSA) to unwind their joint venture in the U.S., and the closing on August 27, 2004 of the transaction in which Interbrew and AmBev successfully combined to form InBev. InBev USA will be a completely re-engineered company built for long-term growth in the premium segment of the U.S. beer market. The company will focus on its high-profit international brands, including Stella Artois®, the best-selling Belgian beer in the U.S.; Beck's®, the country's #1 German beer, and Bass®, America's leading English import. InBev USA will triple its investment in Stella Artois® in 2005 to support full national distribution, increase its spending on Beck's® by more than 50 percent over the next three years, and continue its heavy investment to secure the position of Bass®. As the leading supplier of imported draught beer in the U.S., InBev USA will also continue to bring its draught expertise to bars and restaurants throughout the country. InBev USA is also exploring the potential for introducing Brahma®, the popular Brazilian beer that is one of the world's top 10 brands. Simon Thorpe, President and Chief Executive Officer of Labatt USA since 2003, has been named President and CEO of InBev USA. Tom Cardella, formerly President and CEO of Beck's North America will lead InBev USA's restructured sales organization as Vice President, Sales. InBev's CEO, John Brock, commented: "This is a promising first step towards achieving our very ambitious business objectives for the U.S., one of our key markets. The unified distribution system will enable us to grow aggressively our premium brands, including Brahma®. We have the right structure in place and, more importantly, the people to make it happen. InBev USA will be a major contributor to our success in the Americas."
Malt News
UK: A Dozen jobs are to go at an Angus malting plant after Irish agricultural giant Greencore revealed its decision to close its operation at Carnoustie by the end of the year. Closure of the Greencore Malting Group's oldest Scottish plant was announced to staff on August 31 afternoon. However, operations at the group's two other Scottish operations, Buckie and Glenesk, Montrose, will continue. Greencore bosses last night blamed the move on overcapacity in the UK malting industry, The Press and Journal North Scotland posted on September 1, 2004. They claimed Scotland had suffered the combined effects of a continuing decline in domestic brewing and reduced opportunities for profitable exports, with key markets such as eastern Europe and Russia moving to self-sufficiency. The closure of the Carnoustie base will allow the group to focus its resources on the more modern plants at Buckie and Glenesk. Greencore chief executive officer John McNamara said: "We very much regret having to take this decision but we are operating in a very competitive marketplace with overcapacity issues which must be addressed for the benefit of the business as a whole. "In coming to this decision, we are very aware of the effect that it will have on those employed at Carnoustie, many of whom have served the company with great loyalty for many years. "We will be consulting with those affected over the coming weeks on all matters relating to the closure and will be making every effort to assist them in finding alternative employment." Angus MP Mike Weir last night expressed his disappointment at the decision. He described the closure as a bitter blow for the 12 employees and the local economy. "The company blame commercial pressures for the closure and this cannot have been helped by the Government's policy on whisky taxation," Mr Weir said. "The increasing concentration of the beer market has not helped the situation. "The company have confirmed that their other plant in Angus will continue and that is welcome. "The closure of the Carnoustie plant will, however, be a serious blow to the local economy and a worry not only to the town but to the local farming community."
Barley News
Australia: Antitrust regulator the Australian Competition & Consumer Commission announced on Tuesday, 31 August 2004 conditional approval for the merger of marketing concern ABB Grain Ltd. with malting and logistics concern AusBulk Ltd. and its major shareholder United Grower Holdings Ltd., Dow Jones posted on the same day. The approval is conditional on ABB Grain providing acceptable court-enforceable undertakings that provide fair and reasonable access to port storage and handling for grains export after the merger, said ACCC Chairman Graeme Samuel in a statement. The approval came despite concerns about the anticompetitive impact of the merger on barley marketing and trading in South Australia state, where the companies operate, Samuel said. Samuel said ACCC noted concerns that state law covering barley exports impedes competition in barley trading in South Australia and the fact that AusBulk controls AusMalt, one of Australia's main producers of malt. ABB Grain holds a monopoly over the export marketing of barley produced in South Australia. "Other concerns identified included the high level of concentration in the various markets and the nature and extent of vertical integration that the merged entity would enjoy throughout the barley supply chain," he said in a statement. The merged entity will become by far the largest buyer of malt barley in South Australia, he said. But ACCC considers it unlikely this will result in a substantial lessening of competition in malt barley purchasing, he said. This is because of the large amount of malt barley exported, the limited demand for malt barley for domestic consumption in South Australia and the limited nature of competition that now exists to buy malt barley in the state, he said. ACCC noted there is scope already for domestic trading in feed barley and other grains, there are alternative buyers of malt barley interstate and that some protection is offered to South Australian growers after the merger given their ability to sell barley into the collective sales pool operated by ABB Grain. Samuel said ACCC was worried ultimately about the vertical integration of AusBulk with ABB Grain, given its legislated export marketing monopoly... more info

Europe: The barley harvest is now on the verge of being completed in Europe. In the Northern part of EU (Scotland, Northern Denmark, Northern Sweden, Finland), the cuttings have been hampered by lots of rain and are still between 25 and 50% below completion, the analysts revealed on September 01. They figure out that the total EU (25) surplus is about 1.1 million tonnes, equivalent to 37 working days of the malting industry, notwithstanding the needs of carry-over and the shortage of remaining stocks of crop 2003. Despite of this stress, the barley prices have reached historically low prices, 5 to 10 Euros per ton below any other previous historical bottom level: this is due to the intensive competition on the malt markets and the consistent weakness of the USD vs. Euro, which badly jeopardizes the EU exports of malt and barley towards the USD zone.
Theoretical malt prices.
EURO = USD 1.2179 September 01, 2004
Crop year
2004
Parity
FOB Antwerp
Position
Oct 2004-Sept 2005
Conditioning
Bulk
In bags
Bulk containers
Bags, containers
Malting barley variety
EURO
USD
EURO
USD
EURO
USD
EURO
USD
2RS
Scarlett
240.00
292.50
255.50
310.50
251.50
306.50
261.00
318.00
2RS
Prestige
239.00
291.00
254.00
309.50
250.50
305.00
260.00
316.50
2RS
Aspen
238.50
290.00
253.50
308.50
249.50
304.00
259.50
315.50
2RS
Optic
238.50
290.00
253.50
308.50
249.50
304.00
259.50
315.50
2RS
Astoria
237.50
289.50
252.50
308.00
249.00
303.50
258.50
315.00
2RS
Cork
237.50
289.50
253.50
309.00
250.00
304.50
259.50
316.50
2RS
Average price
238.50
290.50
253.50
309.00
250.00
304.50
259.50
316.50
2RS
FAQ
237.50
289.00
251.50
306.50
248.00
302.00
257.50
313.50
6RW
Esterel
226.50
276.00
241.50
294.50
238.00
290.00
247.50
301.50
*
Asia Malt 70/30
235.00
286.00
250.00
304.50
246.50
300.00
256.00
312.00
**
Asia Malt 50/50
232.50
283.50
247.50
301.50
244.00
297.50
253.50
309.00
* - 70/30 = 70% Average two Rows Spring and 30% Six Rows Winter
** - 50/50 = 50% Average two Rows Spring and 50% Six Rows Winter
Theoretical malt prices for crop 2003 are not quoted.
Malting barley prices. French barley prices.
Nominal prices.
EURO = USD 1.2179 September 01, 2004
Crop year
2003
2004
Parity
FOB Creil
FOB Creil
Position
July 2003
July 2004
Type
Variety
EURO
USD
EURO
USD
2RS
Scarlett
nq
nq
112.00
136.50
2RS
Prestige
nq
nq
111.00
135.50
2RS
Cellar
nq
nq
111.50
136.00
2RS
Aspen
nq
nq
110.50
134.50
2RS
Optic
nq
nq
110.50
134.50
2RS
Astoria
nq
nq
110.00
134.00
2RS
Cork
nq
nq
110.00
134.00
6RW
Esterel
nq
nq
101.00
123.50
French Malting Barley Price Evolution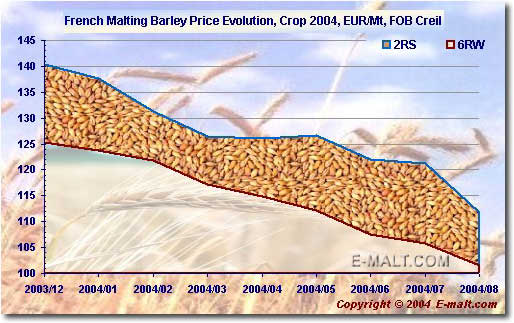 | | |
| --- | --- |
| | Maximum average price for 2RS Malting Barley, Crop 2004: 140.30 EUR/tonne - in December 2003 |
| | Minimum average price for 2RS Malting Barley, Crop 2004: 111.00 EUR/tonne - in August 2004 |
| | Maximum average price for 6RW Malting Barley, Crop 2004: 125.50 EUR/tonne - in December 2003 |
| | Minimum average price for 6RW Malting Barley, Crop 2004: 101.00 EUR/tonne - in August 2004 |
Table of the week
UKRAINIAN BARLEY EXPORT, in thousand tonnes
2000/2001 MY 1/
2001/2002 MY 1/
2002/2003 MY 1/
2003/2004 MY 1/2/
2003/2004 MY 1/3/
Jul-00
9.20
Jul-01
34.70
Jul-02
64.80
Jul-03
54.30
Jul-03
100.00
Aug-00
52.70
Aug-01
326.60
Aug-02
400.10
Aug-03
83.40
Sep-00
216.60
Sep-01
379.40
Sep-02
607.30
Sep-03
380.10
Oct-00
253.50
Oct-01
398.50
Oct-02
324.80
Oct-03
196.20
Nov-00
112.60
Nov-01
433.30
Nov-02
304.30
Nov-03
159.90
Dec-00
118.80
Dec-01
385.40
Dec-02
284.60
Dec-03
126.70
Jan-01
78.80
Jan-02
275.30
Jan-03
254.50
Jan-04
61.50
Feb-01
26.70
Feb-02
168.10
Feb-03
212.20
Feb-04
64.50
Mar-01
54.10
Mar-02
111.50
Mar-03
151.20
Mar-04
104.10
Apr-01
31.30
Apr-02
195.80
Apr-03
85.80
Apr -04
46.50
May-01
42.30
May-02
40.90
May-03
94.30
May -04
136.60
Jun-01
20.50
Jun-02
55.10
Jun-03
97.50
June -04
112.70
Total MY Export
1,017.1
Total MY Export
2,804.7
Total MY Export
2,881.6
Total MY Export
1 526.50
Total MY Export
2 600.00
1/ Trade year statistics are on July/June years, (Market Year - MY)
2/ Preliminary data
3/ Forecast
Source PROAGRO Company, www.proagro.com.ua/eng
Graph of the week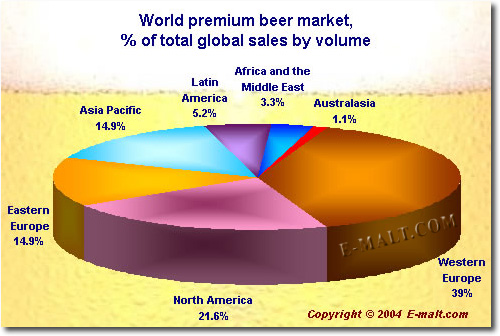 Agenda
September 2004:
6th BELGIAN BEER WEEKEND;
China Brew 2004 / China Beverage 2004;
International Brewery and Soft Drinks Industry Exhibition;
FOOD & BEVERAGE PROCESSING & PACKAGING INDONESIA 2004;
Pivoindustria International Beer Industry Exhibition;
National Beer Wholesalers Show 2004;
PAN ASIAN FOOD & BEVERAGE TRADE SHOW 2004;
Barley Malt Quality Evaluation Short Course;
EUROMALT BARLEY SEMINAR 2004;
bevex Beverage Trade Fair;
InterBev 2004;
YUGOSLAVIA INTERNATIONAL FAIR OF FOOD & BEVERAGES 2004;
BevExpo 2004;
Great American Beer Festival;
OCTOBERFEST Famous German Beer Festival;

October 2004:
OCTOBERFEST Famous German Beer Festival;
Great American Beer Festival;
bevex Beverage Trade Fair. Germany;
Great Welsh Beer & Cider Festival;
ST. PETERSBURG FOOD SALON 2004;
Beer Fair. Spain;
Expo Bebidas Beverage Exhibition. Mexico;
EXPOALIMENTOS Y BEBIDAS 2004. Panama;
Fall Eastern PA Breweriana;
Knoxville Brewer's Jam - A Memorial to Tom Rutledge;
INTERPRODTECH Food and Beverages Processing Exhibition. Russia;
Alko and Drinks Show Alcoholic Beverages and Non-alcoholic Drinks Exhibition. Russia;
WORLD FOOD KAZAKHSTAN 2004;
PAN ASIAN FOOD & BEVERAGE TRADE SHOW 2004. Canada;

More events are available on site e-malt.com