Russia: Belgian brewing giant Interbrew posted it would buy Sun Trade out of their Russian joint venture, Sun Interbrew, in a share deal
that will give Interbrew control of the second biggest brewer in the rising Russian beer market. Interbrew and SUN Trade (International) Ltd ("SUN Trade"), the controlling shareholders of SUN Interbrew Ltd ("SUN Interbrew"), announced on 12 August 2004 that they have reached an agreement whereby Interbrew will acquire SUN Trade's voting and economic interests in SUN Interbrew. In addition, the existing Shareholders Agreement between SUN Trade and Interbrew in relation to SUN Interbrew will be terminated. Interbrew is acquiring 10,491,176 voting and 8,891,601 non-voting shares in SUN Interbrew from SUN Trade and its affiliates in consideration for 9,187,796 new Interbrew shares. This equates to a price of $15.35 for each SUN Interbrew voting and non-voting share, based on Interbrew's share price of ˆ26.51 as of the close of market on 11 August 2004. In addition, Interbrew will issue 10,812,315 new Interbrew shares to SUN Trade and its affiliates in consideration for the additional control rights that it will obtain following termination of the Shareholders Agreement. Based on Interbrew's share price of ˆ26.51 the total consideration amounts to ˆ530 million. On completion, and taking into consideration market purchases, Interbrew will own 75.5% of the voting shares and 96.1% of the non-voting shares in SUN Interbrew which in total gives it a 91.2% economic interest in SUN Interbrew. Following completion of the transaction, SUN Trade and its affiliates will hold approximately 3.4% of Interbrew's enlarged issued share capital following the closing of the AmBev transaction. This acquisition consolidates Interbrew's position in the highly attractive and fast growing Russian and Ukrainian beer markets. For the year ended 31 December 2003, SUN Interbrew had net sales of ˆ540 million and EBITDA of ˆ101 million...
more info
Serbia-Montenegro: Efes Breweries International N.V. ("EBI"), the Holland based subsidiary of Anadolu Efes, has initiated a tender offer to acquire not less than 55% stakeJ
in the 7 Septambar A.D. Zajecar Brewery ("Zajecar") located in Zajecar, Serbia-Montenegro, following the receipt of necessary approvals from the Securities and Exchange Commission of Serbia-Montenegro, EBI announced on August 12. The offer has been made based on approximately ˆ18.5 million value for 100% of Zajecar shares. Zajecar brewery has 100 million litres of annual brewing capacity and has sold approximately 44 million litres of beer in 2003. EBI will become the third largest brewer in Serbia-Montenegro, together with the Pancevo brewery that was acquired in 2003, if the acquisition of the Zajecar brewery is completed. EBI with a presence across the Commonwealth of Independent States (CIS), Eastern Europe and the Balkans, is an 85% owned subsidiary of Anadolu Efes, the leading Turkish beverage company. EBI is responsible for the international beer operations of Anadolu Efes, operating nine breweries and two malteries in Russia, Romania, Republic of Kazakhstan, Ukraine, Moldova and Serbia and Montenegro. EBI is one of the major brewers in the region with total annual production capacity of approximately 1 billion litres and malt production capacity of 50,000 tons. Since the start of the commercial production in 1998, EBI has generated a 121% sales CAGR until 2003, through a product portfolio including a combination of strong local brands many of which are market leaders in their respective market segments, and the Efes Pilsener international brand which is currently being sold in over 40 countries. Anadolu Efes, listed in the Istanbul Stock Exchange (AEFES.IS), is the holding company of Efes Beverage Group's beverage interests as well as an operating company, under which Turkey beer operations are managed...
more info
China: Tsingtao Brewery, the mainland's biggest brewer, posted on August 13 higher-than-expected first-half earnings, boosted by stronger sales
of its premium namesake brand, but warned that an influx of foreign brewers meant competition was heating up. The company, in which Anheuser-Busch holds a 9.9 per cent stake, said net profit jumped 33 per cent to 144.8 million yuan (HK$143.8 million), or 0.14 yuan per share for the six months ended June 30, compared with 109 million yuan, or 0.109 yuan per share a year ago. The results beat an analysts' forecast of 108.2 million yuan in a survey by Reuters. Sales rose 13 per cent to 3.87 billion yuan from 3.43 billion yuan. The recent flood of foreign investment in Chinese breweries has strengthened its rivals, the company said. ``Second-half market competition will be increasingly fierce,'' chairman Li Guirong said. Tsingtao said first-half sales rose 14 per cent by volume to 1.88 million kilolitres, with shipments of its more expensive flagship brands growing 13 per cent to 570,000 kilolitres. Fan Cheuk Wan, deputy head of China research at ABN Amro, said that given that volume and turnover growth are in line with expectations, something must have changed on the cost front. "The key surprise is the interest expenses. They have lowered their interest expenses,'' said Lillian Leung, senior analyst at Macquarie Securities. Fan said Tsingtao management had previously complained about the difficult operating environment, with severe margin pressures and difficulty in passing on costs to customers.
Japan: Beer sales in Japan jumped 10.4 % in July from the same month a year earlier, the first double-digit growth since January 1998
. This is a double-digit increase for the first time in six and half years, industry data showed on August 11. The rise is attributed to the hot weather, which spurred consumption. Combined shipments of beer and "happoshu" low-malt beer by Japan's five major brewers increased 9% in July from a year earlier, the first rise in seven months, helped by this summer's heat wave in Japan, according to reports by the brewers released Wednesday, August 11. The data cover shipments by Kirin Brewery Co, Asahi Breweries Ltd, Sapporo Breweries Ltd, Suntory Ltd and Orion Breweries Ltd. For January-July period, however, combined beer sales of the top five brewers fell 0.8 percent, the data released by the Brewers Association of Japan also showed. The average temperature in Japan in July this year reached 28.5 C, compared to 22.8 C in July 2003, according to the Japan Meteorological Agency. The hot weather has energised the beer industry, which had been hit by a shift in consumer tastes towards new, cheaper drinks such as those based on shochu -- distilled alcohol made from materials like sweet potatoes -- and Sapporo Holdings Ltd.'s beer-like "Draft One" drink.
USA: Anheuser-Busch Cos. Inc., the world's largest brewer, sold $250 million in debt August 11, according to Banc of America Securities
. The company sold the 10.5-year notes, which have a yield of 5.027 %. The notes are rates A1 by Moody's and A+ by Standard & Poor's. Citigroup Global Markets Inc. and Merrill Lynch & Co. were also lead managers on the sale. St. Louis-based Anheuser-Busch Cos. Inc., the world's largest brewer, manufactures and recycles aluminum cans and operates theme parks. It is the area's 19th largest employer.
Malt News
Russia: Cargill Inc. has started this week the construction of two new malt and sweetener plants in Russia, a US$100 million project. The plants will be built at Cargill's Efremov facility in the Tula region of the country. The plants will need 300,000 tonnes of wheat and barley each year, according to a press release from Minnetonka-based Cargill. Most of the grains will be bought from producers in the region. The OAO GPK "Efremovsky" maize plant will continue to operate during the project, which includes upgrades to the complex infrastructure. The facility produces a range of starches for the food and industrial sectors as well as a range of feed products for local agricultural complexes and farms. Cargill bought the site and its facilities in 1995 for an undisclosed amount and has since invested more than US$60 million in modernizing the original plant. The confectionery and beer industries in Russia use the liquid sweetener produced in Efremov. The facility also produces starches for the food and industrial sectors in the country and feed products for local farmers. Privately owned Cargill reported it is one of the leading foreign investors in Russia, with investments in agriculture and food processing activities worth more than $150 million. Cargill Russia employs 1,020 people, 99 % of them Russian nationals. Cargill began its activities in Russia in 1991 with the opening of a representative office in Moscow, although a prior trading relationship with Russian-based organizations dates back some 30 years. With facilities in Krasnodar, Efremov, Bryukhovetsky and Voronezh, and with more than U.S.$150 million invested in the Russian agricultural and food processing sectors, Cargill is one of the leading foreign investors in Russia.
Barley News
Canada: For 2004-05 barley production in Canada is forecast by Agriculture and Agri-Food Canada (AAFC) on August 6, 2004, to increase by 5% versus 2003-04 due to higher yields, despite lower seeded area. The production forecasts are based on Statistics Canada's June survey of seeded area and assumptions of near-trend yields and normal abandonment. Due to higher carry-in stocks and production, supplies are expected to rise by 10%. Feed use is projected to increase significantly, due to higher barley supplies in western Canada and increased shipments to eastern Canada. Malting barley exports are expected to rise, as import demand from China returns to normal. Feed barley exports are forecast to fall, due to increased competition from the EU-25, Australia and the Black Sea region. Carry-out stocks are forecast to increase. Off-Board feed barley prices are expected to decrease by about $5/t from 2003-04 to $130/t, due to increased domestic barley production and depressed US corn prices. The CWB July PRO for No.1 CW Feed Barley is C$127/t I/S VC/SL, versus C$167/t for 2003-04. The PRO for Special Select Two Row designated barley is C$181/t versus C$200/t for 2003-04, mainly due to higher supplies expected in Europe and Australia.
U.K.: Much of the winter barley is cut by now, harvesting is coming to an end up to the Humber. Quality and yields are good, protein a bit variable, screenings excellent. In the South the harvest of spring barley has begun, with equally promising results. Offers late July were Optic/Cellar barley at EUR 124 per tone, Pearl at EUR 115 per tonne, both October, FOB seaport. U.K. traders see an export surplus of 300,000 tonnes.
Theoretical malt prices.
EURO = USD 1.2263 August 13, 2004
Crop year
2004
Parity
FOB Antwerp
Position
Oct 2004-Sept 2005
Conditioning
Bulk
In bags
Bulk containers
Bags, containers
Malting barley variety
EURO
USD
EURO
USD
EURO
USD
EURO
USD
2RS
Scarlett
241.00
295.50
256.50
314.00
252.50
309.50
262.00
321.50
2RS
Prestige
240.00
294.00
255.00
312.50
251.50
308.50
261.00
320.00
2RS
Aspen
239.50
293.50
254.50
312.00
250.50
307.50
260.50
319.00
2RS
Optic
239.50
293.50
254.50
312.00
250.50
307.50
260.50
319.00
2RS
Astoria
238.50
292.50
253.50
311.00
250.00
306.50
259.50
318.50
2RS
Cork
238.50
292.50
253.50
311.00
250.00
306.50
259.50
318.50
2RS
Average price
239.50
293.50
254.50
312.50
251.00
308.00
260.50
319.50
2RS
FAQ
237.50
291.00
252.50
309.50
249.00
305.50
258.50
317.00
6RW
Esterel
227.50
279.00
242.50
297.50
239.00
293.00
248.50
305.00
*
Asia Malt 70/30
236.00
289.50
251.00
308.00
247.50
303.50
257.00
315.00
**
Asia Malt 50/50
233.50
286.50
248.50
305.00
245.00
300.50
254.50
312.50
* - 70/30 = 70% Average two Rows Spring and 30% Six Rows Winter
** - 50/50 = 50% Average two Rows Spring and 50% Six Rows Winter
Theoretical malt prices for crop 2003 are not quoted.
Malting barley prices. French barley prices.
Nominal prices.
EURO = USD 1.2263 August 13, 2004
Crop year
2003
2004
Parity
FOB Creil
FOB Creil
Position
July 2003
July 2004
Type
Variety
EURO
USD
EURO
USD
2RS
Scarlett
nq
nq
112.00
137.50
2RS
Prestige
nq
nq
111.00
136.50
2RS
Cellar
nq
nq
111.50
137.00
2RS
Aspen
nq
nq
110.50
135.50
2RS
Optic
nq
nq
110.50
135.50
2RS
Astoria
nq
nq
110.00
135.00
2RS
Cork
nq
nq
110.00
135.00
6RW
Esterel
nq
nq
101.00
124.00
Graph of the week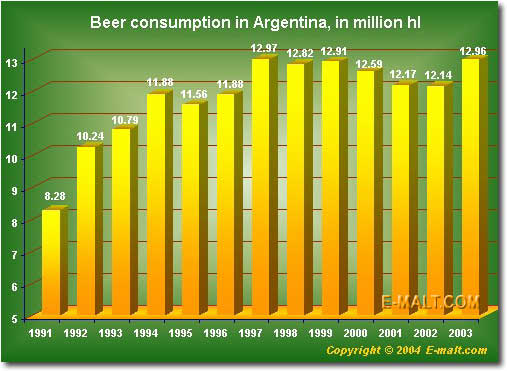 Agenda
August 2004:
Great British Beer Festival;
Worcester Beer and Cider Festival;
BeerTek China Beer and Brewing Technology Exhibition;
Peterborough Beer Festival 2004;
FOODWORLD Food and Beverage Exhibition;
TecnoBebida Latin America International Exhibition of Technologies for the Beverage Industry;

September 2004:
6th BELGIAN BEER WEEKEND;
China Brew 2004 / China Beverage 2004;
International Brewery and Soft Drinks Industry Exhibition;
FOOD & BEVERAGE PROCESSING & PACKAGING INDONESIA 2004;
Pivoindustria International Beer Industry Exhibition;
National Beer Wholesalers Show 2004;
PAN ASIAN FOOD & BEVERAGE TRADE SHOW 2004;
Barley Malt Quality Evaluation Short Course;
EUROMALT BARLEY SEMINAR 2004;
bevex Beverage Trade Fair;
InterBev 2004;
YUGOSLAVIA INTERNATIONAL FAIR OF FOOD & BEVERAGES 2004;
BevExpo 2004;
Great American Beer Festival;

October 2004:
Great American Beer Festival;
bevex Beverage Trade Fair. Germany;
Great Welsh Beer & Cider Festival;
ST. PETERSBURG FOOD SALON 2004;
Beer Fair. Spain;
Expo Bebidas Beverage Exhibition. Mexico;
EXPOALIMENTOS Y BEBIDAS 2004. Panama;
Fall Eastern PA Breweriana;
Knoxville Brewer's Jam - A Memorial to Tom Rutledge;
INTERPRODTECH Food and Beverages Processing Exhibition. Russia;
Alko and Drinks Show Alcoholic Beverages and Non-alcoholic Drinks Exhibition. Russia;
WORLD FOOD KAZAKHSTAN 2004;
PAN ASIAN FOOD & BEVERAGE TRADE SHOW 2004. Canada;

More events are available on site e-malt.com