May 03 - May 05, 2004
Currency Rates

Base Currency: Euro, EUR
on 5-May-2004

1 EUR = 1.2093 USD
1 EUR = 0.6740 GBP
1 EUR = 1.6555 CAD
1 EUR = 1.6561 AUD
1 EUR = 132.48 JPY
1 EUR = 3.5892 BRL
1 EUR = 35.0939 RUB

Base Currency: US Dollar
on 5-May-2004

1 USD = 0.8272 EUR
1 USD = 0.5575 GBP
1 USD = 1.3690 CAD
1 USD = 1.3695 AUD
1 USD = 109.58 JPY
1 USD = 2.968 BRL
1 USD = 29.02 RUB

EUR/USD Chart
Top Industry News
More News
Brewery News


Hong Kong: SABMiller Plc, the world's second-largest beer maker, has ended its strategic partnership with Harbin Brewery Group Ltd

but may mount a takeover bid for the firm, Reuters sited an industry source on May 4. London-based SABMiller and top global beer maker Anheuser-Busch Cos Inc appear headed for a battle for control of Harbin after the U.S. giant said on May 2 it had bought about 29 % of Harbin for HK$1.08 billion (US$138.5 million), or HK$3.70 per share. "AB's investment has set the scene for a takeover battle for Harbin Brewery," said ABN Amro analyst Fan Cheuk Wan SABMiller Plc already holds a 29.4 % stake in Harbin, which it bought last year for HK$675 million, or HK$2.29 per share. Harbin, one of the oldest brewers in China, dominates the northeast region and is the fourth-largest player in a Chinese beer industry that has seen a flood of investment from overseas giants in recent years. China's fast-consolidating beer industry is the world's largest by volume, and is growing by up to 8% a year as spending power rises in booming China. "The investment agreement was terminated on May 3," the source told Reuters, adding that SABMiller may choose to make a general offer for the shares in Harbin that it does not own. Officials at SABMiller and Anheuser Busch declined comment. "It's going to be pretty chaotic. Anheuser Busch and SABMiller are major rivals. There is a lot of uncertainty ahead and Harbin Brewery may be worse off in the end," said Nomura analyst Phoebe Wong. Some analysts said Anheuser Busch's move to buy a Harbin stake was likely sparked by its intention to slow SABMiller's expansion plan in China's beer market, the world's largest by volume...

more info Interbrew, the Belgian brewing giant, the owner of Stella Artois brand, may close or sell some of its breweries to boost profitability

as it merges with Brazilian firm Cia de Bebidas das Americas (AmBev), chief executive John Brock has admitted. John Brock said it would not need all of its 75 worldwide sites. Interbrew, whose merger with AmBev will create the world's second largest brewer, is chasing the global number one - US giant Anheuser-Busch, BBC wrote in a statement. In the UK, Stella Artois is brewed in Newport, Wales. "We have got to get a more integrated business that is far more cost-effective than it is today." Mr Brock said Interbrew had yet to decide how many, and exactly which, breweries it would close. "All options are open," said Mr Brock, who wants Interbrew to become as profitable as Anheuser-Busch - the brewer of Budweiser - in three or four years' time. "We have a good idea of where we are, and we want to be as good as Anheuser-Busch," he said. The merger between Interbrew and AmBev, first announced in March, will give the company a global market share of 14%. Brazil also offers Interbrew a market with an increasing thirst for beer at a time when European drinkers are drying up. However, some analysts have questioned the merger, accusing Interbrew of going back on a pledge to consolidate previous acquisitions. Mr Brock disagrees, adding that the merger will result in cost savings of 280m euros (£186m; $340m) a year from 2006. Interbrew also revealed plans to market AmBevís Brahma premium lager in Europe and North America within the next 12 months. The groupís Stella Artois brand will be introduced into Argentina and Venezuela, while Beckís is set to make its South American debut in Brazil.

Denmark: The Danish brewer Carlsberg Breweries AS has said its Carlsberg Breweries unit is being sued for an estimated $1.75.2 billion by Chang Beverages Pte Ltd

over its decision to end a joint venture with the Thai brewery, AFX posted on May 3. Carlsberg said Chang Beverages had dropped its prior demand that Carlsberg Asia, now a fully-owned Carlsberg unit, continue as a joint venture, but is seeking compensation instead. Carlsberg had planned to use Carlsberg Asia to enter the Asian beer market, but cancelled plans for the joint venture last autumn after deciding Chang Beverages' input was not enough. In a statement on May 3, Carlsberg said it still holds a strong case against Chang Beverages, and the claim for damages is unfounded. The estimated amount of damages lacks any factual basis, and therefore Carlsberg has made no financial provisions, it said. On 27 August 2003 Carlsberg terminated its licence agreement with Carlsberg Brewery (Thailand) Company Limited (CBTL) accusing CBTL of failing to perform its contractual obligations, including the payment of royalties due under the licence. CBTL is owned by Carlsberg's former partner in Asia, Chang Beverages.

Colombia, Bogota: Colombia-based Bavaria Business Group said on April 30 its net profit jumped 272 % in the first quarter of 2004

from a year earlier, as drinks sales increased at home and abroad. Net profits were 22.208 billion pesos ($8.4 million) compared with 5.959 billion pesos in profit in the first quarter of 2003, Reuters reported. The Bavaria Business Group, or Grupo Empresarial Bavaria (GEB), includes Bavaria, South America's second-largest brewer, along with non-brewing and foreign operations. "The results of the GEB for the first quarter show solid growth in the volume of sales in all of our countries of operation," the group's president, Ricardo Obregon, said in a statement. It said that the volume of beer and malt sales grew by 5.9 %, while sales of other drinks, including mineral water and juices, rose 13.6 percent. The group's non-alcoholic brands in Colombia include Tutti Frutti juices, Brisa mineral water. In Peru, it also sells Guarana Backus. Brewer Bavaria has been aggressively expanding its reach in Latin America, and has spent $1.1 billion on expansion and buying brewers in Peru, Ecuador, Panama and Costa Rica to double its output over the past three years. It said in March that it aimed to become the world's seventh largest brewer within three years as Latin American populations grow and beer consumption increases. Bavaria says it is the world's 10th largest brewer. The GEB said its operating income was 1.144 trillion pesos in the first three months of the year, down 2.8 % against the same period of 2003. (US $1=2,647 pesos)

USA craft beer industry
| | | | |
| --- | --- | --- | --- |
| | 2001 | 2002 | 2003 |
| Total growth of craft beer industry*, % | 1.2% | 3.4% | 3.4% |
| US craft beer industry production, in million barrels** | 6.1 | 6.4 | 6.65 |
| Total US craft beer industry annual retail sales value, in billion US$ | 3.3 | 3.4 | 3.5 |
| Total US beer sales, in million US barrels | | 203.61 | 203.06 |
| US beer exports | | 4.25 | 3.90 |
*Growth is measured by numbers of barrels of beer U.S. breweries produced in 2003
** 1 U.S. barrel=31 U.S. gallons=2 "half=barrel" (15.5 gallon) kegs=13.78 cases (of 24 12-ounce bottles)

Malt News


China: In 2003 Chinese brewers used 8-9 kg of malt per hl of beer compared to 12 kg estimated in 2002, analysts revealed. China reported beer sales of 254 million hl in 2003 versus 238.6 million hl in 2002. The low imports of malting barley are partly explained by a sharply reduced malt use per hectolitre of beer. Malt stocks in the country are reported to be very small. Although coastal maltsters, who use predominantly imported barley, face a strong competition from the many inland malthouses, there are construction plans for three large new plants with a total capacity of 600,000 tonnes of malt per year.

Barley News


Australia: New South Wales' barley market has taken an early step towards open competition following the NSW Government's approval of GrainCorp's plan to allow licenses for the domestic trading of malt barley, Ezigrain posted on April 28. However GrainCorp, which holds vesting rights on barley grown in New South Wales (NSW), will not be changing arrangements for export barley sales, which will continue to be regulated until the scheduled sunset in October 2005. The initiative follows GrainCorp's introduction of a permit for export canola and sorghum last year. GrainCorp managing director Tom Keen said domestic malt barley permits would create a cash market for malt barley in NSW and offer malt houses and traders to service the 100,000 tonne market. "This will provide more real competition with all the associated benefits," he said. "It will also have the effect of removing the incentive to deliver malt barley as feed barley by creating an active cash market for both feed and malt barley. "In turn this should increase the supply of malt barley to service the premium markets, both export and domestic, and thus increase the overall returns to grain growers." Mr Keen said importantly the decision to issue licences would also provide NSW growers with experience in marketing their malt barley for the first time before barley deregulation in the 2005/06 harvest," he added...more info

Canada, Winnipeg: Canadian grain traders who sell oats and barley to U.S. cereal and beer makers said they are worried a new chemical could jeopardize their largest and most lucrative export market, Reuters revealed on May 3. The chemical, a fungicide sold by the Canadian division of Germany's Bayer AG, has been approved by federal regulators for use with wheat, barley and oats -- but was only registered in the United States for wheat. There's a small risk that if Canadian oats and barley growers use the chemical, called Stratego, minute traces could be detected on the grain or in finished food products owned by giants like ConAgra Foods Inc., General Mills Inc., PepsiCo unit Quaker Oats, and Anheuser-Busch Cos Inc. Canada's sole barley exporter just found out about the issue late last week, and was very concerned, said Louise Waldman, spokeswoman for the Canadian Wheat Board. The CWB ships an average of 550,000 tonnes of malting barley annually to the United States, worth an average of C$75 million, she said...more info

Theoretical malt prices.

EURO = USD 1.2093 May 05, 2004
Crop year
2003
Parity
FOB Antwerp
Position
May 2004-Sept 2004
Conditioning
Bulk
In bags
Bulk containers
Bags, containers
Malting barley variety
EURO
USD
EURO
USD
EURO
USD
EURO
USD
2RS
Scarlett
257.00
310.50
272.00
329.00
268.50
324.50
278.00
336.00
2RS
Prestige
255.50
309.00
271.00
327.50
267.50
323.00
276.50
334.50
2RS
Aspen
254.50
307.50
269.50
326.00
266.00
321.50
275.50
333.00
2RS
Optic
254.50
307.50
269.50
326.00
266.00
321.50
275.50
333.00
2RS
Astoria
253.50
306.00
268.50
324.50
264.50
320.00
274.50
331.50
2RS
Cork
253.50
306.00
268.50
324.50
264.50
320.00
274.50
331.50
2RS
Average price
255.00
308.50
270.00
326.50
266.50
322.50
276.00
333.50
2RS
FAQ
252.00
304.50
267.00
323.00
263.50
318.50
273.00
330.00
6RW
Esterel
246.00
297.50
261.00
315.50
257.50
311.00
267.00
322.50
*
Asia Malt 70/30
252.50
305.00
267.50
323.50
263.50
319.00
273.50
330.50
**
Asia Malt 50/50
250.50
302.50
265.50
321.00
262.00
316.50
271.50
328.50

* - 70/30 = 70% Average two Rows Spring and 30% Six Rows Winter
** - 50/50 = 50% Average two Rows Spring and 50% Six Rows Winter

Theoretical malt prices for crop 2004 are available online www.e-malt.com/MarketPrices

Malting barley prices. French barley prices.


Nominal prices.



EURO = USD 1.2093 May 05, 2004
Crop year
2003
2004
Parity
FOB Creil
FOB Creil
Position
July 2003
July 2004
Type
Variety
EURO
USD
EURO
USD
2RS
Scarlett
120.00
145.50
130.00
157.50
2RS
Prestige
119.00
144.00
129.00
156.00
2RS
Cellar
119.00
144.00
129.00
156.00
2RS
Aspen
118.00
143.00
128.00
155.00
2RS
Optic
118.00
143.00
128.00
155.00
2RS
Astoria
117.00
141.50
127.00
153.50
2RS
Cork
117.00
141.50
127.00
153.50
6RW
Esterel
111.00
134.50
114.50
138.50
French Malting Barley Price Evolution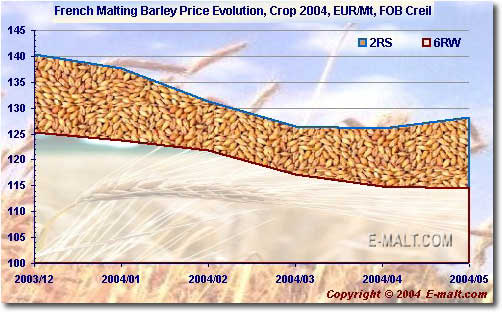 | | |
| --- | --- |
| | Maximum average price for 2RS Malting Barley, Crop 2004: 140.30 EUR/tonne - in December 2003 |
| | Minimum average price for 2RS Malting Barley, Crop 2004: 125.30 EUR/tonne - in April 2004 |
| | Maximum average price for 6RW Malting Barley, Crop 2004: 125.50 EUR/tonne - in December 2003 |
| | Minimum average price for 6RW Malting Barley, Crop 2004: 114.50 EUR/tonne - in April 2004 |
Graph of the week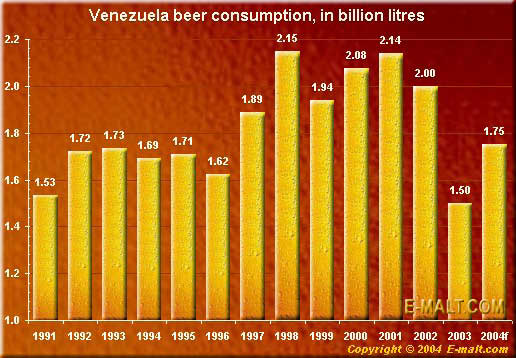 Agenda


May 2004:
EBC SYMPOSIUM 'FOOD SAFETY & TRACEABILITY'
CANADEAN'S 4th INTERNATIONAL BEER CONFERENCE
CITBUSMED 2004
PIVO, GASTRO, BAKERY / Bulgaria
ALCO + SOFT 2004 / Ukraine
FOOD & DRINKS/FOOD TECHNOLOGY 2004 / Moldova
Beer International Brewing Technology Exhibition / Russia

June 2004:
ALIMENTARIA MEXICO International Food and Beverages Exhibition
Hotelympia
10th international symposium on pre-harvest sprouting in cereals;
BevTek / BrewTek
IGC GRAINS CONFERENCE 2004
26th Annual National Homebrewers Conference
Coceral Congress 2004
The 9th International Barley Genetics Symposium
Little Oktoberfest

July 2004:
VI Moscow Beer Festival;
Lucky Baldwin's IPA Festival
BevTek / BrewTek China
Vermont Brewers Festival
World Brewing Congress 2004
Hop, malt and beer of Russia Exhibition

More events are available on site e-malt.com