April 22 - April 25, 2004
Currency Rates

Base Currency: Euro, EUR
on 23-Apr-2004

1 EUR = 1.1910 USD
1 EUR = 0.6720 GBP
1 EUR = 1.6144 CAD
1 EUR = 1.6216 AUD
1 EUR = 130.42 JPY
1 EUR = 3.4872 BRL
1 EUR = 34.5271 RUB

Base Currency: US Dollar, USD
on 23-Apr-2004

1 USD = 0.8399 EUR
1 USD = 0.5642 GBP
1 USD = 1.3555 CAD
1 USD = 1.3615 AUD
1 USD = 109.55 JPY
1 USD = 2.928 BRL
1 USD = 28.99 RUB

EUR/USD Chart
Top Industry News
More News
Brewery News


Czech breweries exported some 2.13 million hectoliters of beer in 2003, an all-time high and increase of 8 % over the previous year

, according to figures released by the Association of Malthouses and Breweries, Interfax posted on April 22. The share of exports in total beer output rose 1.7 5 to 11.5 % last year. Germany was the CR's biggest beer export market, accounting for 38 % of the country's total beer exports. Slovakia was second, accounting for 16 %, followed by Great Britain with 10 %, the US with over 8 % and Russia with 4 %. The biggest increases were registered in exports to Germany, Russia and Sweden. Exports to Poland fell considerably last year, following the opening of a new production facility in the country by Plzensky Prazdroj. Plzensky Prazdroj accounted for some 30 % of total Czech beer exports in 2003, while Budejovicky Budvar was responsible for 25 % and Staropramen for some 20 %. Budvar exported over 45 % of its total production, the highest level of any Czech brewery. Czech beer output rose by 3 % yr/yr in 2003 to 18.55 million hl. Some 16.4 million of the total was sold on the domestic market, while annual per capita consumption stood at 160 liters. The Plzensky Prazdroj group topped the list of beer producers, turning out 8.6 million hl of beer last year. The group includes the Prazdroj, Gambrinus, Velke Popovice and Radegast breweries. Pivovary Staropramen was next, with production of 2.8 mln hl. The group includes the Staropramen, Smichov, Branik and Ostravar breweries. The Budejovicky Budvar brewery was third, with production of 1.2 millin hl last year...

more info UK, Newcastle: Scottish Courage, the UK's leading brewer, announced on April 22 the closure of the Tyne Brewery in Newcastle and the acquisition

of Federation Brewery from Northern Clubs Federation Brewery (NCFB). Scottish Courage will combine the two brewing operations at the NCFB site, two miles away at Dunston. Scottish Courage has also today made an offer to acquire the remaining assets of NCFB. John Dunsmore, Chairman and Managing Director of Scottish Courage, commented: "Both breweries have been operating below industry standards of capacity and efficiency. By joining forces, Scottish Courage and The Federation are able to preserve a home on Tyneside for the continuation of two long and enduring brewing traditions." Scottish Courage intends to close the Tyne Brewery at Newcastle with effect from Spring 2005. Tyne Brewery's low capacity utilisation and City centre location mean that continued production from the site is no longer commercially viable. As market leader in the UK, Scottish Courage needs to reduce excess capacity and improve the company's efficiency and competitive position. By taking these measures, Scottish Courage will be able to increase investment in key brands to improve the long-term competitiveness and success of the business in the UK...

more info Hong Kong: Harbin Brewery Group Ltd's net profit grew 3.8 % in 2003 as it beefed up marketing to recover from a first half setback due to SARS

, China's fourth-largest beer maker said on April 22. Harbin Brewery is expected to see a nearly 52 % jump in net profit in 2004 on strong sales and higher prices, according to the median forecast of seven analysts polled by Reuters Research. The firm, which is about 29.4 %-owned by the world's second-largest beer maker SABMiller Plc and dominates China's northeast region, is expected to pass higher raw materials costs and other expenses on to customers. It posted net profit of HK$114.38 million (US$14.66 million) in 2003 versus a restated HK$110.18 million in 2002. The result was slightly above the analysts' expectation for profit of HK$112 million, but the growth came in below that of top Chinese beermaker Tsingtao Brewery, which has said its 2003 net profit jumped 10 %. Harbin's turnover rose 25 percent to HK$1.4 billion. "With an expanded distribution network and a stronger marketing effort, the group successfully mitigated the unfavourable impact caused by the SARS epidemic," Chief Executive Officer Peter Lo said in a statement. The Severe Acute Respiratory Syndrome outbreak caused a 14 % drop in first half profit as drinkers avoided restaurants and pubs. China's fragmented beer market, the world's largest by volume, is consolidating as it attracts investment from global giants such as Anheuser Busch, Heineken and Carlsberg Breweries...

more info Uruguay: AmBev is looking to increase its production in Uruguay investing US$12 million in its country's operations

. AmBev is to spend $5 million to expand and modernize its Uruguayan brewer Cerveceria y Malteria Paysandu (Cympay), based 380 km from Montevideo, the capital of Uruguay. Modernization work at Cympay will begin within the next two weeks and will create about 130 jobs. Some other $4.7 million will be invested by AmBev in barley purchasing for beer production. Following the expansion, barley production at the plant will increase to 130,000 tonnes from the current 95,000 tonnes.

Mexico's top brewer Grupo Modelo posted a higher-than-expected 6.6 % rise in quarterly net profit

on April 20 as cost cutting and higher beer prices made up for weaker sales volumes, Reuters reported on April 20. Modelo, maker of the popular Corona brand and half-owned by Anheuser Busch Cos. Inc., the world's largest brewer, said its first-quarter net was 1.110 billion pesos ($100 million), up from 1.041 billion pesos a year earlier. A previous Reuters survey forecast, on average, that Modelo's net would inch up to 1.087 billion pesos in the quarter on expected revenues of 9.346 billion pesos. Modelo's shares closed up 1.42 % at 30.63 pesos, close all-time highs and up 14 % this year. The main Mexican bourse index is up 21 % since the end of 2003. Revenue came in lower than forecast at 9.185 billion pesos, as sales volumes fell both at home and abroad. But Modelo squeezed out more profits by cutting costs. "Sales costs dropped 1.2 % from greater production efficiencies," the Mexico City-based brewer said in a statement. Analysts said export volumes were slightly better-than-expected, although domestic volumes were a tad weaker. Many had forecast local sales to inch higher or at least be flat, but an unusually cool and longer winter hit beer drinking, they said. "What was good from the report was the average export price rising 8 % in dollar terms," Mauricio Brocado...

more info

Malt News


Russia's malt imports in 2003 were 513,000 tonnes after 555,000 tonnes a year before. It is estimated that deliveries from Belorussia, which are not registered as imports, were 50,000 tonnes. That means that Russian maltings produced 650,000 tons of malt for total needs of 1.20 – 1.25 million tonnes. Demand for 2004 will be 1.3 million tonnes, of which Russia may supply 8-900,000 tons. Two new factories went on stream during 2003, three more will follow in 2004. Imports could still amount to 4-500,000 tonnes.

Barley News


Germany: Barke and Scarlett barleys are still the most important varieties this year, also Pasadena is still widely grown, but the next generation of spring barley varieties has been introduced and will gain growing shares in the future. They are Auriga, Braemar and Ursa, in Bavaria also Annabell. Total acreage is estimated at 624,000 ha, down from last year's exceptional 750,000 ha. Sowing is almost done, some higher regions should finish this week.

The EU is in the grip of its market regulations and the firm Euro currency versus the U.S. Dollar, market analysts posted by the end of last month. The minimum price for all EU grains is the intervention price: EUR 101,31 equal US $ 125, basis October, delivered to intervention store. Market prices for malting barley are, of course, higher, analysts said at the end of March. Present offering levels of EU grains of old crop, FOB seaports, are: French feed barley US $ 157,-. We cannot imagine that the EU Commission will grant any export restitutions. Therefore a situation may arise, where EU domestic markets in 2004/05 are weak because of insufficient export outlets or world markets are high enough to absorb EU exports at unsubsidized price levels.



Theoretical malt prices.


EURO = USD 1.1910 April 23, 2004
Crop year
2003
Parity
FOB Antwerp
Position
Apr 2004-Sept 2004
Conditioning
Bulk
In bags
Bulk containers
Bags, containers
Malting barley variety
EURO
USD
EURO
USD
EURO
USD
EURO
USD
2RS
Scarlett
249.50
297.00
264.50
315.00
261.00
310.50
270.50
322.00
2RS
Prestige/Cellar
248.50
295.50
263.50
313.50
259.50
309.50
269.50
320.50
2RS
Aspen
247.00
294.00
262.00
312.00
258.50
308.00
268.00
319.50
2RS
Optic
247.00
294.00
262.00
312.00
258.50
308.00
268.00
319.50
2RS
Astoria
245.50
292.50
261.00
310.50
257.50
306.50
267.00
317.50
2RS
Cork
245.50
292.50
261.00
310.50
257.50
306.50
267.00
317.50
2RS
Average price
247.50
294.50
262.50
312.50
259.00
308.50
268.50
319.50
2RS
FAQ
244.50
291.00
259.50
309.50
256.00
305.00
265.50
316.50
6RW
Esterel
239.50
285.50
254.50
303.50
251.00
299.00
260.50
310.50
*
Asia Malt 70/30
245.00
292.00
260.50
310.00
256.50
305.50
266.00
317.00
**
Asia Malt 50/50
243.50
290.00
258.50
308.00
255.00
303.50
264.50
315.00

* - 70/30 = 70% Average two Rows Spring and 30% Six Rows Winter
** - 50/50 = 50% Average two Rows Spring and 50% Six Rows Winter

Theoretical malt prices for crop 2004 are available on site www.e-malt.com/MarketPrices

Malting barley prices. French barley prices.


Nominal prices.



EURO = USD 1.1910 April 23, 2004
Crop year
2003
2004
Parity
FOB Creil
FOB Creil
Position
July 2003
July 2004
Type
Variety
EURO
USD
EURO
USD
2RS
Scarlett
119.00
142.00
128.00
152.50
2RS
Prestige/Cellar
118.00
140.50
127.00
151.50
2RS
Aspen
117.00
139.50
126.00
150.50
2RS
Optic
117.00
139.50
126.00
150.50
2RS
Astoria
116.00
138.50
125.00
149.00
2RS
Cork
116.00
138.50
125.00
149.00
6RW
Esterel
111.00
132.50
114.50
136.50
French Malting Barley Price Evolution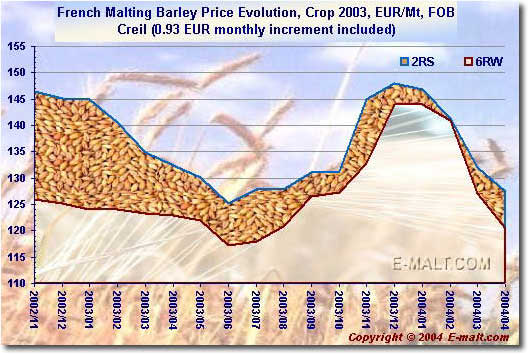 | | |
| --- | --- |
| | Maximum average price for 2RS Malting Barley, Crop 2003: 148.50 EUR/tonne - in November 2002 |
| | Minimum average price for 2RS Malting Barley, Crop 2003: 118.29 EUR/tonne - in April 2004 |
| | Maximum average price for 6RW Malting Barley, Crop 2003: 140.00 EUR/tonne - in December 2003 |
| | Minimum average price for 6RW Malting Barley, Crop 2003: 112.00 EUR/tonne - in April 2004 |
Graph of the week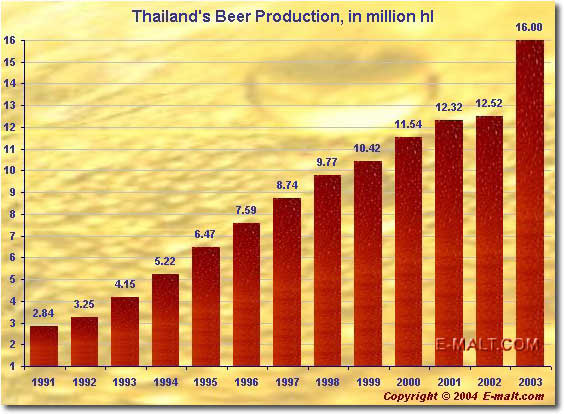 Agenda


April 2004:
InterFood;
INTERFOOD UZBEKISTAN /INTERFOODTECH 2004
INTERFOOD ST. PETERSBURG 2004
SIBFOODEXPO 2004
BEER. WINES & DRINKS International Beer
World Beer Cup
2004 National Craft Brewers Conference
FOODASIA 2004
ASTANA FOOD 2004
INTERFOOD AZERBAIJAN/ INTERFOODTECH 2004
43rd MBAA District Caribbean Convention
IFEX 2004
EXPOVIVIENDA 2004

May 2004:
EBC SYMPOSIUM 'FOOD SAFETY & TRACEABILITY'
CANADEAN'S 4th INTERNATIONAL BEER CONFERENCE
CITBUSMED 2004
PIVO, GASTRO, BAKERY / Bulgaria
ALCO + SOFT 2004 / Ukraine
FOOD & DRINKS/FOOD TECHNOLOGY 2004 / Moldova
Beer International Brewing Technology Exhibition / Russia

June 2004:
ALIMENTARIA MEXICO International Food and Beverages Exhibition
Hotelympia
10th international symposium on pre-harvest sprouting in cereals;
BevTek / BrewTek
IGC GRAINS CONFERENCE 2004
26th Annual National Homebrewers Conference
Coceral Congress 2004
The 9th International Barley Genetics Symposium
Little Oktoberfest


More events are available on site e-malt.com