---
Newsletter Summary

---
Currency rates
Brewery news
Malt news
Barley news
More news
Theoretical malt prices
Malt Price Evolution
Malting barley prices
Graph of the week
Agenda
Do you know e-malt.com?
---
Average market prices Change trend
---

Note: Just click on the price link and you will be led to our Market Price History.
Average barley market prices are French and are estimated on FOB Creil basis.
Average malt market prices are estimated on FOB Antwerp basis.
The changes are compared to last week's prices.
Arrows indicate the direction of the change.


---
Easy E-malt.com
---
---
E-malt.com access
---
---
Do you know
E-malt.com ?
---
Dear E-malt Reader!

E-malt.com Newsletters Archive could be found directly on e-malt.com site. Browsing through our Newsletters' Archive you may see all the issues you have missed. To this purpose you just have to login e-malt.com and click on Newsletters link in the menu. Reading our Newsletters you will be kept informed with the latest news and events regarding malting and beer world. You may also submit your own news, events or other information to the address info@e-malt.com!

Updated figures related to USA barley and malt trade with Mexico and Canada could be seen in NAFTA section of e-malt.com menu. To this purpose please enter e-malt.com!

You may find updated malt, barley and beer statistics on e-malt.com Statistics section. Just enter e-malt.com! Here you will find all tables issued with e-malt.com newsletters.

E-malt.com Agenda gives the possibility to keep you informed about the Events planned to be held in the whole world related to the brewing and malting industries. To this purpose you just have to login e-malt.com and click on Agenda link in the menu. Reading our Event Agenda you will find out about the future symposia, conferences and festivals related to malting and beer world. You may also submit your own events to the address info@e-malt.com

E-malt.com has Trading Online system. The system is to be used for malt/barley trading. One can register a malt/barley offer or a malt/barley request. The registering person could be as a seller/buyer or as an agent for seller/buyer. The User can see information about all active malt/barley offers & requests. If needed the system allows user to buy/sell malt/barley due to reasonable offers/requests. The way to do this is to confirm reasonable transaction. Trading Online rules are available through the Internet in the Trading Online as well as Tutorial (useful for persons who starts the system usage). To visit the E-malt Trading Online first go to the E-malt.com site, then click Trading Online link in the left menu of the e-malt.com home page. For more details please contact info@e-malt.com

Thank You!

---
E-malt.com Links!
---
Industry news
Market prices
EU Regulations
NAFTA
Specifications
Special malts
Professional Help
Trading online
Costing online
Statistics
Graphs
NewsLetters
Agenda
Accounts
Log In
Contact us
---
Other e-malt.com newsletters
---
Last five newsletters
---


Newsletter 18a, 2004


Newsletter 17b, 2004


Newsletter 17a, 2004


Newsletter 16b, 2004


Newsletter 16a, 2004
---
Market price evolutions
---
The evolution of market prices for barley and malt, which are periodicaly issued with e-malt.com newsletters are published on e-malt.com site in Market Prices section. Just click here!
---
Available market price evolutions
---


Malt Market Price Evolution. Crop 2003


French Malting Barley Price Evolution. Crop 2003
---
E-malt.com graphs
---
All graphs issued with e-malt.com newsletters are published in Graph section of e-malt.com site.
---
Last five graphs
---


Thailand Beer Production


Brazilian Beer Consumption


Mexico Imports of Malt


Share of Super-premium beer segment


Australia Exports of Malt
---
E-malt.com Tables
---
We have the pleasure to let you know that all e-malt.com tables are published in e-malt.com Statistics section. The Statistics section includes Barley statistics, Malt statistics and Beer statistics. The tables related to barley are published in Barley Statistics section, the tables related to malt in Malt Statistics section and the tables related to beer in Beer Statisctis section.
---
Last five tables
search in statistics
---


Estimate of EU Barley Plantings


EU malt export licence fixations


Mexican Imports of Malt


The Baltic Beer Market


The Ukraine Beer Market
---
Note
---
If you have any comments, questions, suggestions or remarks, you can send a mail to: info@e-malt.com. To submit your own news to our editorial team, email to: info@e-malt.com
---
If you have received this newsletter by a colleague, you can obtain your own free subscription here, or a full FREE registration here.
---
You may recommend our site to your friend by clicking here
---
If you do not wish to receive our newsletter, please unsubscribe your e-mail address (@EMAILADDRESS@) from our mailing list using unsubscribe form from our site!
April 29 - May 02, 2004
Currency Rates

Base Currency: Euro, EUR
on 30-Apr-2004

1 EUR = 1.1983 USD
1 EUR = 0.6755 GBP
1 EUR = 1.6429 CAD
1 EUR = 1.6590 AUD
1 EUR = 131.55 JPY
1 EUR = 3.5554 BRL
1 EUR = 34.7148 RUB

Base Currency: US Dollar, USD
on 30-Apr-2004

1 USD = 0.8348 EUR
1 USD = 0.5637 GBP
1 USD = 1.3710 CAD
1 USD = 1.3845 AUD
1 USD = 109.82 JPY
1 USD = 2.9670 BRL
1 USD = 28.970 RUB

EUR/USD Chart
Top Industry News
More News
Brewery News


Belgium, Brussels: John Brock, Interbrew SA CEO said there is a risk that its unit Labatt USA could be excluded from the merger with Cia de Bebidas das Americas (AmBev)

, according to AFX News. AFX News Brock told reporters that this is a possibility if Interbrew does not reach an agreement in its court case with Grupo Femsa, Mexico's second largest brewer. "The worst-case scenario would be (a) if the court grants an injunction or if (b) it didn't reach an agreement with Femsa," Brock said. "If we didn't reach an agreement, Labatt USA would be excluded from the transfer of Labatt to AmBev," he said. But he added: "This is such a small percentage of the overall volume that it wouldn't affect our majority ownership of AmBev," he said. Under the deal, Interbrew will pay EUR 3.2 billion for 100 % of AmBev holding company Braco and AmBev will get Interbrew assets in North America worth EUR 4.6 billion including debt. This includes Interbrew's 70 % interest in Labatt USA and its 30 % stake in Femsa Cerveza SA. Femsa is alleging that the proposed merger violates its rights as a minority shareholder. Brock said he is "confident that there remains a negotiated settlement to be done". This could involve either "a redefinition of the relationship with Femsa" or a parting, he said without elaborating.

USA, St. Louis: Anheuser-Busch Cos., Inc. reported on April 28, 2004 record sales and earnings for first quarter 2004 with strong growth

from all of its major operating segments. The news was revealed by Patrick Stokes, president and chief executive officer of the company. Stokes made the announcement at the company's annual meeting of shareholders in Orlando, Fla. Consolidated net sales increased 6.0 % in the first quarter, while earnings per share increased 17.5 %. First-quarter results benefited from a $19.5 million pretax gain ($.015 per share) from the sale of commodity hedges. This gain is reported in other income/(expense) on the consolidated income statement and as such does not impact gross profit or operating income. Earnings per share excluding this gain increased 14.9 percent vs. first quarter 2003. "Anheuser-Busch had another excellent quarter and continued its track record of delivering consistent and dependable earnings growth. The company has now achieved 22 consecutive quarters of solid double-digit earnings per share growth. We remain confident in our ability to consistently achieve our double-digit earnings per share growth objective over the long-term and our 12 % earnings per share growth target for 2004, excluding the benefit of the commodity hedge gain," said Stokes...

more info Africa: Namibia Breweries Limited (Nambrew) said on April 28 full-year headline earnings per share more than doubled but said operating profits fell

due partly to high import tariffs imposed by neighboring Angola, according to Reuters. Although operating profits slipped to N$41 million ($6.1 million) from 70.5 million, favourable taxation rates following the Namibian Income Tax Amendment Bill in 2002 helped boost headline earnings per share to 23.7 cents from 11.1 cents, while the dividend rose to 11 cents from 8.4 cents. Headline EPS strip out capital, extraordinary and non-trading items. The company said the situation in Angola, its biggest export market outside South Africa, had since been resolved through a bilateral trade agreement, and said the decline in profitability was "of a temporary nature". "The directors are of the opinion that the decline is of a temporary nature and that profitability will be restored over the medium term," it said in a statement. The company, in which Dutch brewer Heineken and Britain's Diageo hold a combined 28.9 percent stake, reported revenues of 944.5 million Namibian dollars for the year to January 31, 2004, up from 878.9 million a year before...

more info Hong Kong: China's Tsingtao Brewery, the biggest player in the world's largest and fiercely competitive beer market, posted 6.9 % higher first-quarter net profit

on April 30, reined in by surging marketing and sales costs. Shares in Tsingtao, in which the world's biggest beer maker, U.S.-based Anheuser Busch, now has a 10 % stake, skidded over 9% to HK$6.00 after the results, Reuters revealed. "It's a bit disappointing. Selling expenses were higher than expected... The competition remains very severe," said Merrill Lynch analyst Grace Mak, who has a 'sell' rating on the stock. China has seen a flood of foreign investment from global beer giants like Heineken, Scottish & Newcastle and Carlsberg, making the industry even more competitive. At the same time, higher costs for barley, electricity and transport are squeezing margins in a country where a bottle of beer can cost as little as 18 U.S. cents. Tsingtao, which has around 13 % of the China market, said net profit was 63.8 million yuan (US$7.7 million) for the three months to March 31, against 59.7 million yuan a year earlier, according to Chinese accounting standards. Its total January-March beer output and sales volume rose 14 % to 7.05 million hectolitres...

more info UK: Britain's biggest brewer, Scottish & Newcastle Plc, said on April 29 that trading in the first four months of 2004 had been better

than in the comparative period of last year. Scottish & Newcastle PLC' Chairman, Sir Brian Stewart, made the following statement at the Annual General Meeting on April 29, 2004: "Operationally, the results announced for the eight-month period from May to December 2003 demonstrated improving trends in all our major markets. Our priority is to continue improving the performance of the core business by developing our excellent brand portfolio and increasing operational efficiency and integration across the group. Strategically, the group has made considerable progress. The successful sale of the Managed Retail business for £2.5bn has enabled Scottish & Newcastle to become a financially robust and focused international brewer. We have shown continued ability to add to the strength of our core businesses, through the successful and earnings enhancing acquisitions of the Bulmer's cider business in the UK and the Central de Cervejas acquisition in Portugal. We have also made good progress in our partnership arrangements in India, and most recently with Chongqing brewery in China, whilst through BBH we have expanded our network in Russia, Ukraine, and Kazakhstan...

more info

Malt News


Japan's malt imports dropped to 547,000 tonnes in 2003 from 617,000 tonnes a year earlier. Japan's beer output of 64.857 million hl in 2003 was 6.3 % down from a year earlier. After another downfall in January, beer sales recovered to show a small plus for the first two months of the year combined. Happo-shi sales are now at even level with those of Pilsen beer. Japan is also selling "beer" now brewed without any malt at all. Since 1998 total sales of beer and happo-shi have dropped by 10 %, and one must wonder whether the production and promotion of low-cost beers has really been a success. In the wake of worldwide attention to food safety a Japanese brewer has changed buying patterns to safeguard completely sound condition of his malt deliveries.

Barley News


Australia: New malting barley variety, BAUDIN in Australia has very good malt characteristics and grain accumulator, ASBULK, will pay a A$5 premium over all other malting varieties at selected recieval sites this coming harvest, according to Australian farmers. Western Australian growers will be growing large areas of BAUDIN this year as it was released there last year and is being grown in preference to Gairdner malting barley so this situation should be repeated in the eastern states. "I am a farmer at Berrigan in New South Wales and am passionate about barley", said Graeme Pyle "Rothiemay" Berrigan NSW to e-malt.com. "There is a proposal to build a 80kt per year malthouse in this area to take advantage of the reliable supply of irrigated malting barley and there are several maltsters showing strong interest with good economies in export freight, water supply, waste disposal and land being identified over other sites in Australia. It is very dry in the eastern states at the moment and farmers are worried. Lucky we are good at worrying," added Graeme Pyle.

Canada: Agriculture and Agri-Food Canada announced on April 28 that barley production is forecast to decrease slightly, as higher yields are more than offset by lower seeded area. Total supplies are expected to rise by 5%. Domestic use is forecast to increase due to higher feed demand. Exports are expected to remain flat at 2.4 Mt, as an increase in malting barley exports is expected to offset a decrease in feed barley exports, Agriculture and Agri-Food Canada revealed. Carry-out stocks are projected to rise from 2003-04 to 2.5 Mt. Off-Board prices are forecast to average C$135/t for No.1 CW Feed I/S Lethbridge, the same as 2003-04. The April CWB PRO for No.1 CW Feed Barley is up by C$2/t from March, at $134/t I/S VC/SL, down C$25/t from 2003-04. The April CWB PRO for Special Select Two Row designated barley is up C$3/t at C$185/t I/S VC/SL, versus C$198/t for 2003-04.

Theoretical malt prices.

EURO = USD 1.1983 April 30, 2004
Crop year
2003
Parity
FOB Antwerp
Position
May 2004-Sept 2004
Conditioning
Bulk
In bags
Bulk containers
Bags, containers
Malting barley variety
EURO
USD
EURO
USD
EURO
USD
EURO
USD
2RS
Scarlett
255.50
306.50
271.00
324.50
267.50
320.00
276.50
331.50
2RS
Prestige/Cellar
254.50
305.00
269.50
323.00
266.00
318.50
275.50
330.00
2RS
Aspen
253.50
303.50
268.50
321.50
264.50
317.50
274.50
328.50
2RS
Optic
253.50
303.50
268.50
321.50
264.50
317.50
274.50
328.50
2RS
Astoria
252.00
302.00
267.00
320.00
263.50
315.50
273.00
327.00
2RS
Cork
252.00
302.00
267.00
320.00
263.50
315.50
273.00
327.00
2RS
Average price
253.50
304.00
269.00
322.00
265.50
318.00
274.50
329.50
2RS
FAQ
250.50
300.50
266.00
318.50
262.50
314.50
272.00
325.50
6RW
Esterel
246.00
294.50
261.00
312.50
257.50
308.50
267.00
319.50
*
Asia Malt 70/30
251.50
301.00
266.50
319.50
263.00
315.00
272.50
326.50
**
Asia Malt 50/50
249.50
299.50
265.00
317.50
261.50
313.00
271.00
324.50

* - 70/30 = 70% Average two Rows Spring and 30% Six Rows Winter
** - 50/50 = 50% Average two Rows Spring and 50% Six Rows Winter

Theoretical malt prices for crop 2004 are available online www.e-malt.com/MarketPrices

Malt Price Evolution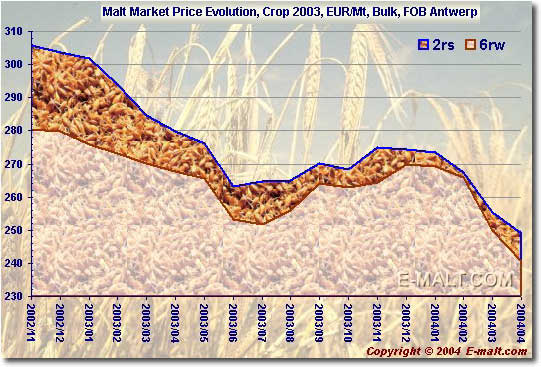 | | |
| --- | --- |
| | Maximum average price for 2RS Malt, crop 2003: 308.50 EUR/tonne - in November 2002 |
| | Minimum average price for 2RS Malt, crop 2003: 247.5 EUR/tonne - in April 2004 |
| | Maximum average price for 6RW Malt, crop 2003: 280.50 EUR/tonne - in November 2002 |
| | Minimum average price for 6RW Malt, crop 2003: 239.50 EUR/tonne - in April 2004 |
Source: E-malt.com

Malting barley prices. French barley prices.


Nominal prices.



EURO = USD 1.1983 April 30, 2004
Crop year
2003
2004
Parity
FOB Creil
FOB Creil
Position
July 2003
July 2004
Type
Variety
EURO
USD
EURO
USD
2RS
Scarlett
119.00
142.50
128.00
153.50
2RS
Prestige/Cellar
118.00
141.50
127.00
152.50
2RS
Aspen
117.00
140.50
126.00
151.00
2RS
Optic
117.00
140.50
126.00
151.00
2RS
Astoria
116.00
139.50
125.00
150.00
2RS
Cork
116.00
139.50
125.00
150.00
6RW
Esterel
111.00
133.50
114.50
137.50
Graph of the week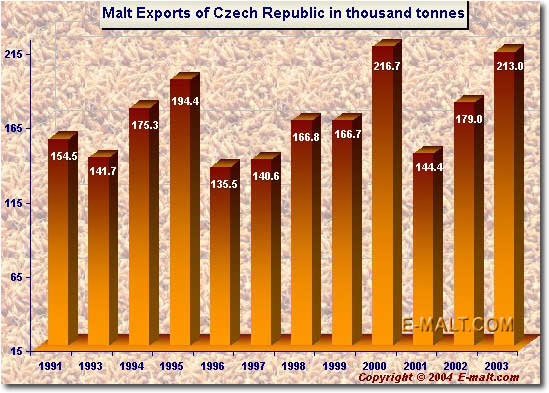 Agenda


April 2004:
InterFood;
INTERFOOD UZBEKISTAN /INTERFOODTECH 2004
INTERFOOD ST. PETERSBURG 2004
SIBFOODEXPO 2004
BEER. WINES & DRINKS International Beer
World Beer Cup
2004 National Craft Brewers Conference
FOODASIA 2004
ASTANA FOOD 2004
INTERFOOD AZERBAIJAN/ INTERFOODTECH 2004
43rd MBAA District Caribbean Convention
IFEX 2004
EXPOVIVIENDA 2004

May 2004:
EBC SYMPOSIUM 'FOOD SAFETY & TRACEABILITY'
CANADEAN'S 4th INTERNATIONAL BEER CONFERENCE
CITBUSMED 2004
PIVO, GASTRO, BAKERY / Bulgaria
ALCO + SOFT 2004 / Ukraine
FOOD & DRINKS/FOOD TECHNOLOGY 2004 / Moldova
Beer International Brewing Technology Exhibition / Russia

June 2004:
ALIMENTARIA MEXICO International Food and Beverages Exhibition
Hotelympia
10th international symposium on pre-harvest sprouting in cereals;
BevTek / BrewTek
IGC GRAINS CONFERENCE 2004
26th Annual National Homebrewers Conference
Coceral Congress 2004
The 9th International Barley Genetics Symposium
Little Oktoberfest


More events are available on site e-malt.com