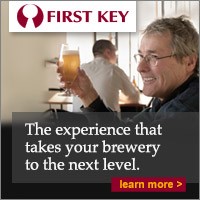 Note: All graphs issued with e-malt.com newsletters are published in "Graph" section of e-malt.com site.
All e-malt.com tables are published in e-malt.com Statistics section. The Statistics section includes Barley statistics, Malt statistics and Beer statistics. The tables related to barley are published in Barley Statistics section, the tables related to malt in Malt Statistics section and the tables related to beer in Beer Statistics section.
---
Last five prices evolutions
---
---
---
---
Do you know
E-malt.com?
---
Dear E-malt Reader!

E-malt.com Newsletters Archive could be found directly on e-malt.com site. Browsing through our Newsletters Archive you may see all the issues you have missed. To this purpose you just have to login e-malt.com and click on Newsletters link in the menu. Reading our Newsletters you will be kept informed with the latest news and events regarding malting and beer world. You may also submit your own news, events or other information to the address info@e-malt.com!

You may find updated malt, barley and beer statistics on e-malt.com Statistics section. Just enter e-malt.com! Here you will find all tables issued with e-malt.com newsletters.

E-malt.com Agenda gives the possibility to keep you informed about the Events planned to be held in the whole world related to the brewing and malting industries. To this purpose you just have to login e-malt.com and click on Agenda link in the menu. Reading our Event Agenda you will find out about the future symposia, conferences and festivals related to malting and beer world. You may also submit your own events to the address info@e-malt.com

E-malt.com has Trading Online system. The system is to be used for malt/barley trading. One can register a malt/barley offer or a malt/barley request. The registering person could be as a seller/buyer or as an agent for seller/buyer. The User can see information about all active malt/barley offers & requests. If needed the system allows user to buy/sell malt/barley due to reasonable offers/requests. The way to do this is to confirm reasonable transaction. Trading Online rules are available through the Internet in the Trading Online as well as Tutorial (useful for persons who starts the system usage). To visit the E-malt Trading Online first go to the E-malt.com site, then click Trading Online link in the left menu of the e-malt.com home page. For more details please contact info@e-malt.com

Thank You!


Industry news

Market prices

EU Regulations

NAFTA

Specifications

Special malts

Professional Help

Trading online

Costing online

Statistics

Graphs

NewsLetters

Agenda

Accounts

Log In

Contact us
E-Malt.com Newsletter 27a
June 29 - July 01, 2020
Quote of the Week
Without hustle, talent will only carry you so far.
You are one of the 54,000 professionals of the brewing and malting industries from 195 countries receiving our free bi-weekly E-malt Newsletters published since 2001. You seem to be pleased by getting them as we have registered something like 3 mln readings.
To keep the high level of this informative reservoir in both brewing and malting industries and in order to continue to improve it we have to request a small contribution for full access to E-malt.com information.
The majority of our readers have responded positively thus giving us the possibility to keep developing this global informative reference.
A one-year membership costs only 181,- Euros and gives you full access to both our Full Bi-weekly Newsletter and website www.e-malt.com.
You can pay by credit/debit card or bank transfer (against invoice). Ordering is simple, use our online secure ordering system: click hereunder to begin - you can have access in just 5 minutes!
CLICK HEREUNDER TO SUBSCRIBE
One-year individual subscription: 181, - Euros
Two-year individual subscription: 320, - Euros
Save money when your colleagues join:

One-year group subscription for 2-5 members: 373, - Euros
One-year group subscription for 6-10 members: 555, - Euros
One-year group subscription for 11-20 members: 737, - Euros
One-year group subscription for 21-50 members: 983, - Euros
One-year group subscription for 51-100 members: 1229, - Euros

For a personal service contact our Membership staff :
Email : info@e-malt.com
Direct line : +32 (0)87 681381; Fax : +32 (0)87 352234
If calling, please note our office hours are 9am - 5pm (Belgium time)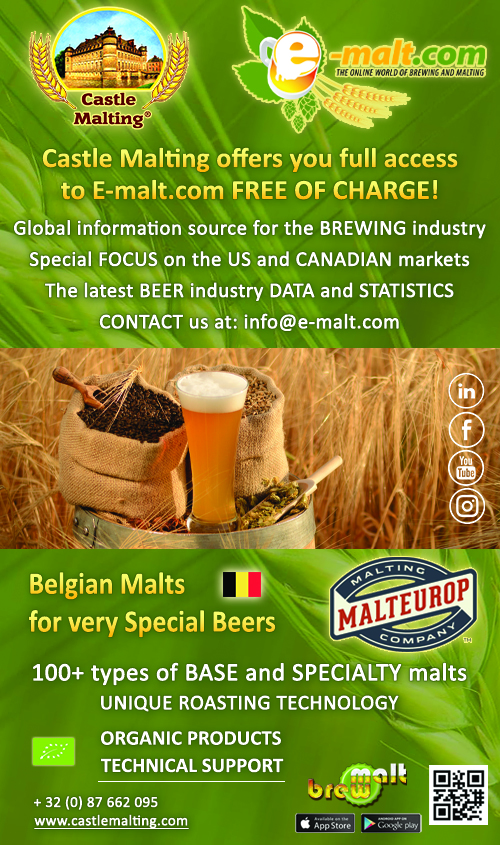 Currency Rates

Base Currency: US Dollar
on July 01, 2020
Base Currency: Canadian Dollar
on July 01, 2020
1 USD = 0.8905 EUR
1 USD = 0.8112 GBP
1 USD = 1.3641 CAD
1 USD = 1.4540 AUD
1 USD = 107.7800 JPY
1 USD = 5.4297 BRL
1 USD = 70.7303 RUB
1 USD = 7.0682 CNY
1 CAD = 0.7330 USD
1 CAD = 0.5945 GBP
1 CAD = 0.6527 EUR
1 CAD = 1.0657 AUD
1 CAD = 79.0000 JPY
1 CAD = 3.9797 BRL
1 CAD = 51.8419 RUB
1 CAD = 5.1807 CNY


Currency Rates Chart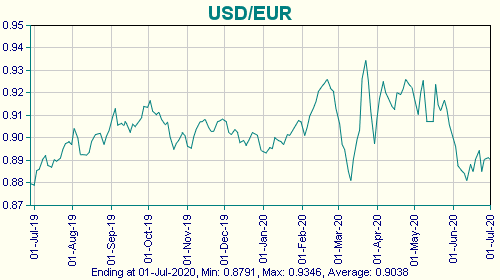 Equities of the Largest Breweries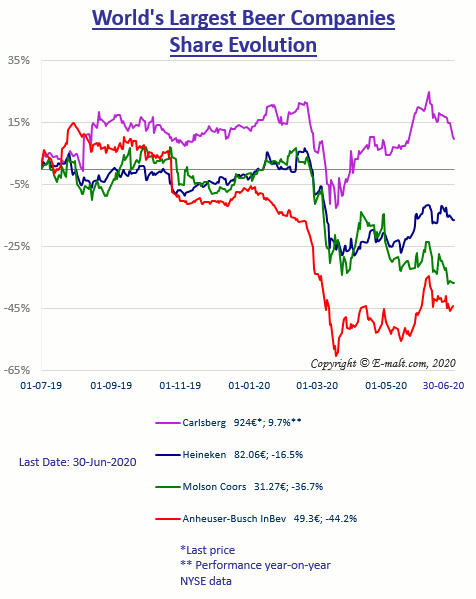 EU & USA:

European beer, olives, chocolate, and gin could be hit with steep import tariffs in the US ...Click here

USA:

Off-premise beer sales top $1 bln in four of the last five weeks - Nielsen ...Click here

UK & USA:

Scotch exports to the US down by 25% since imposing of import tariffs in October 2019 ...Click here

Canada:

StatsCan reports 1.4% increase in barley acreage ...Click here

US, AL:

Monday Night Brewing Company to launch its Birmingham location in August ...Click here

Canada, ON:

Red Barn Brewing Company days away from opening in Chatham-Kent ...Click here

USA, KY:

Brew Bridge becomes Owensboro's first brewery since 1903 ...Click here

USA:

Brewers Associatin cuts another 17% of its workforce ...Click here

Canada, NB:

Bagtown Brewing reopens in a larger facility ...Click here

EU:

Barley crop prospects in Central Europe between rather poor and fair ...Click here

Croatia:

Number of Croatians who drink beer every day increases - survey ...Click here

Brazil:

Diageo doubles efforts to strengthen presence in e-commerce channels ...Click here
Graph of the Week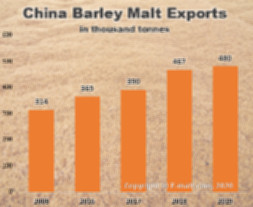 Table of the Week
Barley Prices
Theoretical Malt Prices
These Days in Business History


29 June
1200 - In China, sunglasses are invented
1881 - 1st international telephone conversation, Calais, ME-St. Stephen, NB
1979 - The Wall Street Journal boot Chrysler from the Dow Jones Industrial Average and replace it with IBM
2007 - Apple Inc. releases its first mobile phone, the iPhone

30 June
1893 - Harold/Joseph Laski is born, English economist/Labour leader
1896 - W. S. Hadaway patents electric stove

01 July
1875 - Universal Postal Union established
1916 - Coca-Cola brings current coke formula to the market


Agenda
News Articles

EU & USA:
European beer, olives, chocolate, and gin could be hit with steep import tariffs in the US
European olives, chocolate, gin and beer made with malt are among the latest products that could be hit with steep tariffs as part of a US-European dispute over government subsidies to aircraft makers, CNN reported on June 24.

The US Trade Representative announced a list of 30 total products that could be subjected to new tariffs, noting the United States imports about $3.1 billion of these goods annually from Europe.

The United States already levied 15% to 25% tariffs on $7.5 billion worth of other European goods as part of this dispute. The new items could be hit with tariffs of as much as 100%, according to the notice.

The World Trade Organization has already sided with the United States in the dispute, which goes back to 2004. The WTO concluded in 2018 that the European Union helped Airbus (EADSF) with unfair subsidies that hurt sales of US-based Boeing's wide-body jets.

That decision opened the way for the United States to put tariffs on European goods.

The WTO also found that Boeing had received improper tax breaks from Washington state. The state removed the tax breaks earlier this year, but the European Union is still threatening to put tariffs on US goods in response to ...More info on site
---

USA:
Off-premise beer sales top $1 bln in four of the last five weeks - Nielsen
Beer category dollar sales in off-premise retailers have now topped $1 billion in four of the last five weeks, according to market research firm Nielsen, Brewbound reported on June 30.

For the one-week period ending June 20, off-premise scans increased 21.2%, to $1.02 billion, the firm reported. Category sales also reached $1 billion for the weeks ending June 13, as well as the weeks ending May 23 and May 30, which bookended the Memorial Day holiday. Sales fell just short of the $1 billion mark for the week ending June 6, totaling $998.4 million.

The latest sales spikes have nearly rivaled the July 4 holiday week in 2019, the previous high-water sales week of the last 52 weeks. Now, heading into the 2020 July 4 holiday, sales are surging, and they could go even higher as states once again pull back on allowing on-premise consumption in an effort to once slow down surges in new cases of COVID-19.

Three states with the largest populations in the U.S. — California, Texas and Florida — have each halted on-premise consumption of alcohol either statewide or in certain counties amid growing numbers of new cases of the novel coronavirus. Other states, including Arizona, are following suit.

Danelle ...More info on site
---

UK & USA:
Scotch exports to the US down by 25% since imposing of import tariffs in October 2019
The 25% tariff imposed on single malt Scotch whiskies in the U.S. last October is hampering what has been a vibrant upscale spirits segment in recent years. According to the Scotch Whisky Association (SWA), Scotch exports to the U.S. have declined by 25% since the tariff took effect, the Shanken News Daily reported on June 29.

"The tariffs make Scotch uncompetitive in the U.S. against other spirits and companies are losing sales and market share to competitor products," said SWA chief executive Karen Betts. "This is hurting the industry at home as well as threatening the livelihoods of Americans who work in distribution, marketing, and hospitality in the U.S."

With the U.S. now adding gin to the list of U.K. exports potentially in line for tariffs, U.K. distillers have further cause for concern. Betts noted that 70% of U.K.-made gin is produced in Scotland, which could see another blow to its export business if the U.S. follows through on its latest threat.
---

USA:
Beer shipments drop 6.6% in May
U.S. brewers' shipments in May declined 6.6%, to 14.2 million barrels, a loss of 1 million barrels compared to May 2019, according to the Beer Institute (BI), which shared unofficial estimates of domestic tax paid shipments compiled by the Alcohol and Tobacco Tax and Trade Bureau (TTB), Brewbound reported.

However, the BI offered a caveat with this month's report, noting that the trade group anticipates "significant revisions" to March, April and May 2020 shipment numbers, as the TTB has postponed reporting requirements for filing and payment due dates for up to 90 days.

Nevertheless, the BI now estimates that shipments have declined every month thus far in 2020, year-to-date shipments down 2.8%, or nearly 1.9 million barrels. Through the first five months of 2020, U.S. beer companies have shipped an estimated 65,764,000 barrels.

May's 1 million-barrel decline is now the steepest of 2020, topping April's 700,000-barrel decline. The growing dip in shipments in April and May coincides with the shutdown of bars, restaurants and taprooms due to the COVID-19 pandemic.

Off-premise beer sales have spiked during the shutdown, with dollar sales up nearly 18%, to around $18.9 billion year-to-date through June 14 in multi-outlet and convenience stores tracked by market research firm IRI.

In other ...More info on site
---

Canada:
StatsCan reports 1.4% increase in barley acreage
StatsCan is reporting seeded acreage this spring up for durum, lentils and barley but down for spring wheat, canola and soybeans.

Spring wheat is down almost 8 percent in Saskatchewan while durum jumped 13 percent.

Canola is down less than one percent while lentils jumped 12 percent across Canada.

Nationally, barley rose 1.4 percent to the highest seeded area since 2009 while oats gained 6.5 percent.

FarmLink Marketing solutions senior market analyst Neil Townsend says the StatsCan survey was close to market expectations and neutral for grain prices.
---

US, AL:
Monday Night Brewing Company to launch its Birmingham location in August
A much-anticipated opening of a brewery in Birmingham was postponed due to the Covid-19 pandemic, but Monday Night Brewing Company announced this week that the Atlanta-based brewery will open in August, Patch.com reported on June 25.

The brewery's alcohol license was approved by the Birmingham City Council on June 23.

This brewpub is a key part of Third & Urban's Denham Building, a mixed-use project currently in development in the Parkside District neighborhood. The location will also feature an inviting patio and event space within walking distance to Railroad Park, Regions Field, and a variety of other restaurants, bars and breweries.

The planned 10,000-square-foot brewpub will serve 30 brews on tap, including house-made beers, small batch IPAs from the Hop Hut, barrel-aged and sour beers from the Garage, and guest taps from local breweries - as well as a full bar with wine and cocktails. The food menu is currently being developed, and will offer simple, shareable fare built for beer pairings.
---

USA, WA:
Otherlands Beer now open in Bellingham
Bellingham, Washington continues its pursuit of the "Most Breweries per Capita" title. Otherlands Beer is now open in the city's Sunnyland neighborhood at 2121 Humbolt Street. That means it is very near Twin Sisters Brewing and Kulshan Brewing (James St.) and quite near Wander Brewing, the Washington Beer Blog reported on June 26.

The brewery and cafe is the realization of a dream for two brewing and service industry veterans, Karolina Lobrow and Ben Howe.

According to the company's website, "Otherlands Beer is a small brewery and cafe dedicated to the pursuit of excellence, the exploration of the unknown and the celebration of the beautiful and the absurd. Offering rustic lagers and farmhouse ales alongside European inspired street foods in a cozy guesthouse tavern."

Also from the website, "Drawing inspiration from the many odd and wonderful folks we've met in our travels we brew beers for curious palates using a variety of traditional and old-world techniques. Our lager beers are "decoction" mashed in our direct fired brew kettle, naturally carbonated, and cold conditioned in horizontal lagering tanks. Our farmhouse ales are brewed with an evolving house yeast culture and undergo a lengthy refermentation in the keg and bottle. Even our IPAs have a ...More info on site
---

Canada, ON:
Red Barn Brewing Company days away from opening in Chatham-Kent
A small family farm in rural Chatham-Kent has evolved into a new local brewery that stays true to its homegrown roots, AM800 reported on June 27.

"The red barn is kind of an iconic symbol of the farm, especially for CK which is lush with agriculture," said Denny Vervaet, co-owner of Red Barn Brewing Company.

The brewery is days away from opening their doors.

"Fortunately there's not a lot going on on Canada Day so we're hoping that we have a really nice turnout," Vervaet said.

The COVID-19 pandemic threw a wrench into plans, but the Alcohol Gaming Commission is allowing the owners to set up a temporary takeout store.

"They did a virtual tour with us and they gave us the amendment to have us a temporary store, he said. "So this is helping our cash flow while we finish the rest and get to day one."

Economic Development officials in Chatham-Kent say the brewery is among half a dozen new businesses opening in South Kent.

"Honestly in the community, we've seen businesses opening up," said Matt Reaume, Chatham-Kent economic development officer. "I'm going to visit give new ones next week so the economy is growing, even during a pandemic they're looking for opportunities to make ...More info on site
---

USA, KY:
Brew Bridge becomes Owensboro's first brewery since 1903
For the first time in 117 years, Owensboro has a brewery. Brew Bridge, the first brewery in town since Owensboro Brewery closed in 1903, has started making beer, The Lane Report said on June 26.

And it will open the doors of its brew pub to the public on July 3.

David Haynes, who owns the business with Max Garvin, said he expects to have eight dark beers ready for the opening at 4 p.m. that day. A soft-opening, a party for investors and those who have helped them get the business started, is scheduled for 7 p.m. Thursday, July 2, he said.

Haynes and Garvin first announced plans for the brewery last August.
---

USA:
Brewers Associatin cuts another 17% of its workforce
The Brewers Association has announced a second round of layoffs, cutting 17% of its workforce, the national trade group confirmed to Brewbound.

The layoff amounted to nine additional employees of the BA, including one of its most recognizable faces and advocates for small and independent U.S. craft brewers: Julia Herz.

Herz had worked for the BA for more than 13 years, last serving as craft beer program director and publisher of CraftBeer.com. Denver alt-weekly newspaper Westword first reported Herz's departure from the BA.

Herz, who has already updated her LinkedIn profile with a new venture, HerzMuses Enterprises, in which she lists her new role as "advocate and educator," played that same role with the BA and became one of the most prominent women in the male-dominated craft brewing industry.

Other people confirmed to be included in this round of cuts include several long-time employees:

Acacia Coast, who served as brewers guilds manager on the BA's government affairs team, and worked for the organization for nearly a decade;

Gary Glass, director of the American Homebrewers Association, who had been with the organization for 20 years;

Kathryn Porter Drapeau, event association director, who had been with the group for more than 19 years.

The BA has now cut its workforce ...More info on site
---

Canada, NB:
Bagtown Brewing reopens in a larger facility
Bagtown Brewing, a nanobrewery that was opened in 2017 by group of commerce students at Mount Allison University in Sackville, Nova Scotia, has reopened after a six month hiatus in a new and larger facility, the Canadian Beer News reported on June 29.

The new location officially opened on June 20th, and in addition to selling Bagtown beers, the retail shop – which is operating under the name Uptown Bagtown Boozy Market – also stocks a selection of beers from other New Brunswick craft breweries, as allowed under legislation introduced last month.

The new Bagtown Brewing brewery and retail store is located at 45 Main Street in Sackville, just across the street from its original location. Business hours are currently 12:00 noon to 6:00 PM on Friday, and 9:00 AM to 3:00 PM on Saturday.
---

EU:
Barley crop prospects in Central Europe between rather poor and fair
Parts of Germany, Poland, and Central Europe (Austria, the Czech Republic, Slovakia, Hungary, and Croatia) suffer from dryness since years, which reduced subsoil moisture ...More info on site
---

Croatia:
Number of Croatians who drink beer every day increases - survey
A total of 84.5% of Croatians drink beer and 8.8% do it every day, which is 3.7% more than two years ago, Hina reported on June 28 citing results of a new survey.

The survey was conducted in May 2020 by Ja Trgovac magazine and the Hendal market research agency on a representative sample of citizens aged 16 years and over.

It showed that 84.5% of the respondents drink beer, 2.8% fewer compared with a survey carried out two years ago before the world football championship in Russia. However, the number of those who drink beer every day increased from 5.1% to 8.8%.

Some 36% of those interviewed said that they drink beer several times a week, an increase of 6.3% from the previous survey, while 18.8% said they do so once a week, up from 12% two years ago. Slightly over 24% consume beer several times monthly, 7% once a month and 4.8% several times a year, markedly down from 17.3% in 2018. Only 0.1% drink beer fewer than several times a year, compared with 5.5% two years ago.

More than half of the respondents, namely 56.2% (up 5.3%), drink beer at home or at friends' or relatives', while the number of ...More info on site
---

Brazil:
Diageo doubles efforts to strengthen presence in e-commerce channels
Diageo Plc, the world's largest spirits maker, has doubled efforts to strengthen its presence in e-commerce channels in Brazil as the coronavirus pandemic triggered lockdowns, driving customers to drink at home, a company executive said on June 26.

"Consumption at home has increased significantly over the past three months, but does not fully compensate revenue lost with the closure of bars, restaurants, nightclubs and events," Diageo's managing director for Brazil, Paraguay and Uruguay, Gregorio Gutierrez, told Reuters in an interview.

He did not specify how much sales have fallen in the region since the outbreak started, but noted that the so-called "on-trade: segment - in which alcoholic drinks are sold for consumption in licensed premises - represents between 40% and 50% of Diageo's business.

"As soon as these on-trade channels closed, we reallocated our resources to an online task force," Gutierrez added.

The Johnnie Walker whisky maker currently has partnerships with major retailers in Brazil, including international players such as Amazon.com and MercadoLibre, as well as the local subsidiaries of French supermarkets groups Casino Guichard Perrachon SA and Carrefour SA.

Despite efforts to boost online channels, Brazil's alcoholic beverages association Abrabe estimates the coronavirus crisis reduced total sales by an average of 50%.

Brazil has become ...More info on site
---